TigerNet

is the oldest and largest Clemson Community online with 152,606 members, 58,200 news articles and 29M forum posts.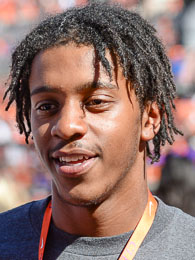 B I O
Committed to Clemson on August 31, 2013, the day of Clemson's victory over Georgia to open 2013 season…first member of the 2015 class to commit to the Tigers program…listed as the ninth best player in North Carolina by MaxPreps…helped Hough High School to a 10-4 record in 2014 through his all-around play…scored 15 touchdowns, 13 rushing off 66 carries for 444 yards…had 6.7 average on the ground…had two kickoff returns for touchdowns, including a 95-yarder…averaged 36.3 yards per kickoff return on 10 returns…on defense had six interceptions for 45 return yards…had 74 tackles on defense as well….played his final year of high school for former Clemson assistant coach Miles Aldridge….played at West Mecklenburg High his first three years, he helped that team to a 9-3 season in 2013… All-Mecklenburg County as a junior when he played on both sides of the ball…as a junior had 160 rushes for 1114 yards, 12 touchdowns and four interceptions… recruited by Danny Pearman…signed scholarship papers with Clemson on August 1, 2014… enrolled at Clemson on Jan. 7, 2015.

Mickey Plyler on Van Smith: This is a very underrated player in this class. In fact, he may be the most underrated. Smith will have a big opportunity this spring to grab the fourth safety spot. I also think he can play as a nickel or dime back. He is athletic enough to cover but is also a good tackler. Look for him this fall from scrimmage or in special teams.

Reminds Plyler of: Chris Clemons


COLLEGE CHOICES

| School | Offered (7) | Visit Date |
| --- | --- | --- |
| Clemson | Yes | |
| Duke | Yes | |
| Kansas State | Yes | |
| North Carolina St | Yes | |
| Penn St | Yes | |
| Vanderbilt | Yes | |
| Wake Forest | Yes | |

VIDEO HIGHLIGHTS
Latest Van Smith News
Click the link below to read more!