| | |
| --- | --- |
| Tigers set for big recruiting weekend | |
---
| | | |
| --- | --- | --- |
| Friday, November 22, 2013, 10:41 AM | | |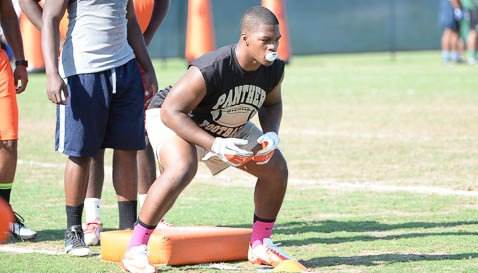 As the Clemson Tigers take the field against The Citadel, fans will have a chance to pay homage to some of the Clemson greats that have brought the Tigers recent success, but the Clemson coaches will be hosting many future Tigers.
The Tigers final home game will be one of the biggest recruiting weekends of the season with all of Clemson 2014 recruiting class in town, including early enrollees Deshaun Watson

Deshaun Watson
Quarterback
6-3, 190
Gainesville, GA
ESPN:


View Full Profile , Demarre Kitt

Demarre Kitt
Wide Receiver
6-1, 195
Tyrone, GA
ESPN:


View Full Profile , Artavis Scott

Artavis Scott
Wide Receiver
5-11, 180
Tarpon Springs, FL
ESPN:


View Full Profile and Chris Register

Chris Register
Outside Linebacker
6-4, 210
Greensboro, NC
ESPN:


View Full Profile , who will all be taking their official visits.
Five-star linebacker Raekwon McMillan from Hinesville (GA) Liberty County and Gallatin (TN) Station Camp four-star receiver Josh Malone

Josh Malone
Wide Receiver
6-5, 190
Gallatin, TN
ESPN:


View Full Profile will also be in attendance.
McMillan will choose from Clemson, Ohio State, Alabama, Georgia and Florida sometime in December as he is an early enrollee.
Malone has signed financial aid agreements with all of his finalists including Clemson, Tennessee, Florida State and Georgia. Malone has already set December 4th as his decision day, and TigerTown is his last stop on the official visit circuit.
VISITOR LIST
***Visitors that currently have a Clemson offer are bolded
2014 Commits
RB Adam Choice

Adam Choice
Running Back
5-9, 190
Thomasville, GA
ESPN:


View Full Profile , Thomasville (GA) Thomas County
LB J.D. Davis

J.D. Davis
Linebacker
6-2, 215
Central, SC
View Full Profile , Central (SC) Daniel
LB Judah Davis

Judah Davis
Linebacker
6-2, 215
Central, SC
View Full Profile , Central (SC) Daniel
RB C.J. Fuller

C.J. Fuller
Running Back
5-10, 200
Easley, SC
ESPN:


View Full Profile , Easley (SC)
S Jefferie Gibson

Jefferie Gibson
Safety
6-4, 185
Hope Mills, NC
ESPN:


View Full Profile , Hope Mills (NC) Gray's Creek
OG Taylor Hearn

Taylor Hearn
Offensive Line
6-5, 305
Williston, SC
ESPN:


View Full Profile , Williston-Elko (SC)
LB Kendall Joseph

Kendall Joseph
Linebacker
6-1, 230
Belton, SC
ESPN:


View Full Profile , Belton-Honea Path (SC)
RB Jae'lon Oglesby, Central (SC) Daniel
TE Milan Richard

Milan Richard
Tight End
6-5, 230
Savannah, GA
ESPN:


View Full Profile , Savannah (GA) Calvary Day
LB Korie Rogers

Korie Rogers
Outside Linebacker
6-2, 200
Buford, GA
ESPN:


View Full Profile , Buford (GA)
TE Cannon Smith

Cannon Smith
Tight End
6-5, 235
Columbia, SC
ESPN:


View Full Profile , Columbia (SC) Hammond School
K Alex Spence

Alex Spence
Kicker
6-2, 190
Florence, SC
ESPN:


View Full Profile , Florence (SC) West Florence
LB Jalen Williams

Jalen Williams
Linebacker
6-0, 215
Blythewood, SC
View Full Profile , Blythewood (SC)
2014 Prospects
QB Demitrius Anthony, Greenville (SC) Christ Church
WR Tremon Bryant, Calhoun Falls (SC)
CB Walden Davis, Suwanee (GA) Peachtree Ridge
WR Quadarius Fiar, Rock Hill (SC) Northwestern
TE Riley Hilton, Fort Mill (SC) Nation Ford
ATH Dre Massey Mauldin (SC)
WR Malcolm McClenton, Thomasville (GA) Thomas County
ATH Calloway Newman, Tuscaloosa (AL) Tuscaloosa Christian
WR Clinton Powell, McCalla (AL) McAdory
WR Mason Sanders, Boiling Springs (SC)
WR Quan White, Greenville (SC) Christ Church
2015 Commits
OT Noah Green

Noah Green
Offensive Tackle
6-5, 275
Boiling Springs, SC
View Full Profile , Boiling Springs (SC)
S Van Smith

Van Smith
Running Back
6-0, 170
Charlotte, NC
View Full Profile , Charlotte (NC) West Mecklenburg
2015 Prospects
TE Austin Barnes, Central (SC) Daniel
WR Shadell Bell

Shadell Bell
Wide Receiver
6-3, 190
Decatur, GA
ESPN:


View Full Profile , Decatur (GA) Columbia
RB Ra'Quan Bennett, Manning (SC)
LB Joshua Bolar, Hampton (GA) Lovejoy
RB Jaylen Burgess, Maryville (TN)
OL Austin Cannon, Mechanicsville (VA) Atlee
DT Gage Cervenka, Greenwood (SC) Emerald
OL Brian Chaffin, Charlotte (NC) Charlotte Christian
CB Montrell Custis, Hampton (GA) Lovejoy
LB Damien Dozier, Lynchburg (VA) Virginia Episcopal
CB Tyrrell Fleming, Newton (NC) Newton Conover
CB Montavius Gaines, Anderson (SC) T.L. Hanna
S Stephen Griffin, Charlotte (NC) South Mecklenburg
DE Destin Guillen, Berea (SC)
S Sean Harper, Hartwell (GA) Hart County Comprehensive
RB Thomas Harris, Atlanta (GA) Greater Atlanta Christian
DT Sterling Johnson, Clayton (NC) Cleveland
WR Xavier Johnson, Kings Mountain (NC)
DT Graham Keeter, Kings Mountain (NC)
OG Mitch Mathes, LaGrange (GA) Troup County Comprehensive
S Tanner Muse

Tanner Muse
Linebacker
6-4, 205
Belmont, NC
ESPN:


View Full Profile , Belmont (NC) South Point
DE Tony Nelms, Locust Grove (GA)
LS Ryan Parris, Madison (AL) James Clemens
S Freddie Phillips

Freddie Phillips
Wide Receiver
6-2, 180
Pelion, SC
View Full Profile , Pelion (SC)
OG Chris Rehak, Columbus (GA) Pacelli
FB Tre' Richardson, Adamsville (AL) Minor
QB Nick Shuping, Lexington (NC)
OT Dakota Siniard, Lester (AL) West Limestone
CB Maurice Smitherman, Adamsville (AL) Minor
OT Mason Veal

Mason Veal
Offensive Tackle
6-6, 290
Charlotte, NC
ESPN:


View Full Profile , Charlotte (NC) Ardrey Kell
K Harrison Wilkerson, Bostic (NC) East Rutherford
2016 Prospects
WR Divine Deablo

Divine Deablo
Wide Receiver
6-3, 180
Winston Salem, NC
View Full Profile , Winston-Salem (NC) Mount Tabor
RB Elijah Deveaux, Waxhaw (NC) Charlotte Christian
RB B.J. Emmons, Morganton (NC) Freedom
RB Tavien Feaster

Tavien Feaster
Running Back
6-0, 180
Spartanburg, SC
View Full Profile , Spartanburg (SC)
WR D.J. Hill, Winston-Salem (NC) North Forsyth
QB Austin Kendall, Waxhaw (NC) Charlotte Christian
LB Javier Lee, Atlanta (GA) Druid Hills
ATH Dejour Simpson, Charlotte (NC) Mallard Creek
RB Dylan Singleton, Lawrenceville (GA) Archer
CB Derrek Williams, Winston Salem (NC) North Forsyth
2017 Prospects
WR Savalas Cann, Bamberg (SC) Bamberg-Ehrhardt

Tags: Clemson Football
,
Adam Choice
,
Alex Spence
,
Artavis Scott
,
C.J. Fuller
,
Cannon Smith
,
Chris Register
,
Deshaun Watson
,
Demarre Kitt
,
Divine Deablo
,
Freddie Phillips
,
J.D. Davis
,
Jalen Williams
,
Jefferie Gibson
,
Josh Malone
,
Judah Davis
,
Kendall Joseph
,
Korie Rogers
,
Mason Veal
,
Milan Richard
,
Noah Green
,
Shadell Bell
,
Tanner Muse
,
Tavien Feaster
,
Taylor Hearn
,
Van Smith