| | |
| --- | --- |
| What are Clemson baseball's NCAA Tournament chances going into final stretch? | |
---
| | | |
| --- | --- | --- |
| Wednesday, May 11, 2022, 12:28 PM | | |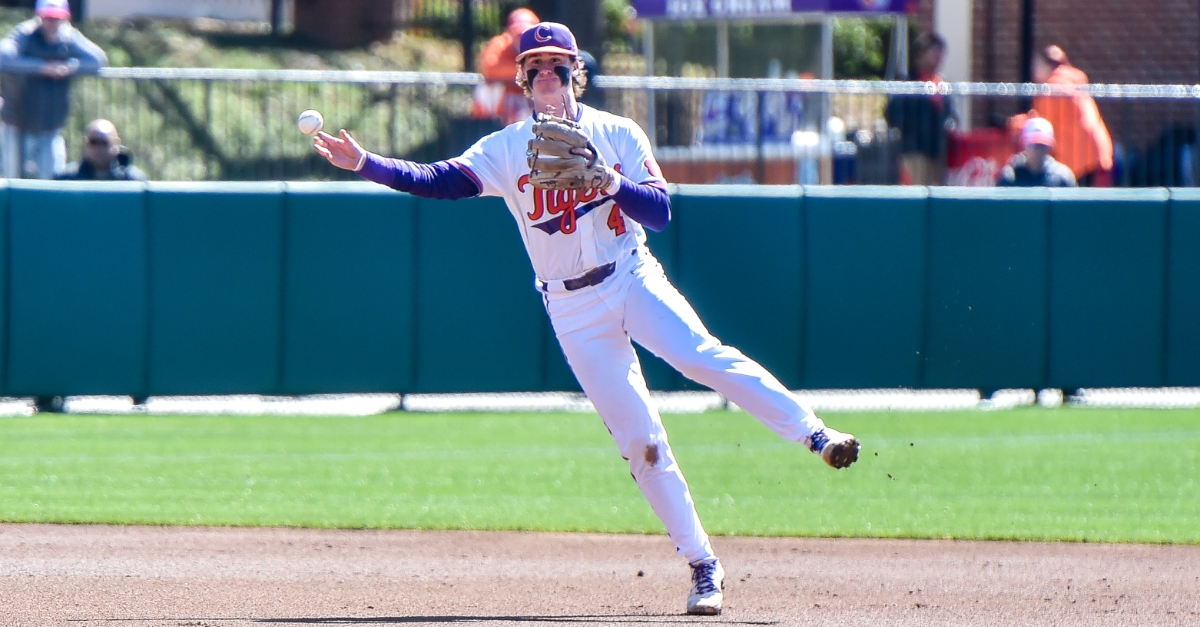 With seven regular-season games left, how close is Clemson baseball to an NCAA Tournament bid?
Baseball America has the Tigers (31-18) on its "Next Four Out" list for NCAA Tourney projections with two ACC teams ahead of them on the bubble-out and one conference team among the "Last Four In." D1Baseball.com has Clemson in its "First Four Out."
Monte Lee's team swept No. 21-ranked Georgia Tech last week and moved up as high as No. 18 in the RPI, a commonly-used NCAA seeding metric, but fell to No. 25 after a close loss at a neutral site to College of Charleston on Tuesday.
Baseball's America's last four in go as low as No. 74 in the RPI currently, with Iowa (27-15), while Wake Forest (33-14-1) is in that group at No. 21. Of note, Clemson won two of three games at Wake Forest earlier this season.
The other ACC teams on the bubble-out for Baseball America are Pittsburgh (26-20, No. 62 RPI) and North Carolina (28-18, No. 27 RPI). On D1Baseball, UNC is in the last four in and Pittsburgh is in the last four out.
Another key factor to watch is Clemson trailing all of those teams in the ACC standings, with a 9-14 conference record, and holding the last qualifying spot for ACC Baseball Championship with six conference games left.
Duke (9-15 ACC) could bump Clemson out of the ACC postseason tournament for the first time ever if it navigates a schedule better with hosting NC State (30-16, No. 33 RPI) and a trip to Virginia Tech (33-10, No. 10 RPI) than Clemson does traveling to Virginia this weekend (34-12, No. 15 RPI) and hosting Boston College (19-30, No. 93 RPI). North Carolina (10-14) is only a half-game ahead of Clemson and finishes with Wake Forest and Florida State at home.
The ACC Baseball Championship will be held in Charlotte from May 24-29.
The Tigers also have a potential RPI-booster midweek game next Tuesday at Coastal Carolina (No. 42 RPI).
Clemson has not missed back-to-back NCAA Tournaments (in seasons with one being held) since a stretch from 1982-1986.
Clemson tournament profile
Record: 31-18
RPI: 25th
Schedule strength: 9th
Non-conference schedule strength: 79th
Conference standing: 12th (9-14 record; 8th-best RPI in ACC)
Record vs. top-50 RPI teams: 12-13
Road/neutral record: 8-10
Bad losses (200+ RPI): 0
Current ACC Baseball Championship seedings
1. Miami (17-7 ACC record)
2. Louisville (15-8-1)
3. Virginia Tech (14-8)
4. Notre Dame (13-8)
5. Virginia (14-10)
6. Florida State (13-11)
7. NC State (12-11)
8. Pittsburgh (12-11)
9. Wake Forest (11-12-1)
10. Georgia Tech (12-15)
11. North Carolina (10-14)
12. Clemson (9-14)
--
13. Duke (9-15)
14. Boston College (5-22)