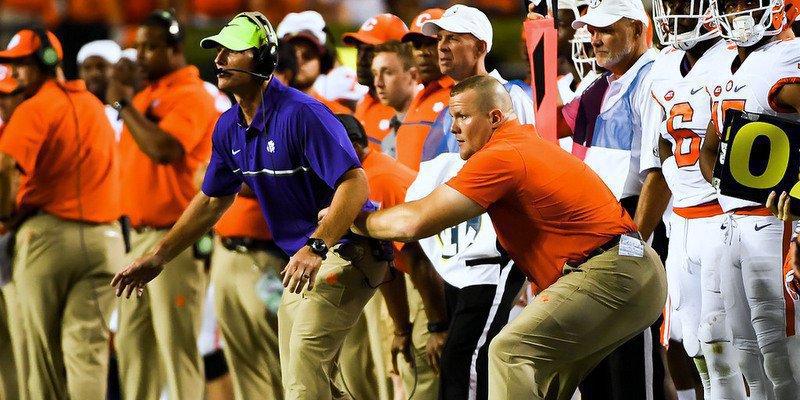 | | |
| --- | --- |
| Secondary; 125th year; Best Ever; Feaster | |
---
| | | |
| --- | --- | --- |
| Friday, January 25, 2019, 10:07 AM | | |
Email Bag
In this format, we will publish your comments and answer your questions. To submit a comment or questions, please email me at mickeyplyler@hotmail.com.
Mickey
WOW! Being a Clemson Tiger is great! There is so much to dissect from the game. I think one has to start with the defense. It seems like Venables confused Tua and maybe backed off of stopping the run at all cost and switch to stopping the slant routes. The pass rush and red zone defense were outstanding.
Do you think we should in some way thank South Carolina, due to the way they exploited some of our safety coverages over slot receivers and do you think that perhaps helped us prep for this matchup with Alabama's deep core of WR?
Love the show, Go Tigers!
Cory
Cory,
You are right. This is the best time to be a Tiger!
I think the key to stopping Tua was Venables' plan to disguise coverages and blitzes. Tua is great at pre-snap reads, but he can be confused when you can disguise. He didn't see the trap coverage on Terrell's pick six. He was confused on Mullen's pick on the deep ball. He also didn't see Mullen on his sack on the corner blitz. Venables was able to show Tua something in a pre-snap read, but the coverage or the blitz was a different look. Tua is great when he is not moved off his mark, and he can be confident in that pre-snap read, but Venables confused him.
I don't think there was a sense of urgency in the South Carolina game. Clemson's safeties were confused, but that game was never in doubt. The staff was able to move forward and rebuild confidence. I was told Venables told his secondary that he had total trust in the secondary heading to the Cotton Bowl and they secondary responded with confidence.
Mr. Plyler,
So based on the math I've done, 2020 will be the 125th season of Clemson football. I know back in 1995 & 1996, the program did jersey patches for the 100th season and did throwback uniforms for one game in 1995 (for a 100th season) and then against 1996 against Furman (to celebrate the 100th anniversary of the school's 1st football game). Has there been any talk regarding special uniforms to mark the milestone season, especially since Dabo has been pretty set about uniforms the past few years? Any other plans that are in place for the 2020 season to commemorate 125 years of Tiger football?
Derrick
Derrick,
I didn't realize it was the 125th year until you pointed it out. Thanks for doing so. I have not heard anything on the uniforms. I do know Dabo doesn't like messing with the uniforms. However, maybe a patch or a helmet sticker wouldn't be bad for a game. Thanks for pointing that out.
Mickey,
Hope you are doing well.
If you had to determine what college football team was the greatest of all time, then what criteria would you use? In my opinion, that team would have to be an undefeated National Champ, which eliminates a lot of teams. Second, given the difficulty of comparing teams from different eras, I would think you would have to take a long look at what each team did during their seasons, regarding offensive and defensive statistics, the margin of victory, and how they fared against the best teams on their schedule. Looking at our recent National Champs, and using these criteria, I would think we have to rank at or near the top. Consider the following:
1) 15-0 (first time that has been done in over 100 years, although I readily concede that it was not possible to play that many games until very recently)
2) We beat the next two highest ranked teams going into bowl season, both of whom were undefeated, by 27 and 28 points. Has that ever happened before? Looking back over the BCS and playoff era, it appears only one other team has won their title game by more than 28 points, and that was the 2004 USC team that ended up having to vacate their title. Even the 2001 Miami and 2013 FSU teams who many say were among the best did not win their title games in as dominating a fashion as we did Monday night. Those teams also did not have to play a top 3 team the week before.
3) We had the top-ranked defense in the country. Not sure about the offense, but I believe it was in the top 5 and was one of the most balanced in the country.
4) I believe we won our last ten games by at least 20 points.
For what its worth, I do not think the number of players drafted correlates to the best team of all time because it takes more than talent to be great. For example, the Alabama team we just played may end up having more guys drafted, but we were by far and away the better team. Also, I do not think "the eye test" is a good indicator, given how the so many of the so-called experts picked Alabama to beat us. Maybe people could say our schedule was not as difficult as what some other great teams have faced, but the fact of the matter is that we dominated when we played the other top teams at the end of the season.
What say you? I say the 2018 Clemson Tigers are the best of all time.
I am still keeping you and your family in my prayers!
Hugh
Hugh,
I think it is hard to compare different teams and different eras. I would say Tommie Frazier's Nebraska teams, 2001 Miami and 2013 FSU were the best teams I saw before this Clemson team.
I agree with your support in this argument. Once Clemson went with Trevor Lawrence, this team turned into perhaps the best team in college football history. Outscoring number three Notre Dame and what we were told the best team in college football history, Alabama, 74-19 is a great point. I am biased, but my vote is for this Clemson team.
Hi Mickey,
I have a couple of questions. What did Nick Saban mean by "copycat plays" that Clemson was running? Was he referring to the offense or defense, or both? Did he mean plays like the shovel pass that we stopped and the one Etienne scored on?
Also, While Tavien Feaster had a couple of huge possessions for us in the NCG, yet his season was rather lack-luster given expectations. Choice finished his career as a Tiger. We have Lyn-J, Mellusi and possible Ealy coming in… do Feaster's comments about transfer possibilities seem more of a reality now?
Finally, why would an OL recruit turn down a Clemson offer?
Thanks and Happy New Year to the 2018 National Champs!
Tiger in Charlotte
Tiger in Charlotte,
I think he meant plays that others ran against Alabama earlier in the year. I had never heard that phrase before in the sport, but that's the way I took it.
I think Feaster has been solid but not spectacular so far. Maybe our expectations were too high. My sources tell me that they expect Feaster back next season. I think he is a big key because he is a very good changeup from Ettiene.
I think Clemson has given a bunch of guys a bunch of great reasons to pick the Tigers. I also think the 2020 class will give Dabo his best class of offensive linemen.
The Brad Hughes All-State Insurance Agency
Prayer List
The prayer list is a medium for our community to recognize those that are in need. If you would like to add someone to the list, please email me at mickeyplyler@hotmail.com. Please let me know when it is appropriate to remove a person off the list.
Those who need our prayers include: Jo Ann Bachman, Kenneth Bryant, Pruitt Martin, Got Igers and his family,Leonard Gillespie and his family, Jim S., Daniel Rosborough, the Huffman family, Nancy Winkler, John Reeve, Kaitlyn L., Susan Miller, Joyce Harley, Steve Proveaux, Jeffrey Greene, the Hutto family, Sherl Drawdy, Caleb Kennedy, Teresa O'Connor, Matt Jacobs, Perrin Seigler, Candee Massee, Lindsey Jordan, Sam Catoe, Tyler Felch, the Nicolopulos family, "the Jacksonville, FL guys," Kim Sims, the Coyle family, Ryleigh Tedder, Steve Lee, Kelly Trakas, Jimmy Moore, the Thomas V. family, Emary Claire Young, Kitty Bowers, Julie Locke, the Scheider family, Lauren Kittles' family, Stacey McKeown, Dale Childs, Larry Lentz, Jr., Carl Sharperson, Scott Hannon, William Perry, Tyler Swaney, Lillian, Mark Feit, David Frame, the family of Matthew M. Watson, the Dowis family, Alan Putnam, the Olivers, Lee Tate, Ronnie Abrams, Eddie Greene, the Jackson family, Bill Vader, Jim Taylor, Tina DeWitt, Rock Horne, Bobby Wayne Thomas, Emma and Danielle Carothers, Robert Ditty, Mr. and Mrs. Murray Smith, Millie Heatley, Lynn Martin and family, Michael Pinson, Jake David family, Angie Crowley, Ira, Poly Wells, Dr. Muriel Bishop, Jack Cunningham, Emily Jefford Meister, Aaron Clackum, Pat James, Cortney Moore, William Moore, Angelia and Savannah Anderson, Scott Johns, Frank Carroll, Brandon Thompson, Alvin Sammons, Georgine McAlhaney, Glen Davis, Mike Price, Aaron Knight, Danielle Johnston and family, Nicholas Abrams, Lana Kuykendall, Gary, Gary G., William Huggins, Jim Bennett, Chantz Fowler, Ethel McElveen, Michele Gurganus, William Gentry, Lewis Usher and Tanya Sanders, Shon Cooper, Nick Collins, Amanda Peake, Chip Turner, Nick Collins, Allen Steen, the Sturkey family, the Lance family, Nick Chrisley's family, Allison Williams, Lt. Kyle Walker, Summer and Joel Johnson, Nicole O'Donnell, James O. Johnson, Joy Pruett and family, Bill Schmidt, Jack Bailey, Gardner Family, Charles Turner, Kathy Bartholomew, Ray Sanders, David and Robin Blocker, Kenneth Kowe, Lauren Sielicki, Jenna Phipps, Mark Lawrence, Jonathan and Jacki Sullins, Peter Laboy, Elizabeth Galloway and family, Willard Harryman, Liz Surratt, Molly Senn, Jackie Shearer, Richard Sellers, Tim Drisdelle, Susan and Mike Brown, Julie Goodman Marshall, Willard and Dorothy Harryman, Justin Jernigan, Jack Cunningham, Mia Daughtery, Tee Senn, Skylar, Joseph Thomas, Mrs. Nelis, Sean Rowell, George Parker, Levon Kirkland and family, Catherine Sewell, Randy Davenport, David Vaughn, Keith Dalton, B.T., Bill Hilbig, Rita Elrod Hammond and family, Jim McKeller, Tony Alewine, Sharon Storck, Dustin and Brittany Peurifoy, Jan Allan, Gregg and Sylvia Lewis, Travis Hamrick, Kaki Harmon, Jammie McKellar and babies, Karen Edwards, Cathy Hutson Gregg, Kristin Heckman, Jennifer Johnson, Lyndsie Johnson, Emily Davis, Hayes Davis, Judy Towe, Johnny Towe, Ken Brown, Elaine Brown, Rhonda Thompson, Tim Davis, Jacob Greinke, Jack Finley, Richard and Clara Crawford, Israel, Frankie Allen, Bobby Allen, the Wessinger family, the Parsons family, Todd Price and family, Rosemary A Flynn, Dr. Mickey Shealy family, Mr. Gillespie, Bobbi Nicholson, Dr. Matt Stower, Tyler Kemmerlin, Parks Hutto, Robert Summerville, Michelle Richey, Julie Moore, Ashley Fitch, Kevin Anderson, Lyn Price, John Robert Smith, Allison Williams, Nicholas Wickiser, Hammond Family, Elaine G. Duvall, Addison Grace, Kevin Orcutt, Alan Finley, Keith Wells, Jessica Hernandez, Wayne Mullins, Rita Alexander, Tony Osterman, family and friends of Gary Cooper, Derk Denton, Tim Vacek, Mike Vacek, Alma Jean Sullivan, Lindsey Motley, Riley Cook, Eileen Thomas, Larry Nimmons and Family, Annie Gregory, Amy Black, Will Black, Sam Smith, Dixon Family, Joe Lazorik, Mark Smith, Rene' Nelson, R. Bruce Harnage, Norris Brown and family, Tanner Cain, Avery Cain, Ted Wilson, Sandra Wilson, Leoffels family, Wren Jansen, Gail Culbreth, Jody Sinex, Donald Sikes, Carolyn and Richard Helderman, Jimmy Hutto, Christina M. Facen, John Harrison, Mike Vigdor, Oscar Pullen, John McMahan, Karen Louthian, Samantha Molnar, Lenue Hayes and family, Lamont Johnson and family, Karen Vague, Dwight Clark, Karen Lake, Laura Lake, Blake Holiday and family, Jerrold Collins, Jennifer B. Adkins, Mark Nizolek, Mark Forbes, Lorrie Ahern, Mary Alice Proctor, Elaine Byers, Bob Couch, Mark H, Adam Huckabee, Rich Sizemore, Rusty Wagstaff, Don Testerman, Charlie Jenkins, Jerry Pace,Ken Helms, The Morton Family, Kensington Martin, Mike Magee, Sue Lee, Betty Childers, Roger Kennedy, Robert and Morgan Jenny and their baby girl, James and Carolyn Black, and our great country and the men and women in uniform that protect and serve it every day, plus their families.