---
| | | |
| --- | --- | --- |
| Wednesday, May 1, 2013, 11:57 AM | | |
Ring of Honor
I love the Ring of Honor we have at Clemson. I am glad we have it at Death Valley and I am also glad we extended it to other sports.
Clemson sent out the following release earlier this week asking for nominations:
Nominations for the Clemson Ring of Honor are being accepted at the Clemson Athletic Department. Nominations for all sports will be accepted until June 1, 2013. Send nominations in the form of a letter to:
Tim Bourret
Ring of Honor Chairman
PO Box 31
Clemson, SC 29633
Nominations can also be sent via e-mail to btimoth@clemson.edu.
Ring of Honor Guidelines
Purpose: The charge of the Ring of Honor committee is to bestow the highest athletic award presented by the Clemson Athletic Department on deserving candidates. The committee will examine the careers of candidates in all Clemson sports.
Nominations: Nominations are made by any member of the Clemson Athletic Department, IPTAY, a member of the faculty or a relative of a worthy nominee.
Nominations will be made in the form of a letter with a complete list of accomplishments and submitted to the chair of the committee, who will retain an active file of nominations. Letters of support may also be submitted. The Chair of the Committee will screen all nominations to make sure they meet eligibility requirements.
Eligibility: This committee will recognize individuals who have demonstrated consistent and unique national excellence in their sport during their Clemson career. Their accomplishments must be significant on an individual and team basis. Their statistical accomplishments must be noteworthy, but they should also have an outstanding record in terms of leadership. In general, they must have made a noteworthy contribution to the history of the Clemson Athletic Program. Ring of Honor
Athletic accomplishments after their Clemson career are not a primary consideration in the nomination, but they must retain an unblemished record of citizenship after they leave Clemson.
A candidate must be a member of the Clemson Hall of Fame and must hold a baccalaureate degree from an accredited four-year university or college.
Financial contributions to Clemson University will not be a consideration when evaluating the candidates.
For a coach to be nominated he or she must be retired from coaching that sport at the college level.
For the record, Clemson has 15 people and three teams in the Ring of Honor. The individuals are: Rusty Adkins (Baseball), Jonathan Byrd (Golf), Bob Bradley (Sports Information), Fred Cone (Football), Jerry Butler
Jerry Butler
Wide Receiver
# 6-0, 180
Ware Shoals, SC
View Full Profile (Football), Dale Davis (Basketball), Jeff Davis (Football), Steve Fuller (Football), Susan Hill (Women's Tennis), Frank Howard (Football), Barbara Kennedy (Women's Basketball), Terry Kinard (Football), Tina Krebs (Women's Track and Field and Cross Country), Banks McFadden (Football and Basketball), and Charles Warren (Golf).
The three teams recognized are the 1981 football team and the 1984 and 1987 men's soccer teams.
In my opinion, the Ring of Honor is reserved for the best of the best. I can think of many candidates who should be considered for the Ring of Honor and can make a strong case for several candidates. However, there is one man who I think time has come.
Danny Ford should have already been in the Ring of Honor. Since he isn't, then now is the time to fix that.
I don't care about what issues anyone on the board of trustees had with him years ago and I don't care who in the administration is still holding a grudge. It's time to move on.
Some will say his name is already in the Ring of Honor because the 1981 team is in and his name is listed on the stadium, but that was a compromise. He is not listed in the Ring of Honor. He has not received what he has earned in my opinion.
The fact is that this man meets every criteria listed above. He led Clemson to its greatest athletic accomplishment.
I can write about all of the championships won under coach Ford. I can make a long case about how his teams were ranked, who they beat in bowl games and his record against the arch rival. I can make a case for all of the All-Americans and All-ACC players that played for him and all of the great coaches that coaches under him.
But I think I can wrap this up with one simple question.
Why have a Ring of Honor at Clemson if Danny Ford is not in it?
The time is now. Let's do what should have already been done. Its time to put Danny Ford in the Ring of Honor.
The Brad Hughes All-State Insurance Agency
Prayer List
We have started a prayer list on the blog. Here are the guidelines:
If you are offended by prayer or prayer lists then I apologize in advance. The blog is free and the prayer list will be on the bottom of the page so you don't have to read it.
If you would like to add someone to the list please email me at mickeyplyler@hotmail.com
*Please let me know when it is appropriate to take the person off of the prayer list.
Those who need our prayers include: Finn Brookover, Jo Ann Bachman, Kenneth Bryant, Pruitt Martin, Got igers and his family, David Rowland, Leonard, Gillespie and his family, Jim S, Daniel Rosborough, The Huffman family, Nancy Winkler, John Reeve, Ethel Southard, Vinnie Brock, Kaitlyn L, Susan Miller, Joyce Harley, Steve Proveaux, Jeffrey Greene, the Hutto family, Sherl Drawdy, Caleb Kennedy, Teresa O'Connor, Matt Jacobs,Perrin Seigler, Candee Massee, Lindsey Jordan, Sam Catoe, Tyler Felch, the Nicolopulos family, "the Jacksonville, FL guys", Kim Sims, the Coyle family, Ryleigh Tedder, Steve Lee, Kelly Trakas, Jimmy Moore, the Thomas. V Family, Emary Claire Young, Kitty Bowers,Julie Locke, the Scheider family, Lauren Kittles' family, Frank Gentry, Joyce Bussey, Stacey McKeown, Dale Childs, Larry Lentz, Jr, Carl Sharperson, Scott Hannon, William Perry, Tyler Swaney, Lillian, Mark Feit, David Frame, Chad Berry, the family of Matthew M. Watson, the Dowis family, Shervin Messer, Alan Putnam, the Olivers, Lee Tate, Ronnie Abrams, Eddie Greene, the Jackson family, Bill Vader, Jim Taylor, Tina DeWitt, Rock Horne, Christopher Tuten, Bobby Wayne Thomas, Emma and Danielle Carothers, Robert Ditty, Mr. and Mrs. Murray Smith, Dot Cartee, Ayden Mills, Millie Heatley, Lynn Martin and family, Michael Pinson, Jake David family, Angie Crowley, Ira, Mike Tolson, Poly Wells, Dr. Muriel Bishop, Jack Cunningham, Emily Jefford Meister, Zachary Stoller, Aaron Clackum, Pat James, Cortney Moore, William Moore, Angelia and Savannah Anderson, William Ross, Meredith Legg, Scott Johns, Frank Carroll, Brandon Thompson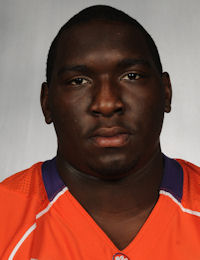 Brandon Thompson
Defensive Tackle
#98 6-2, 310
Thomasville, GA
View Full Profile , Alvin Sammons, Georgine McAlhaney, Glen Davis, Mike Price, Clay Childers, Aaron Knight, Danielle Johnston and family, Nicholas Abrams, Lana Kuykendall, Gary, Gary G., William Huggins, Jim Bennett, Chantz Fowler, Ethel McElveen, Michele Gurganus, William Gentry, Lewis Usher and Tanya Sanders, Shon Cooper, Nick Collins, Travis Patterson, Amanda Peake, Danny Hammond, Chip Turner, Nick Collins, Allen Steen, The Sturkey Family, the Lance family, Marcus Lattimore, Nick Chrisley's family, Allison Williams, Lt. Kyle Walker, Summer and Joel Johnson, Nicole O'Donnell, James O. Johnson, Joy Pruett and family, Patrick Heher, Bill Schmidt, Jack Bailey, Bill Early, Gardner Family, Charles Turner, Kathy Bartholomew, Ray Sanders, David and Robin Blocker, J.R. Ray, Kenneth Kowe, Lauren Sielicki, Doug Bailey and family, Johnnie Walker, Jenna Phipps, Mark Lawrence, Harlan Sullins, Peter Laboy, Kat and Carlisle Jones, Elizabeth Galloway and family, Anita McDonald, Willard Harryman, Liz Surratt, Molly Senn, Jackie Shearer, Richard Sellers, our great country and the men and women in uniform that protect and serve it every day plus their families.