---
Friday Email Bag
Each Friday I publish your comments and answer your questions.  To submit a comment or questions please email me at mickeyplyler@hotmail.com.
Mickey,
I know Dabo has a lot going on, but maybe you can give him a shout and run this idea by him.  The fans are ticked, no doubt about it.  I understand this kid is 18.  I certainly made some mistakes when I was 18, and I can't imagine what was going through this kid's head, but the same could be said about me when I was 18.  I am just thankful that I didn't make a mistake that would cause me and my family to be tormented for the rest of our lives.  Because of this reason, I think Dabo could work it out so that this kid can apologize to the whole team behind closed doors.  I also think the kid should apologize to the team and do a little research and explain to the team the history behind Howard's Rock and why it is so special to Clemson Nation.  Furthermore, if the kid promises to give the pieces back and pay to restore the rock as best he can to its original form and explain this to the team and is remorseful for what he has done, this should conclude the matter.  This is a great way for Dabo to show good leadership, teach a lesson to the team that there are other ways to resolve issues, and teach forgiveness and life lessons.  The kid's real punishment is that he will forever be linked to this situation and he and his family will never live this down.  They will probably catch hell on a daily basis forever.
Michael
Michael,
I like the idea. I wonder how much time he will spend on it but if he does address it then I like your plan. Being young does not excuse the action but we are taught to forgive and should at some point. Hopefully some positives will come out of it. I do think we have a chance to turn something into a positive here. Also I think this will eventually die down and become much less of a story.
Mickey,
I wanted to share my idea regarding the college football playoffs:
Keep the four team playoff as adopted by the college football gods...However, I would add two additional games the week after the conference championship games.
The gods would seed teams 1 thru 6.  The first two seeds MUST have won their respective conference championship games and get a bye to the championship playoffs.  The remaining 4 teams would play the week after the conference championship games.  These teams may belong to a conference without a championship game (B12), other conference champions / conference championship runners-up and or independents (ND).  The winners of these games advance to the 4 team championship playoff.  Teams without a conference championship game or an independent should not be able to get into the 4 team playoff without playing an additional game.  I don't think it's fair for these teams to not risk their standings at the end of the year and potential seeding since other teams are playing a conference championship game and risking the chances to make the playoffs.  I think they could adopt this immediately and address lots of issues being discussed until we have a more comprehensive playoff system.
Regards,
Reubster
Reubster,
It is crazy that the reason conferences expanded to 12 teams was to get a championship game and now some don't want one. They went to the trouble to get a title game in their conferences. They talked about how unfair it was that some conferences had title games and others were missing out on the money. Now the feeling has changed. Now it is unfair to have to play in a title game. I found this crazy that the leaders of conferences can change their stances that quickly.
Well Mickey it's getting closer. Think high school next month an NFL hall of fame game. We're slowly inching our way. But i got a few ? About Clemson as of now.
Who's all on campus as of now out of this class that's enrolled an does Tyrone Crowder
Tyrone Crowder
Fr. Offensive Guard
# 6-2, 315
Rockingham, NC
View Full Profile settle himself into a starting spot early being how nasty this man can be an this may be a way out ? But if he develops into what we think he can be will he be guarding clowny in Nov where Clowney lines up being how he could be the nastiest OL we could have?
Thanks Mickey, Hope Ryan is doing good!
bjcPARKERdsc
bjcPARKERdsc,
All of the freshmen are on campus except Kyrien Priester. He still has to go through the clearinghouse and won't be in school until August.
I doubt Crowder plays a lot this year. I think he has to reshape his body before he plays. Crowder would have a hard time playing 80 plays at the pace Clemson runs its offense.
South Carolina uses Clowney inside on certain passing situations but I doubt Crowder will play a lot against USC.
Thanks for the kind words about Ryan.
Mickey,
I wanted to bring to your attention a email I sent to Coach Dabo and asked him to appeal to the university to start a 3-5 day media campaign to ask our fan base to not bring shame on Clemson by doing something stupid in reaction to the arrest of the young man for damage to Howard's Rock. I am afraid someone could do something really bad to this young man or his family.
Can you promote this idea was well on your site and radio show, and calling for the university to do so as well.
Go Tigers
Doug
Doug,
I will promote this. I think most Clemson people are upset but most are rational and would never harm anyone. Unfortunately I can't speak for everyone and you an I know that all it takes is one person to act. Hopefully Clemson will shine through this situation like it usually does.
The Brad Hughes All-State Insurance Agency
Prayer List
We have started a prayer list on the blog. Here are the guidelines:
If you are offended by prayer or prayer lists then I apologize in advance. The blog is free and the prayer list will be on the bottom of the page so you don't have to read it.
If you would like to add someone to the list please email me at mickeyplyler@hotmail.com
*Please let me know when it is appropriate to take the person off of the prayer list.
Those who need our prayers include:Finn Brookover, Jo Ann Bachman, Kenneth Bryant, Pruitt Martin, Got igers and his family, David Rowland, Leonard, Gillespie and his family, Jim S, Daniel Rosborough, The Huffman family, Nancy Winkler, John Reeve, Vinnie Brock, Kaitlyn L, Susan Miller, Joyce Harley, Steve Proveaux, Jeffrey Greene, the Hutto family, Sherl Drawdy, Caleb Kennedy, Teresa O'Connor, Matt Jacobs,Perrin Seigler, Candee Massee, Lindsey Jordan, Sam Catoe, Tyler Felch, the Nicolopulos family, "the Jacksonville, FL guys", Kim Sims, the Coyle family, Ryleigh Tedder, Steve Lee, Kelly Trakas, Jimmy Moore, the Thomas. V Family, Emary Claire Young, Kitty Bowers,Julie Locke, the Scheider family, Lauren Kittles' family, Frank Gentry, Joyce Bussey, Stacey McKeown, Dale Childs, Larry Lentz, Jr, Carl Sharperson, Scott Hannon, William Perry, Tyler Swaney, Lillian, Mark Feit, David Frame, Chad Berry, the family of Matthew M. Watson, the Dowis family, Shervin Messer, Alan Putnam, the Olivers, Lee Tate, Ronnie Abrams, Eddie Greene, the Jackson family, Bill Vader, Jim Taylor, Tina DeWitt, Rock Horne, Christopher Tuten, Bobby Wayne Thomas, Emma and Danielle Carothers, Robert Ditty, Mr. and Mrs. Murray Smith, Dot Cartee, Ayden Mills, Millie Heatley, Lynn Martin and family, Michael Pinson, Jake David family, Angie Crowley, Ira, Mike Tolson, Poly Wells, Dr. Muriel Bishop, Jack Cunningham, Emily Jefford Meister, Zachary Stoller, Aaron Clackum, Pat James, Cortney Moore, William Moore, Angelia and Savannah Anderson, William Ross, Meredith Legg, Scott Johns, Frank Carroll, Brandon Thompson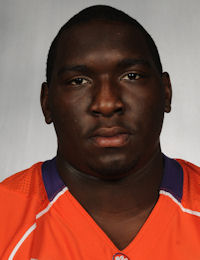 Brandon Thompson
Defensive Tackle
#98 6-2, 310
Thomasville, GA
View Full Profile , Alvin Sammons, Georgine McAlhaney, Glen Davis, Mike Price, Clay Childers, Aaron Knight, Danielle Johnston and family, Nicholas Abrams, Lana Kuykendall, Gary, Gary G, William Huggins, Jim Bennett, Chantz Fowler, Ethel McElveen, Michele Gurganus, William Gentry, Lewis Usher and Tanya Sanders, Shon Cooper, Nick Collins, Travis Patterson, Amanda Peake, Danny Hammond, Chip Turner, Nick Collins, Allen Steen, The Sturkey Family, Lance family, Marcus Lattimore, Nick Chrisley's family, Allison Williams, Lt. Kyle Walker, Summer and Joel Johnson, Nicole O'Donnell, James O. Johnson, Joy Pruett and family, Patrick Heher, Bill Schmidt, Jack Bailey, Bill Early, Gardner Family, Charles Turner, Kathy Bartholomew, Ray Sanders, David and Robin Blocker, J.R. Ray, Kenneth Kowe, Lauren Sielicki, Doug bailey and family, Johnnie Walker, Jenna Phipps, Mark Lawrence, Harlan Sullins, Peter Laboy, Kat and Carlisle Jones, Elizabeth Galloway and family, Anita McDonald, Willard Harryman, Liz Surratt, Molly Senn, Jackie Shearer, Richard Sellers, Tim Drisdelle, Edward Easterling, Dawson Bourne, Susan and Mike Brown, Julie Goodman Marshall, our great country and the men and women in uniform that protect and serve it every day plus their families.

Upgrade Your Account
Unlock premium boards and exclusive features (e.g. ad-free) by upgrading your account today.
Upgrade Now