---
| | | |
| --- | --- | --- |
| Friday, May 24, 2013, 10:10 AM | | |
Friday Email Bag
Each Friday I publish your comments and answer your questions.  To submit a comment or questions please email me at mickeyplyler@hotmail.com.
Hi Mickey,
Just got through reading the Tuesday Blog, and I did some figuring--since I am a numbers' person according to my Wife...
Sammy caught 57 over 10 games in 2012 = 5.7 per game
Sammy caught 82 over 14 games in 2011 = 5.9 per game
2011 Receiving yards: 1219 over 14 games = 87.1 per game
2012 Receiving yards:  708 over 10 games = 71 per game
These are kinda close and had the "Deuce-on-the Loose"  gotten one more curl, corner, or turn route completion per game, 2012 may have exceeded 2011... BUT we will never know. 
We all wish he had 14 complete games last year, but it wasn't to be. IMO, all of the receivers we have returning and coming in saw the opportunity Nuk had and how he accepted the challenge and responsibility.  These guys KNOW they can play, we know they can PLAY, and with all those we have returning on offense and Defense, I really believe that they will step up 110% and win, regardless of who has the best day.  They are "ALL-IN" and really want the W and not the stats. 
When they do, the CLEMSON wins, and  the word "IF" is not in the conversation. Friday Email Bag
Keep up the good work...
Ron
Ron,
I think the touchdowns are the biggest drop off. Watkins was not the big play factor he was as a freshman. He was also not the same running the football or in the return game. He just didn't have that extra gear. However, I full expect a huge year this coming season and would not be surprised to see him exceed his freshman numbers.
Mickey,
I read the article about Fuller committing to Clemson, which is great.  I also like Dabo's stance that once you commit, you don't take any additional visits and you end your recruitment, as Fuller comments.  I think that is a great character building block.  I then read that long time commit, Deshaun Watson may take other visits, "just in case".  I know he was told by the Clemson coaches not to go to Ohio State, so is this just rhetoric on Watson's part?  It does raise another question.  You have a big time recruit who can change your program and he verbally commits.  Dabo gives him the commitment speech, yet we find out later that he has taken another visit.  Does Dabo stick to his word?  Given what happen with Nkemdiche, I think Dabo might have given him he walking papers, but not sure, what do you do?  Personally, I think you send a message to all recruits, that once you give your word, you stand by it.  I understand each situation is fluid, so you can't put it in a box.  My opinion is make the recruit hold to his commitment or let him go.  Sweeney is a man of integrity and he needs to send the message about the value of commitment.  Your word is your bond!
YABBA DABO DO
Stuart
Stuart,
I don't think Watson is planning any trips at this point. The problem is that these players are so good and the great ones can mean the difference in winning big games. Watson is too good to just let go. The players have all of the leverage and most know it. I would like to think that giving someone's word is worth something but that is not always the case in recruiting. Unfortunately the players have all of the power.
Mick,
Which of our running back prospects have the best chance to come in and play early? Are we still in it for Cook or has that ship sailed. Thanks!
Cass
Cass,
In the Class of 2014 I think Choice may be the highest rated but he has never played running back before. He is an option quarterback that will have to make an adjustment to a new position. He has all of the tools but it may take some time. Oglesby is a speedster with great open field ability but he will have to get bigger and stronger. Fuller has the size and may be the one that is the most ready in year one.
I seriously doubt Clemson can get back into it with Cook. I know he likes Clemson but I just think Miami is a bigger threat to Florida than Clemson is to the Gators.
Mickey,
Have you heard anything on Blossomgame or Coleman? Are they fully recovered? If not, are they expected to be back next season?
Mike
Mike,
Brownell said last week that neither are 100% but both are progressing. The team is leaving later this summer to play some exhibition games in Europe and he said he expects both make that trip. Hope this helps.
Mickey,
We are one full semester into Dan Radokovich's tenure at Clemson. Do you have a feel for how things are going? Should we be pleased with his work so far? You may have covered this on your radio show but I have been out of town on business for a few weeks and I am trying to work myself back into the loop. Thanks in advance for your answer.
Ray
Ray,
I like what I have seen. I don't know him but looking from the outside, I like his aggressiveness. I like his vision with our facilities. He seems to be ultra-competitive and wants to win at the highest level. So far I like everything I have seen.
The Brad Hughes All-State Insurance Agency
Prayer List
We have started a prayer list on the blog. Here are the guidelines:
If you are offended by prayer or prayer lists then I apologize in advance. The blog is free and the prayer list will be on the bottom of the page so you don't have to read it.
If you would like to add someone to the list please email me at mickeyplyler@hotmail.com
*Please let me know when it is appropriate to take the person off of the prayer list.
Those who need our prayers include:Finn Brookover, Jo Ann Bachman, Kenneth Bryant, Pruitt Martin, Got igers and his family, David Rowland, Leonard, Gillespie and his family, Jim S, Daniel Rosborough, The Huffman family, Nancy Winkler, John Reeve, Vinnie Brock, Kaitlyn L, Susan Miller, Joyce Harley, Steve Proveaux, Jeffrey Greene, the Hutto family, Sherl Drawdy, Caleb Kennedy, Teresa O'Connor, Matt Jacobs,Perrin Seigler, Candee Massee, Lindsey Jordan, Sam Catoe, Tyler Felch, the Nicolopulos family, "the Jacksonville, FL guys", Kim Sims, the Coyle family, Ryleigh Tedder, Steve Lee, Kelly Trakas, Jimmy Moore, the Thomas. V Family, Emary Claire Young, Kitty Bowers,Julie Locke, the Scheider family, Lauren Kittles' family, Frank Gentry, Joyce Bussey, Stacey McKeown, Dale Childs, Larry Lentz, Jr, Carl Sharperson, Scott Hannon, William Perry, Tyler Swaney, Lillian, Mark Feit, David Frame, Chad Berry, the family of Matthew M. Watson, the Dowis family, Shervin Messer, Alan Putnam, the Olivers, Lee Tate, Ronnie Abrams, Eddie Greene, the Jackson family, Bill Vader, Jim Taylor, Tina DeWitt, Rock Horne, Christopher Tuten, Bobby Wayne Thomas, Emma and Danielle Carothers, Robert Ditty, Mr. and Mrs. Murray Smith, Dot Cartee, Ayden Mills, Millie Heatley, Lynn Martin and family, Michael Pinson, Jake David family, Angie Crowley, Ira, Mike Tolson, Poly Wells, Dr. Muriel Bishop, Jack Cunningham, Emily Jefford Meister, Zachary Stoller, Aaron Clackum, Pat James, Cortney Moore, William Moore, Angelia and Savannah Anderson, William Ross, Meredith Legg, Scott Johns, Frank Carroll, Brandon Thompson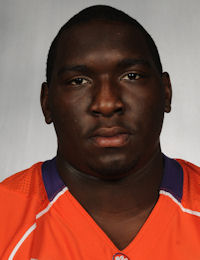 Brandon Thompson
Defensive Tackle
#98 6-2, 310
Thomasville, GA
View Full Profile , Alvin Sammons, Georgine McAlhaney, Glen Davis, Mike Price, Clay Childers, Aaron Knight, Danielle Johnston and family, Nicholas Abrams, Lana Kuykendall, Gary, Gary G, William Huggins, Jim Bennett, Chantz Fowler, Ethel McElveen, Michele Gurganus, William Gentry, Lewis Usher and Tanya Sanders, Shon Cooper, Nick Collins, Travis Patterson, Amanda Peake, Danny Hammond, Chip Turner, Nick Collins, Allen Steen, The Sturkey Family, Lance family, Marcus Lattimore, Nick Chrisley's family, Allison Williams, Lt. Kyle Walker, Summer and Joel Johnson, Nicole O'Donnell, James O. Johnson, Joy Pruett and family, Patrick Heher, Bill Schmidt, Jack Bailey, Bill Early, Gardner Family, Charles Turner, Kathy Bartholomew, Ray Sanders, David and Robin Blocker, J.R. Ray, Kenneth Kowe, Lauren Sielicki, Doug bailey and family, Johnnie Walker, Jenna Phipps, Mark Lawrence, Harlan Sullins, Peter Laboy, Kat and Carlisle Jones, Elizabeth Galloway and family, Anita McDonald, Willard Harryman, Liz Surratt, Molly Senn, Jackie Shearer, Richard Sellers, Tim Drisdelle, our great country and the men and women in uniform that protect and serve it every day plus their families.