---
ACC Linebacker Rankings
1. Florida State
The Seminoles have as much linebacker tradition as any school in the country and this unit fits right into what we are used to seeing in Tallahassee. There is not a superstar in the linebacking corps but there is a lot of depth. Christian Jones and Vince Williams return as starters and both had over 50 tackles each last year. Markuss Eligwe is a newcomer that could fit into the plans this season.
2. Virginia Tech
The Hokies should have one of the nation's best defenses and this group is a major reason. Bruce Taylor is an All-ACC candidate. Tariq Edwards is currently injured and this unit could drop if he is not 100% this season. Bud Foster is known for great defenses and this unit is one of his best.
3. Clemson
The Tigers have a great linebacker tradition but have not had an All-ACC linebacker since 2004. That will change when Stephone Anthony
Stephone Anthony
So. Linebacker
#12 6-3, 235
Polkton, NC
View Full Profile steps in at MIKE this season. Clemson does not lose any players from this unit and improvement is expected with the experience. Tig Willard, Corico Wright
Corico Wright
Sr. Linebacker
#42 5-11, 230
Milledgeville, GA
View Full Profile , Tony Steward
Tony Steward
So. Linebacker
#7 6-1, 245
Hastings, FL
View Full Profile , Lateek Townsend
Lateek Townsend
So. Linebacker
#20 6-2, 215
Bennettsville, SC
View Full Profile , B.J. Goodson
B.J. Goodson
RS So. Linebacker
#44 6-1, 235
Timmonsville, SC
View Full Profile and several others represent a talent upgrade from recent seasons.
4. Maryland
All four linebackers return and three have All-Conference aspirations. Darin Drakefield, Demetrius Hartsfield and Kenny Tate are three returning senior starters who have a ton of experience. This is one of the best linebacker units of any of the teams that play a 3-4 defense as its base.
5. Boston College
The Eagles will have to replace one of the top players in school history in Luke Kuechly but there is still talent on campus. Kevin Pierre-Louis is the next great BC linebacker. Steele Divitto is another returning starter who had over 70 tackles last season.
6. Virginia
The talk in the Commonwealth is about Virginia Tech's linebackers but the Cavs are very proud of this group as well. Steve Greer had a monster junior year that included over 100 tackles. LeRoy Reynolds is a WILL that could receive All-ACC consideration. Kwontie Moore is a highly rated freshman that could get an early look.
7. Miami
The Hurricanes lose one of the best linebackers in the ACC in Sean Spence but this unit could be better this season. Denzel Perryman had a terrific freshman season with 69 tackles and Ramon Buchanon returns from injury. Perryman was one of the nation's best true freshmen last year. Raphael Kirby is a true freshman that might be this year's version of Perryman.
8. Georgia Tech
Julian Burnett and Steven Sylvester are gone from this 3-4 unit. Jeremiah Attaochu is the best talent here and is a legitimate All-ACC candidate. Quayshawn Nealy had over 50 tackles as a red-shirt freshman last year.
9. North Carolina
Kevin Reddick was banged up much of last year but he is healthy and plans on being the best linebacker in the conference this season. There is little experience elsewhere. Travis Hughes is the next star there and he had a good true freshman season but he lacks experience.
10. Wake Forest
Wake returns three linebackers but will have to replace their top guy from last season in Kyle Wilbur who recorded 70 stops a season ago. All three returning starters are seniors with Scott Bertos as their most productive player from last season.
11. Duke
The Blue Devils like their linebackers and feel this unit will be improved in 2012. Kelby Brown and Austin Gamble are returning starters who combined for over 100 tackles a season ago.
12. NC State
State loses Audie Cole, Terrell Manning and Dwayne Maddox from last year. That trio accounted for 260 tackles last year. Sterling Lucas is coming off an injury plagued season but is the most experienced of this unit.
The Brad Hughes All-State Insurance Agency
Prayer List
We have started a prayer list on the blog. Here are the guidelines:
If you are offended by prayer or prayer lists then I apologize in advance. The blog is free and the prayer list will be on the bottom of the page so you don't have to read it.
If you would like to add someone to the list please email me at mickeyplyler@hotmail.com
*Please let me know when it is appropriate to take the person off of the prayer list.
Those who need our prayers include:Finn Brookover, Mary-Louise Pawlowski (John's daughter), Jo Ann Bachman, Kenneth Bryant, Pruitt Martin, Got igers and his family, David Rowland, Leonard, Gillespie and his family, Jim S, Daniel Rosborough, The Huffman family, Nancy Winkler, John Reeve, Ethel Southard, Vinnie Brock, Kaitlyn L, Susan Miller, Joyce Harley, Steve Proveaux, Jeffrey Greene, the Hutto family, Sherl Drawdy, Caleb Kennedy, Teresa O'Connor, Matt Jacobs,Perrin Seigler, Candee Massee, Lindsey Jordan, Sam Catoe, Tyler Felch, the Nicolopulos family, "the Jacksonville, FL guys", Kim Sims, the Coyle family, Ryleigh Tedder, Steve Lee, Kelly Trakas, Jimmy Moore, the Thomas. V Family, Emary Claire Young, Kitty Bowers,Julie Locke, the Scheider family, Lauren Kittles' family, Frank Gentry, Joyce Bussey, Stacey McKeown, Dale Childs, Larry Lentz, Jr, Carl Sharperson, Scott Hannon, William Perry, Tyler Swaney, Lillian, Mark Feit, David Frame, Chad Berry, the family of Matthew M. Watson, the Dowis family, Shervin Messer, Alan Putnam, the Olivers, Lee Tate, Ronnie Abrams, Eddie Greene, the Jackson family, Bill Vader, Jim Taylor, Tina DeWitt, Rock Horne, Christopher Tuten, Bobby Wayne Thomas, Emma and Danielle Carothers, Robert Ditty, Mr. and Mrs. Murray Smith, Dot Cartee, Ayden Mills, Millie Heatley, Lynn Martin and family, Michael Pinson, Jake David family, Angie Crowley, Ira, Mike Tolson, Poly Wells, Dr. Muriel Bishop, Jack Cunningham, Emily Jefford Meister, Zachary Stoller, Aaron Clackum, Pat James, Cortney Moore, William Moore, Angelia and Savannah Anderson, William Ross, Meredith Legg, Scott Johns, Frank Carroll, Brandon Thompson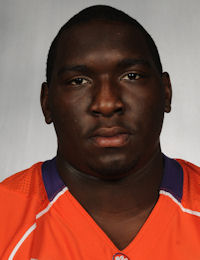 Brandon Thompson
Defensive Tackle
#98 6-2, 310
Thomasville, GA
View Full Profile , Alvin Sammons, Georgine McAlhaney, Glen Davis, Mike Price, Clay Childers, Aaron Knight, Danielle Johnston and family, Nicholas Abrams, Lana Kuykendall, Gary, Billy McLeroy, Gary G., William Huggins, Jim Bennett, Chantz Fowler, Ethel McElveen, Michele Gurganus, William Gentry, Lewis Usher and Tanya Sanders, Shon Cooper, Nick Collins.

Upgrade Your Account
Unlock premium boards and exclusive features (e.g. ad-free) by upgrading your account today.
Upgrade Now