| | |
| --- | --- |
| Quotes from Saturday's win over Florida St. | |
---
| | | |
| --- | --- | --- |
| Saturday, September 24, 2011, 9:57 PM | | |
CLEMSON – Quotes from Clemson's 35-30 win over Florida St. Saturday afternoon in Death Valley.
Clemson Head Coach Dabo Swinney
Overall thoughts:
"This was a great win. I'm so proud of our guys. They continue to show
heart. We're 4-0. That's where we want to be. Our guys have embraced this
tough schedule and really stepped up. Florida State is a good football
team. They have talented players. They were the Atlantic Division
champions until someone knocked them off, and we knocked them off today.
We still have a lot of work to do. We had to overcome a lot of mistakes
today. At Clemson, you're expected to win. This is what you want. We have
yet to play our best game and we're far from satisfied. We made enough
mistakes for three games today, and now we have to take this show on the
road. I'm so proud of our guys. They refuse to listen to negativity. They
believe."
On maturity of the team
" Sammy Watkins
Sammy Watkins
Fr. Wide Receiver
#7 6-1, 200
Fort Myers, FL
View Full Profile is a guy we've watched grow up through four games. He's
hard to handle. That 62-yard touchdown he scored was just a well-executed
play. I'm very proud of our defense. We tried to put the nail in the
coffin when we went for it on fourth down in the fourth quarter, but I
have confidence in our defense. To win on defense is awesome. Florida
State was only 3-of-10 on third down, but two of those were huge plays. We
have got to improve. We overcame a lot of adversity and it was an awesome
day here. I can't thank our fans enough, again. It was so loud in Death
Valley today and it's hard for teams to come in here and get a win."
On play of Tajh Boyd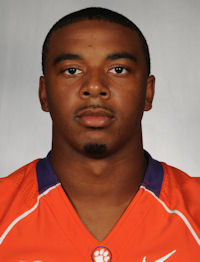 Tajh Boyd
RS So. Quarterback
#10 6-1, 225
Hampton, VA
View Full Profile :
"Tajh made a lot of mistakes today. That interception rattled him a
little, but he learned from that play. He's the first quarterback in
school history to have four straight games throwing three or more
touchdowns. He settled down a lot faster in this game than he has in
previous games. He made some huge throws on third down today. As a team,
we've been outstanding on third down. We were over 50% on third down
today. Tajh has a lot of poise in this offense and he's going to keep
getting better."
On defensive play:
"We gave up some big plays today. Florida State is a good team with great
skill guys. This was a game of plays and we just made more than them
today."
On control of season:
"We're supposed to be 4-0. We have to win at home, and that's what we've
done. We want to be a much better road team this year then we were last
year. We lost four road games last year by 17 points, but this is a
different team. Virginia Tech is going to be a hard place to play. We're
going to find out stuff about our team. We're still trying to play our
best game. Next Saturday is going to be won in the trenches."
Florida State Head Coach Jimbo Fisher
Overall Thoughts:
"We just played another hard-fought football game. Give Clemson credit,
they have a really good and talented football team. They did a great job
making plays when they had to. They made a lot of big plays. We were our
own worst enemy a lot of times today, leaving them on the field by not
getting off the field on third-and-long. They hit about three
third-and-12's. We did a good job on first and second downs, so it was
very disappointing. Some of our young receivers played extremely well.
Clint did an excellent job of managing the game and trying to bring us
back. He had some nice plays. We're 2-2, and the off week probably comes
at a good time for us to take a good, hard, deep look at ourselves. This
can still be a very good football team, but it has to learn to stop doing
the foolish things. It was in different spots than it was last week. It's
my job as the head coach to get that fixed."
On the play of starting QB Clint Trickett:
"Clint is a coach's son. He has been a gym rat. He has been around it his
whole life and understands ball. Kids who have grown up around that handle
it really well. There were a few plays he wishes he could have had back,
but he stood in there and led."
On the difficulty of defending Clemson's offense:
"Clemson did a great job of keeping us off balance. They got to the edges,
and they were able to run it enough inside to keep us off balance. The big
thing was that they hit their big plays. They got the one-on-one matchups
and beat our corners. They did a great job on offense."
On roughing the punter before halftime:
"I don't know how he didn't block the kick. He jumped over the kick. We
really felt we could get a blocked punt today. We tried before the half
there. I hope the kicker is okay. We didn't mean to hurt him. But he
jumped over it, and he kicked it under him."
On how much this loss hurts compared to last week's loss to Oklahoma:
"It hurts because you wish you could have responded from adversity from a
week ago. Like I told this team, I have been on championship teams that
have lost two in a row. We still have a chance to be a very good football
team. We have to coach them better. We have to get them into better
position and get the details out of them."
Clemson Player Quotes
Quarterback Tajh Boyd
"It was great that the players we have on the field were able to step up
and make plays. I think we should have scored more, but I do think that we
took advantage of our opportunities. This team is really starting to come
together and we're realizing what this offense can do."
On the play of Sammy Watkins:
"He's got the speed and it's great to know we're going to have that type
of player on the field for three more years. I know he's going to get the
ball every time and run with it."
On what he learned after interception
"I guess in the sense of adversity after the pick. Everything is easy when it's going good. You don't really say anything then. When you get down and things start to not go your way, that's when you grow up a little bit. I definitely think that happened. We've got a lot of support in the unit. We stepped up and made some big plays today."
On how he handled himself after interception
"I brushed it off right away. They started sending blitzes and I was like, 'Man, I don't know what's really going on.' That was one of the things I have definitely stepped up in the areas- Not letting the last play hinder me. That's something I've grown up with since last summer."
On if he envisioned 4-0 start
"Yes. We used to run gassers on Friday mornings at 5:30. Every gasser we would call out the team name, '1-0,' hit a sprint, come back yell out '2-0', and sprint. As a team, we have that accountability and that credibility and we feel like we owe it to ourselves to getting better every week. There is no room for complacency at this level. We just have to stay humble and keep working."
Wide receiver DeAndre Hopkins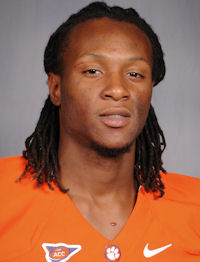 DeAndre Hopkins
So. Wide Receiver
#6 6-1, 200
Central, SC
View Full Profile
"We knew coming into this game that they were going to key on our
receivers but as a wide receiver you live for that one-on-one. There was a
lot of talking going on during the game. This is basically a conference
rivalry, so there's always a lot of back and forth with those guys. We
played and were able to back our talk up. We weren't satisfied with the
Auburn win, we wanted to prove ourselves and really wanted this win as
well."
Wide receiver Sammy Watkins
On deep routes:
"I most definitely know I'm going to catch the ball. On that
third-and-six, I told the coaches to call the play because I was so
confident that we could get it."
On playing his first road game:
"I think it will be different in Blacksburg, but I'm ready. Our fans
yell, but obviously it will be a different kind of yelling on the road,
but I'll get used to it."
On handling individual attention:
"It's not hard to stay humble because I really don't like the limelight; I
like to stay low key and to just play my game."
Clemson defensive coordinator Kevin Steele
On overall play of the defense
"Well, I really don't know what to say. We did some good things. We were effective against the run. They had that little wildcat deal they came out with, which was unique because they were empty with two tight ends. We got them over there and got that situated. But I thought we were effective in the run game. "
On rushing the passer
"We did not rush the passer very effectively. And so you know, there were a lot of quick balls thrown. Lot of quicks. It was a good plan and they did a good job of cutting us up front. We had a 37 and 57-yarder, but all in all we got it done. And when it was on the line in the two-minute situation those guys stepped up in a big way. Because it could have gotten really interesting."
On winning ACC opener
"It's not 4-0. It's the first ACC game. In this league, if you don't win that first one, it puts you behind the 8-ball. So it helps to win that first one. Someone else is driving when that happens."
On if Morris and the offense are stealing the headlines
"Nah, nah. Just write about them. All you want. We'll stay invisible. I'm proud of the players, but that's not relevant. It really isn't. We have to get better defensively. And they do what they do. At the end of the day it's what Al Davis said - just win."
On who played well
"I thought [Andre] Branch, Rennie [Moore] and Brandon [Thompson], even though they were being cut up front. They were just relentless. I thought we tackled better. Our safeties did a good job. We had two young, freshman corners. 21 [ Darius Robinson
Darius Robinson
So. Defensive Back
#21 5-11, 170
College Park, GA
View Full Profile ] hasn't played a lot and 17 [ Bashaud Breeland
Bashaud Breeland
RS Fr. Defensive Back
#17 6-0, 185
Allendale, SC
View Full Profile ] is just this year playing. They got burned a few times, so we have to stop that."
Rennie Moore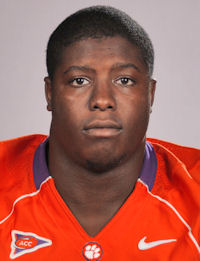 Rennie Moore
RS Sr. Defensive Tackle
#94 6-3, 265
Saint Marys, GA
View Full Profile
On the win
"It feesl great. It feels real good. I can't even tell ya'll the feeling. It was another revenge game in my book personally. I'm feeling great. A muscle kind of tore in my shoulder. It's nothing big. I wasn't leaving that game for nothing. I sucked it up, put a brace on it and kept playing."
On his sack
"I'm thinking 4-for-4, hit and get it. I've got to do what I said if I want to be known as a good pass rusher. I've got to credit my defensive line- [Andre] Branch, Malliciah [Goodman], BT [ Brandon Thompson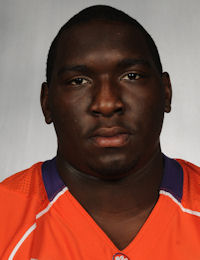 Brandon Thompson
Sr. Defensive Tackle
#98 6-2, 310
Thomasville, GA
View Full Profile ]. They flushed him to me. I gave the guard a little juke move, went inside and there he came head-on-head. I knew I was going to win that battle."
On his thoughts after the sack
"Shhhhhh…yay." I don't know. I was just excited. I knew what had happened. I just needed to look up at my mama. That's actually credit to my debo, part of our d-line's staff- Damonte McKenzie. We worked on flushing someone and knowing that you gotta chase. I credit him for that big time. I was pointing at my mama. That sack was for her. All of my sacks are for her."
On defense rising up when it had to
"I believed we could do it. They were getting us. Those Florida State boys are some of the best skill personnel in the game. If you don't stay on them, they are going to make plays. I' m just glad that we got to the quarterback in time and finished off the job."
Dalton Freeman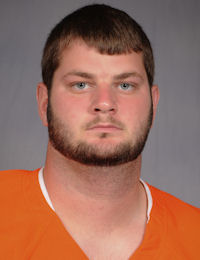 Dalton Freeman
RS Jr. Offensive Line
#55 6-5, 285
Pelion, SC
View Full Profile
On Coach Morris
"Coach Morris always puts us in the best position to win. He is a genius. He mixes it up so much. I'm just so proud of him coming in to Clemson from Tulsa and making that transition without missing a beat. He has done a great job. He is really making football fun again."
On tough stretch
"We just had to have a great week of preparation, which we did. We just had to have a lot of film study, which we did. We just had to try and improve from last week. We aren't happy with the penalties or the sacks, or the pressure, but that is going to happen from time to time when you play teams like Florida State. We are not where we want to be or where we need to be especially when you don't get it on a 4th-and-1 and I think we had a 3rd-and-1 earlier in the game. That's just not acceptable."
On handling the big win
"Stay humble. This has been a Clemson program that has been very inconsistent in the past and now that we are starting to have some success, we have to learn how to handle it. There is so much stuff left out on the field. We are nowhere near being able to say that we are the best that we can be because there is so much left out there. We have to stay humble. It's going to be a tough test going up to Blacksburg."
On offense gaining 455 yards
"It's awesome especially knowing that we left so much out there- the 4th-and-1. There was a 3rd-and-1 and some dropped balls. We really shouldn't ever put our defense in that position, but we are going to be able to go in and correct some mistakes. In years past, we haven't been able to correct mistakes, but these are all correctable things. That's a big positive for us."
On if he was watching last series by defense
"Kinda. I was watching, but at the same time I was praying with all I've got. You've got to give credit to those guys. We have a lot of confidence in them. When we needed them, they were able to go out there and make a play."