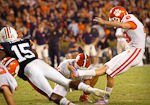 | | |
| --- | --- |
| Clemson loses heartbreaker on the Plains | |
---
| | | |
| --- | --- | --- |
| Sunday, September 19, 2010, 12:14 AM | | |
AUBURN, AL - Heartbreak on the Plains.
Freshman kicker Chandler Catanzaro, forced to make a second kick following a penalty, missed wide left on a second attempt in overtime, and the Clemson Tigers missed a golden opportunity at an upset in losing 27-24 to 16th-ranked Auburn in front of 87,451 fans at Jordan-Hare Stadium Saturday night.
The teams had battled to a 24-all deadlock through four quarters, and Clemson held Auburn to a 39-yard field goal on the first drive of the extra period. Clemson appeared to tie it on a 27-yarder by Catanzaro, but a penalty was called on Clemson snapper Matt Sanders for double-clutching the ball, and Catanzaro missed the do-over wide left, setting off a raucous celebration for Auburn and sending Clemson back home with the loss.
"First of all, congratulations to Auburn," a subdued Dabo Swinney said following the game. "You have to give them a lot of credit. They hung in there and fought back when their backs were against the wall. It was a good ballgame, and I'm sure it was a good one to watch. But I am awful disappointed that we didn't finish. We had an opportunity to finish the game.
"I think we've got a chance to be a good football team, and I think we've got the ingredients. I thought that coming in here. I wasn't sure how they would respond. Certainly, we didn't play a perfect game, but we played hard, and we showed a lot of toughness. We also showed some poise at critical times. WE just had to weather the storm." Clemson loses heartbreaker on the Plains
Clemson won the opening coin flip and elected to receive, which turned out to be the first right move of the night. The Tigers used 12 plays and just over six minutes off of the game clock to score the first touchdown. On third down and seven from the Auburn eight yard line, Parker tossed a shovel pass to running back Jamie Harper, who shook off two defenders in the middle of the field and outraced cornerback Aairon Savage into the corner of the end zone for a 7-0 lead.
The teams traded a couple of possessions, but Clemson got back on the scoreboard with a second quarter drive that ended with a 42-yard field goal by Chandler Catanzaro. The field goal was the second his career and gave Clemson a 10-0 lead with 8:19 remaining in the half.
Auburn took over at its own 20 with just over three minutes remaining in the half and picked up one first down, but Newton, under pressure from Bowers, floated a pass towards Kodi Burns that DeAndre McDaniel swooped in and picked off. It was McDaniel's first interception of the season, and set up Clemson at its own 39 yard line.
Three plays later, Parker faked a screen pass and threw a strike towards Harper, who was darting down the right sideline, and Harper made a diving catch in the end zone for a 24-yard touchdown and 17-0 Clemson lead with 1:14 remaining in the half. The drive covered 61 yards, was just five plays, and lasted just 41 seconds.
Auburn drove down the field just before the half, finally denting the scoreboard as time expired on a 35-yard field goal by Wes Byrum.
That drive started a stretch when Auburn outgained Clemson 321-34. The teams traded possessions to open the second half, but Auburn struck quick on its second possession. It took Auburn just six plays to cover 61 yards, with Onterio McCalebb running around left end on a third down for 12 yards and an Auburn touchdown, trimming Clemson's advantage to 17-10 with 8:24 remaining in the third quarter.
Auburn tied the score on their ensuing possession on a play that was reviewed. Auburn had driven down to the Clemson eight yard line, and Newton threw a dart to Darvin Adams in the front corner of the end zone. Adams was ruled out of bounds on the field, forcing what looked like a fourth down, but the play was reviewed and overturned, tying the score at 17 with 3:41 remaining in the third quarter.
Parker took a hit midway through the third quarter – he had dropped a snap on third and tried to scramble for a third down – and took a helmet in the back. He went to the sidelines and was attended to, came back in played, but it was apparent he was in pain for the remainder of the game.
"I just got beat up and feel awful right now," Parker said after the game. "But I didn't come here to watch our team, to leave them when they needed me most. I was pushing to get the job done. Injury or no injury. That is no excuse."
Auburn made it three touchdowns in three second half possessions on its next drive, Newton hitting a wide open Terrell Zachery on a 78-yard bomb for a 24-17 Auburn lead late in the third quarter.
Trailing for the time in the game and needing a gut check, Clemson responded in a big way, driving 77 yards in nine plays on the legs of Ellington and Harper. Ellington finished off the drive with a physical two-yard run to tie the score at 24 with 12:36 left on the game clock.
The Tigers had a drive going with just under three minutes left on the game clock, but a third down pass just went over Allen's hands and Clemson was forced to punt.
"I had a couple of plays where I had turned it inside, and I knew if I had caught that one, I was going to turn it back inside," Allen said. "I knew if I caught it, it was game over. I was going to score. Kyle got some pressure, and we just couldn't quite come up with the play."
In overtime, following the Auburn field goal, Parker appeared to have Jaron Brown open in the right corner, but the ball slipped off of Brown's hands, forcing Clemson to try for the field goal.
"I am disappointed that we missed that last field, and that the first one came off the board," Swinney said. "I am proud of Cat Man. I wouldn't trade him for anybody. He is just a freshman and he is only going to get better. I love my football team, and our objective is to learn from this game and get better. We've got an open date, and we have a lot of guys that need to get healed and rested. We have to harness what we learned, clean up some things and go from there."
Parker said he was proud of how the team played.
"I thought we played really well," Parker said. "We competed. This is one of those where you leave and you know you should have won. I think we did everything to earn it and to win."
A teary-eyed Catanzaro met with the media following the contest, and said the game of inches bit him at the worst time.
"I wanted to do the best for my team," Catanzaro said. "They had worked their butts off, and I just came up short this time. I will go out there and make the next one. That is all I can do. I should have made it. I trusted my technique, and I think I pulled it just a tad. I hit it good, I kept my head, just pulled it I guess. "


Score by Quarters     1  2  3  4 OT [ 5 ]   Score


-----------------    -- -- -- -- -- [ - ]   -----


Clemson.............  7 10  0  7  0 [ 0 ]  - 24       Record: (2-1)


Auburn..............  0  3 21  0  3 [ 3 ]  - 27       Record: (3-0,1-0)



Scoring Summary:


1st 08:59 CU - Harper 8 yd pass from K. Parker (Catanzaro kick), 12-76 6:01, CU 7 - AU 0


2nd 08:19 CU - Catanzaro 42 yd field goal, 11-53 4:44, CU 10 - AU 0


    01:14 CU - Harper 24 yd pass from K. Parker (Catanzaro kick), 5-61 0:40, CU 17 - AU 0


    00:00 AU - Wes Byrum 35 yd field goal, 6-53 1:14, CU 17 - AU 3


3rd 08:24 AU - O. McCalebb 12 yd run (Wes Byrum kick), 6-61 2:45, CU 17 - AU 10


    03:41 AU - Darvin Adams 8 yd pass from Cameron Newton (Wes Byrum kick), 8-72 2:44, CU 17 - AU 17


    01:03 AU - Terrell Zachery 78 yd pass from Cameron Newton (Wes Byrum kick), 2-83 0:38, CU 17 - AU 24


4th 12:36 CU - Ellington 2 yd run (Catanzaro kick), 9-77 3:27, CU 24 - AU 24


OT  15:00 AU - Wes Byrum 39 yd field goal, 4-4 0:00, CU 24 - AU 27



                                     CU       AU


FIRST DOWNS...................       27       19


RUSHES-YARDS (NET)............   47-187   47-221


PASSING YDS (NET).............      227      203


Passes Att-Comp-Int...........  35-21-0   14-7-2


TOTAL OFFENSE PLAYS-YARDS.....   82-414   61-424


Fumble Returns-Yards..........      0-0      0-0


Punt Returns-Yards............     2-15      2-6


Kickoff Returns-Yards.........     3-47    5-123


Interception Returns-Yards....      2-0      0-0


Punts (Number-Avg)............   7-41.3   6-40.2


Fumbles-Lost..................      1-0      0-0


Penalties-Yards...............     5-50     9-90


Possession Time...............    34:20    25:40


Third-Down Conversions........  6 of 16  5 of 13


Fourth-Down Conversions.......   0 of 1   0 of 0


Red-Zone Scores-Chances.......      3-4      3-3


Sacks By: Number-Yards........     2-10      1-8




RUSHING: Clemson-Ellington 22-140; Harper 19-44; J. Brown 1-6; Mcneal


1-minus 1; K. Parker 4-minus 2. Auburn-O. McCalebb 10-81; Michael Dyer 16-69;


Cameron Newton 17-68; Trovon Reed 2-8; Terrell Zachery 2-minus 5.

PASSING: Clemson-K. Parker 21-35-0-227. Auburn-Cameron Newton 7-14-2-203.

RECEIVING: Clemson-Allen 5-66; Ellington 4-48; M. Jones 4-19; Harper


3-48; Dye 3-34; Mcneal 1-8; J. Brown 1-4. Auburn-Darvin Adams 5-118; Terrell


Zachery 1-78; Eric Smith 1-7.

INTERCEPTIONS: Clemson-McDaniel 1-0; Brewer 1-0. Auburn-None.

FUMBLES: Clemson-K. Parker 1-0. Auburn-None.

Stadium: Jordan-Hare           Attendance: 87451


Kickoff time: 6:06      End of Game: 9:58      Total elapsed time: 3:52


Officials: Referee: Tom Zimorski; Umpire: Mike Wooten; Linesman: Tyrone Davis;


Line judge: Jack Weiland; Back judge: Dale Shaw; Field judge: Kip Johnson;


Side judge: Watts Key;


Temperature: 93        Wind: 10mph SE  Weather: Fair

SACKS (UA-A): Clemson-Bowers 0-1; Hawkins 1-0; Branch 0-1. Auburn-Nick


Fairley 1-0.

TACKLES (UA-A): Clemson-Bowers 5-4; Branch 3-5; Brewer 7-0; McDaniel 5-1;


Maxwell 3-3; Hawkins 2-3; Thompson 1-4; Chavis 3-1; J. Jenkins 2-1; Moore 0-3;


Gilchrist 2-0; Sensabaugh 1-1; Hall 1-1; Goodman 0-2; Benton 1-0; Ashe 1-0; J.


Brown 1-0; Ko. Brown 0-1. Auburn-Josh Bynes 7-4; Zac Etheridge 4-3; Nick Fairley


4-3; D. Washington 5-1; Neiko Thorpe 4-2; Aairon Savage 4-2; Antoine Carter 3-2;


Daren Bates 3-2; Mike Blanc 4-0; Michael Goggans 2-2; Zach Clayton 2-2;


T'Sharvan Bell 2-1; Mike McNeil 1-2; Craig Stevens 1-1; Jessel Curry 1-0; Nosa


Eguae 1-0; Kodi Burns 1-0; J. Whitaker 1-0; Drew Cole 1-0; Emory Blake 1-0;


Chris Davis 1-0; Corey Lemonier 0-1.