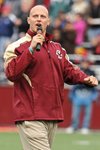 | | |
| --- | --- |
| Boston College linebacker Mark Herzlich shares his thoughts on Clemson | |
---
| | | |
| --- | --- | --- |
| Sunday, July 25, 2010, 7:28 PM | | |
GREENSBORO, NC – Boston College linebacker Mark Herzlich will be back on the field this fall, and even though the 6-foot-4, 238-pound senior out of Wayne, PA, plays for one of Clemson's rivals in the ACC Atlantic Division, it's hard not to pull for him.
Herzlich spoke with TigerNet about Clemson and head coach Dabo Swinney during Sunday's player interview sessions at the ACC Football Kickoff meetings at the Grandover Resort, and his comments about Clemson were thoughtful and gracious.
Herzlich, the 2008 ACC Defensive Player of the Year, was diagnosed last spring with Ewing's Sarcoma, a form of cancer most commonly found in the bone or soft tissue, and after missing last season, he has been cleared to return to play this fall.
The Eagles played their Atlantic Coast Conference opener last Sept. 19 at Clemson, where Swinney presented Herzlich a $5,000 check for Uplifting Athletes, the cancer-research charity with which Boston College's student-athletes have become involved since Herzlich was diagnosed.
Swinney also presented Herzlich with a Clemson jersey signed by the Clemson seniors, and the jersey bore No. 94, Herzlich's number at BC.
Herzlich told TigerNet that it was hard, especially in the beginning of the treatment process, to visualize a return to the field. Boston College linebacker Mark Herzlich shares his thoughts on Clemson
"When I was at the ACC Championship Game last year, it was obviously toward the later part of the process of coming back, and I was ready to come back then," Herzlich said. "Being there and watching Clemson and Georgia Tech play, I wanted to be there. Being there for two years and losing makes me wanna go back even more. In the beginning [shortly after he learned of his condition], you hope and you pray, but you don't really expect to get back. But after a little bit, you start getting the expectation that what you have been pushing for is going to happen."
Herzlich said that Clemson has always been a formidable opponent on the field, but it was what happened off the field last season that forever cemented a place in his heart for Clemson and Clemson fans.
"First of all, I have loved playing against Clemson since I first started," he said. "Going into Death Valley is awesome and playing against guys like C.J. Spiller and Jacoby Ford – those guys are superstars. They are outrageous. Somebody asked me earlier who the best player I have ever played against is, and I said C.J. He is unbelievable.
"But Clemson – it's the relationship that the fans bring to it more than anything. I only got positive messages about Clemson from my parents. When they were at Clemson last year, they were asked by people if they wanted food, and if they wanted to tailgate, and they were wearing their B.C. gear. There are not too many places that can happen. And we love having Clemson fans come to our place – they love their team."
Herzlich said that even after the battles on the field are over, the respect between the Tigers and Eagles runs both ways.
"Even after the games, there is never anything negative," he said. "It's always congrats on winning, or on a hard-fought battle. I am not for sure where that all starts, whether it's the town or the school, or it's the coach and the players that rub off on everybody.
"Last year, Coach Swinney was really incredible. They gave me a Clemson jersey with No. 94 and my name on the back, and they donated money. But Coach Swinney, he was there whenever I needed someone. He said 'please contact me.' Of course, I had great support from Boston College, but it was great to have that option."
He said that following last season's game at Clemson, he stayed overnight in the area and was blown away by the hospitality he saw.
"My parents rented an RV and they stayed overnight and tailgated after the game," he said. "I had become friends with Jacoby Ford, because he played in the slot and I covered him in the slot. I used to talk to him the entire game when I played against him, and we eventually exchanged phone numbers and we stayed in touch. So last year, he took me and my brother out bowling after the game, and I was like 'wow, where else does this happen?' You can talk about competition and competitors, but I will never forget that kind of thing."
This season, the Tigers travel to Boston College on Oct. 30th, and Herzlich said he is already looking forward to it, especially considering how tough each game between the teams turns out to be.
"We always have great games against Clemson," he said. "I remember in 2008, our one goal was to stop C.J. from running back that kickoff, and he just kept running it back and running it back. It was hard to tackle him. In 2007, we had that sack and the missed field goal, and then Aaron Kelly had that missed reception. It seems like things happen, and that creates rivalry. Now we have that leatherheads trophy [the O'Rourke-McFadden Trophy] that goes to the winner, and that is cool. I think both schools have kind of harnessed that energy and made it a tradition."