| | |
| --- | --- |
| Tigers to face Gamecocks with spot in Championship Series on the line | |
---
| | | |
| --- | --- | --- |
| Friday, June 25, 2010, 12:23 AM | | |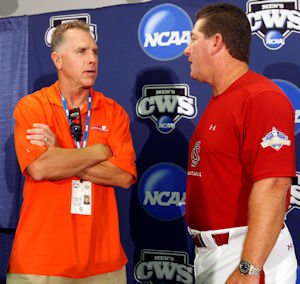 OMAHA – There is nothing like a little Southern fried rivalry out on the great plains of Nebraska.
The Clemson Tigers will renew acquaintances with their in-state rivals on Friday night in Omaha in the College World Series, with a trip to the National Championship Series that starts next week on the line.
The Gamecocks scored two runs in the bottom of the 12th inning on Thursday night to knock off and eliminate Oklahoma, leaving the two Palmetto St. teams as the only two survivors on their side of the bracket, but because they have one loss, the Gamecocks will have to beat the Tigers twice in order to advance.
The game will start at 9 p.m. ET, 8 p.m. in Omaha, and will be televised nationally on ESPN2.
The Tigers and Gamecocks played a three-game series against each other back in early March, and the Tigers took two of the three games. They won the first game 4-3 in Clemson, with David Haselden coming in to relieve Casey Harman and throwing four hitless innings to earn the win.
In the second game of the series, played in Greenville, the Tigers jumped out to a 4-0 lead, but the Gamecocks scored three runs in the ninth to claim a 7-5 win.
Game three was held in Columbia, and the Tigers ripped the Gamecocks to the tune of 19-6, hitting five home runs in the process.
Clemson shortstop Brad Miller said earlier in the day, however, that the opponent doesn't matter to the Tigers – only the results matter.
"I think we are honestly just a hungry ballclub," Miller said. "Honestly, we have a very aggressive mindset right now, and we are obviously confident in ourselves and each other. Now that we have a taste of it, we want more wins and more wins."
Miller then went on to say that the Tigers understand what this one game can mean to a Clemson program that has never played for a national championship on the diamond.
"As much as you try to take it one game at a time, it is the next game," Miller said. "We know that if we take care of business, and play like we are capable of playing, good things can happen. We can definitely smell it at this point. Honestly, though, once it gets to this point, we know we are facing a good ballclub, and we will be more worried about ourselves."
South Carolina's Jackie Bradley, Jr., said following the Oklahoma game that he looks forward to playing his rival again this season.
"
It's going to be fun," Bradley said. "We have to take it one game at a time. Of course we know who we're playing, big rivalry and all, but, like you said, it's just playing another baseball game. Just gotta win or go home. So gotta keep it going."
South Carolina head coach Ray Tanner said it says a lot of baseball in South Carolina that the two rivals have essentially made baseball's Final Four.
"Not to say too much about where we're from, but there are a lot of good teams," Tanner said. "We have a lot of teams in the post season in years past, not just Clemson and South Carolina, so many good teams and so much competition within the state, and the fact that we're both here playing with four teams remaining, it's hard to get in this position and it's happened before.
"So we take a lot of pride in that, that we have so much good baseball in our state, and we're happy to be playing. I know that right now Clemson is in the catbird seat. They've done their job to get where they are, and we're still alive. We'll get a chance to play. Now it's a national stage versus the in state rivalry. So I know that they're excited to be where they are, and we're excited to still be playing."