| | |
| --- | --- |
| Clemson Still Seeking Perfection After Win Over Duke | |
---
| | | |
| --- | --- | --- |
| Saturday, September 30, 2000, 5:35 PM | | |
DURHAM, N.C. -- When you're seeking perfection, contentment doesn't come easy.
A 52-22 win over Duke in front of 16,872 at Wallace Wade Stadium certainly didn't give Clemson what it came looking for on Saturday.
There were a few echoes from inside the lockerroom that resembled a celebration, but the sounds disappeared by the time the players were outside.
"We're happy with the win, but we're not happy with the way we played," said Clemson offensive coordinator Rich Rodriguez.
No. 7 Clemson, a 36-point favorite coming into the game, ran up a 35-0 halftime lead. Woodrow Dantzler ran for two touchdowns in the first half and added another touchdown run in the second half. He did nothing that will quiet the Heisman talk.
There was little talk of the Heisman Trophy after the game, though. With the 30-point win came the kind of disappointment that's likely when you're a 36-point favorite.
"The last fifteen years, Clemson has averaged sixteen points and won fifty percent of their games up here so you have to be happy with a 30-point win," said Clemson coach Tommy Bowden. "Mentally, you have a hard time keeping your attention because of the environment, but you try to talk around it and talk with your team. But I'm sure if it affects a 46-year-old, I guess it will affect a 19-year-old."
Rodriguez counted seven dropped passes. Clemson also was penalized ten times for 111 yards. In the fourth quarter, Duke scored two touchdowns against Clemson's reserves. Given the sparse crowd, there were reasons why Clemson might not have been motivated, although the Tigers controlled Duke in the first half and ended up with its most lopsided win ever in Durham.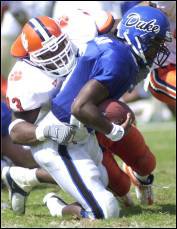 Clemson's defense allowed 42 total yards in the first half while the offense scored four touchdowns in the second quarter.
Brian Mance returned an interception to the Duke 4-yard line to set up a 1-yard touchdown run by Travis Zachery that gave Clemson a 21-0 lead. On Clemson's next possession, Dantzler took off on a 34-yard touchdown run, breaking a leg-hold by Duke defensive back Darryl Scott at the 17-yard line.
Dantzler scored on a 1-yard sneak with 9:27 left in the first half to give Clemson a 28-0 lead and threw an 8-yard pass to Morgan Woodward to give Clemson a 35-0 lead with 7:37 left in the half.
"I thought the defense, for the most part, played well in the first half," said Duke coach Carl Franks. "But at times we had trouble tackling Dantzler."
After Duke blocked a punt for a safety, Dantzler score on a 1-yard run to take a 42-2 lead.
A 41-yard run, however, by Duke's Chris Douglas gave Duke a touchdown and led to a meeting by the defense on the sideline. After two more Clemson scores gave the Tigers a 52-9 lead, Duke scored on a 2-yard run. A fumble on the kickoff by Clemson's Jackie Robinson then led to another score by the Blue Devils.
"We've got a lot to work on," said defensive back Robert Carswell. "We try not to look at the scoreboard. To get to where we want to be we have to go out and dominate every snap. We took what happened today personally. We're going to be accountable for what happened out there today."
BOX SCORE


Clemson    7 28 10  7  52 


Duke       0  0  9 13  22 

Clemson- Zachery 1 run (Hunt kick) 


Clemson- Dantzler 12 run (Hunt kick) 


Clemson- Zachery 1 run (Hunt kick) 


Clemson- Dantzler 34 run (Hunt kick) 


Clemson- Woodward 8 pass from Dantzler (Hunt kick) 


Duke- Safety 


Clemson- Dantzler 1 run (Lazzara kick) 


Duke- Douglas 41 run (Garber kick) 


Clemson- FG Hunt 22 


Clemson- Youngblood 38 pass from Simmons (Lazzara kick) 


Duke- Douglas 2 run (Garber kick) 


Duke- Erdeljac 5 run (two-point conversion failed) 




               Clemson (8) Duke 


First downs             25 14 


Rushed-yards        57-315 31-67 


Passing yards          212 168 


Sacked-yards lost     2-12 8-55 


Return yards           100 10 


Passes             12-23-0 16-35-1 


Punts               5-32.6 10-45.3 


Fumbles-lost           3-1 2-0 


Penalties-yards     10-111 9-54 


Time of possession   28:54 31:06 




INDIVIDUAL STATISTICS


RUSHING


Clemson-Dantzler 22-134, Kelly 12-84, Zachery 9-67, 


Simmons 4-18, Witherspoon 3-18, Rambert 5-minus 2, Team 2-minus 4. 

Duke-Douglas 4-51, Epperson 7-35, Wade 6-24, Erdeljac 1-5, 


N Hartofilis 1-4, Bryant 12-minus 52. 

PASSING


Clemson-Dantzler 11-19-0-174, Simmons 1-4-0-38. 

Duke-Bryant 16-35-1-168. 

RECEIVING


Clemson-J Robinson 3-36, R Gardner 2-55, Woodward 2-29, 


Bailey 2-26, Youngblood 1-38, Ron Thomas 1-20, J Watts 1-8. 

Duke-Erdeljac 4-42, Douglas 4-24, N Hartofilis 3-23, M Hart 2-39, 


K Moore 2-31, Wade 1-9. 

Att: 16,872