| | |
| --- | --- |
| Watkins says team focused on getting the job done against Wake | |
---
| | |
| --- | --- |
| Monday, November 7, 2011 11:43 PM | |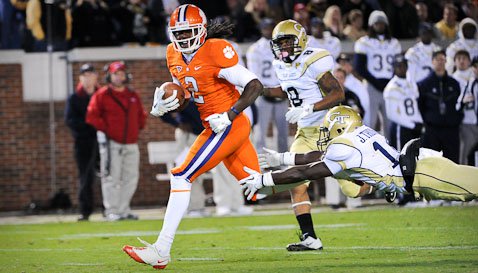 CLEMSON – Freshman receiving sensation Sammy Watkins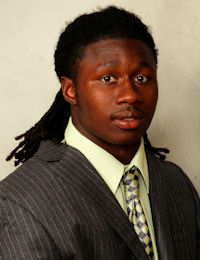 Sammy Watkins
Fr. Wide Receiver
#2 6-1, 200
Fort Myers, FL
View Full Profile said the Clemson Tigers have undergone a culture change, and it took a 31-17 loss to Georgia Tech at the end of October for the players to fully realize the implications.
The Tigers have had an underdog mentality for most of the season – trying to prove to the world that they belong – but Watkins said the Tigers now understand that with a Top 10 national ranking they are now the hunted instead of the hunter.
"We realized that we are not that team that can just come out here and beat somebody," the Fort Myers native said. "Teams want to beat us. We are not the underdog anymore. We just have to come out and play our game every time."
Watkins said the Tigers need to understand that despite the 8-0 start and lofty numbers from the offense, they still need to bring their 'A' game every time they take the field.
"I think [last week] we saw a bunch of guys that realize we can be beat," he said. "We have to come out and play hard every game. Not just against Florida St. or Auburn. We have to play hard against every team instead of just looking down against certain teams."
The Tigers fell into an early 24-3 hole against the Yellow Jackets and never recovered, and Watkins said the Tigers may have overlooked the Yellow Jackets going in.
"That is what happened with us," he said. "Me. Tajh. We didn't expect them to come out and play that hard. They came out fired up and were out there making plays, and they made more plays than we did. Now we have to get focused on Wake Forest and put that behind us. We have to learn from that loss. They beat us pretty bad and everybody knows it."
Watkins called the loss a learning experience, and said the Tigers won't make the same mistake again.
"I think we are actually going to come out and play a great game," he said. "We came back this weekend focused. We are going to prepare this week and I think we are going to be ready to play."
Senior punter Dawson Zimmerman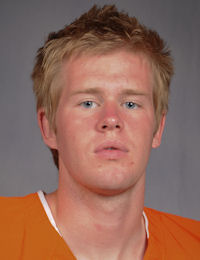 Dawson Zimmerman
Sr. Punter / Kicker
#96 6-2, 205
Lawrenceville, GA
View Full Profile said that he and his fellow seniors understand what is at stake, and are doing everything in their power to make sure a loss like that one against Tech doesn't happen again.
"I think all of us, especially the seniors, have heard for the last four or five years that it has been 20 years since Clemson has won an ACC championship," Zimmerman said. "I think all of us pretty much want to end that streak, especially knowing the heritage of Clemson University and knowing that is something that needs to return to normal. Having been there once and being so close, I think that is motivation."
Zimmerman said this year's senior class wants to be a part of an ACC championship team.
"Me personally, I would really like to contribute to being on the team that broke that streak," he said. "We can do it if we take care of business this week and in the rest of our games. We understand what is at stake, and we understand that if we win this game that there is still work to be done. We are not looking past this game. We just have to go out there and execute and everything will take care of itself as long as we focus on the little things."
He said that a person would have to sit in on the team meetings and listen to the seniors to understand just how much this team wants to reach the next level.
"If you were able to sit in on our senior meeting and hear the stuff we all say from a leadership standpoint you would be amazed," he said. "It's all about helping the younger guys who haven't been here before. We have lost an ACC championship and we know how it feels. We try to keep the younger guys focused. When the seniors consistently lead and consistently practice and execute and play to best of our ability, it trickles down to the whole team."