| | |
| --- | --- |
| Twitter reacts to Nation's No. 1 QB committing to Clemson | |
---
| | |
| --- | --- |
| Sunday, May 5, 2019 3:15 PM | |

DJ Uiagalelei - Quarterback

TigerNet:

(5.00)
Height: 6-4 Weight: 246 Hometown: Bellflower, CA (St. John Bosco HS) Class: 2020

ESPN:

#48 Overall, #1 QB-PP, #4 CA
Rivals:


#1 Overall, #1 QB, #1 CA

24/7:


#3 Overall, #1 PRO, #1 CA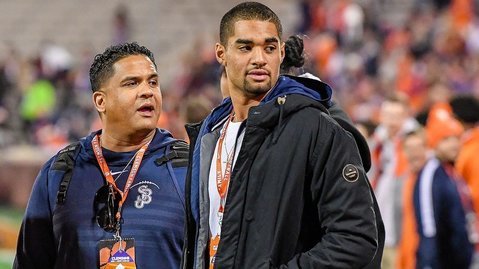 It's raining 5-star commitments for Clemson for the 2020 recruiting cycle.
One of the nation's top prospects quarterback D.J. Uiagalelei committed to Clemson over Oregon on Sunday afternoon.
Social media blew up from posts from recruiting gurus, fans, national media pundits, and others discussing Clemson's latest elite prospect heading to TigerTown.
Check out some of the highlights below:
This is all God's work and God's timing, I am blessed to say I AM 100% COMMITTED!!!!
Happy birthday Mom ??#FiLaGaNgBuSiNeSS @manecoagency pic.twitter.com/QaU31Rfovt

— ?? DJ Uiagalelei ?? (@DJUiagalelei) May 5, 2019
Congrats bro!! Best decision you could have made. Let's go to work ?? @DJUiagalelei pic.twitter.com/6BFLmhxNXO

— Trevor Lawrence (@Trevorlawrencee) May 5, 2019
GREAT DAY TO BE A CLEMSON TIGER?? #ALLIN #WE2DEEP20 #CA2CU

— Coach Jeff Scott (@coach_jeffscott) May 5, 2019
Special thanks to @DJUiagalelei for confiding in me and allowing me to get his story done ahead of time. Can't wait to see him in action...read his comments about his decision here, and find out when he knew and why https://t.co/fVVPcQiAlg

— David Hood (@MDavidHood) May 5, 2019
Clemson lands the No. 1 pocket passing quarterback in the 2020 class, DJ Uiagalelei. The Tigers now have 13 ESPN 300 commitments https://t.co/ppJQwrExPJ

— Tom VanHaaren (@TomVH) May 5, 2019
IT HAPPENED pic.twitter.com/3YFXyIcKHd

— Tiger Commenter (@TigerCommenter) May 5, 2019
Greatest class ever #ALLIN https://t.co/LoARcWdlQf

— Bryan Bresee (@bryan_bresee) May 5, 2019
There it is. Another 5-star QB heading to Clemson. Their 2020 class is off to an insane start. https://t.co/bb2n79Ogmp

— Max Olson (@max_olson) May 5, 2019
Clemson it is.
This 2020 class .. wow.

— Grace Raynor (@gmraynor) May 5, 2019
1 2 3 4 1 2 3 4
C.L.E.M.S.O.N. T.I.G.E.Rrrr.S #FightTigers #FightTigers #FightFightFight ??????

??????????????????????

— Coach Deandre McDaniel (@dmcdani2) May 5, 2019
#clemsonfootball #ALLIN pic.twitter.com/DGv64pwjGr

— Ricky Sapp (@Sapp91) May 5, 2019
Since the beginning of April, #Clemson #ALLIN has landed commitments from the Nos. 1, 6, 16, 23 and 42 players in the country. Four are five-stars and one is one step away from five-star status. Complete domination on the recruiting trail.

— Adam Gorney (@adamgorney) May 5, 2019
#Clemson just toying with the CFB world right now. @PaulStrelowTI

— Mike Farrell (@rivalsmike) May 5, 2019
The #1 QB in the class of 2020, DJ Uiagalelei commits to Clemson via YouTube.

Dano's finally wrong about something. He said Clemson would probably never have the #1 overall class.

Probably just left town, and Clemson #AllIn is now an inferno of a national brand.

— Marc Ryan (@MarcRyanOnAir) May 5, 2019
Scary thing is we're not done yet??

— Bryan Bresee (@bryan_bresee) May 5, 2019
BREAKING: C/O 2020, 5?? Quartberback DJ Uiagalelei has committed to Clemson! Clemson now has the..
#1 overall recruit/DT
#1 QB
#1 safety
#2 RB
#2 & #3 DT
#3 CB
#4 & #6 ILB
#5, #6 and #8 OG
?? #ALLIN pic.twitter.com/GbPy8sQLLj

— Jake Pierpont (@jgpvisuals) May 5, 2019
No doubt ... great Coach, great staff, great University and a great young man and family ... #ALLIN ??....sky's the limit ! https://t.co/ZUkiB8Zac9

— Dan Radakovich (@ClemsonDRad) May 5, 2019
Again, these are his latest quotes after a great conversation we had recently, and he detailed to me why he made his decision. He comes from a great family https://t.co/fVVPcQiAlg

— David Hood (@MDavidHood) May 5, 2019
The rich get richer!!! Go Tigers!!!

— Robert R. Smith (@rrsmith27) May 5, 2019
ITS A GREAT DAY TO BE A TIGER, AND I AINT TALKIN BOUT TONY!!! #ALLIN #ALLIN #ALLIN ??????

— Coach Da'Quan Bowers (@DaQuanBowers91) May 5, 2019
Clemson current 2020 recruiting status. Oh, and this does not include the top overall safety, No. 2 and No. 3 defensive tackles, No. 5, 6 and 8 guards and No. 4 and 6 inside linebackers. pic.twitter.com/2No0zOXHN7

— Adam Kramer (@KegsnEggs) May 5, 2019
MY BROTHA.
MY QB
welcome to the family officially ??@DJUiagalelei pic.twitter.com/oIUJ09SBjc

— Mitchell Mayes (@_7msm_2) May 5, 2019
Thank you bro you already know ?? #ALLIN https://t.co/erF2Ong3UN

— ?? DJ Uiagalelei ?? (@DJUiagalelei) May 5, 2019
Fun is in the winning! #ALLIN https://t.co/8z2snZHfsE

— Travis Etienne Jr??? (@swaggy_t1) May 5, 2019
And that's how it's done! Congrats Dabo. Welcome to the Clemson Tiger family DJ! @ClemsonFB @ClemsonAlumni #GoTigershttps://t.co/qxmoGLWhde

— Nikki Haley (@NikkiHaley) May 5, 2019
Welcome to the Family lil bro let's get to work ?? #ALLIN @DJUiagalelei https://t.co/xcagBQW44i

— KJ Henry (@thekjhenry_) May 5, 2019
HOW MANY #1 RATED QBS DOES DABO NEED

This #ALLIN thing is getting out of control at #Clemson! https://t.co/wvc0tvVaF6

— Daren Stoltzfus (@DarenStoltzfus) May 5, 2019
10 year challenge! Congratulations @DJUiagalelei the decision you made to attend Clemson is more significant than you can even imagine. Welcome ?? pic.twitter.com/VT3VCQWYI3

— Tajh Boyd (@TajhB10) May 5, 2019