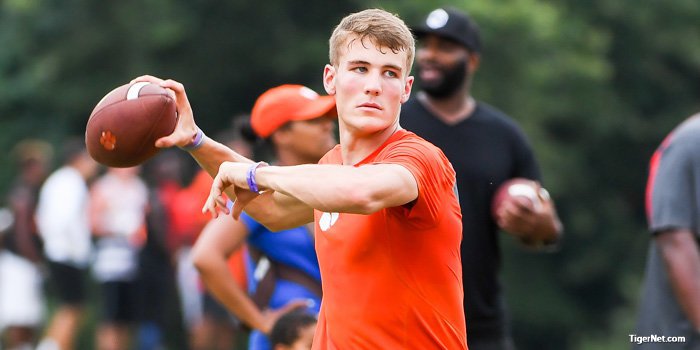 | | |
| --- | --- |
| Elite offensive talent on display at Swinney camp on Wednesday | |
---
| | | |
| --- | --- | --- |
| Wednesday, June 15, 2016, 4:11 PM | | |
CLEMSON -- A heat index approaching triple digits did not prevent over 1,000 prospects (and media members) to attend the 2016 Dabo Swinney Football Camp on Wednesday.
The second session on Wednesday afternoon showcased some of the elite wide receiver prospects at the camp with Tee Higgins and Amari Rodgers.
4-star wide receiver Higgins went through the various drills and was ultra smooth even with his lanky 6-4 frame. He reminded me of a young A.J. Green at this early stage of his high school career. Tennessee and Clemson are two schools to watch out for in his ultra-competitive recruitment.
Clemson 4-star wide receiver commit Amari Rodgers is powerful, and a potential big-time slot receiver that was fluid in his route running coming in and out of his cuts.
One recruit that has shown tremendous improvement since last year's camp is wide receiver Will Swinney, son of Dabo Swinney. He has gotten much thicker and has improved his acceleration, and I did not see him drop a pass the last two days. He was in the 'A wide receiver group' and he certainly warranted it.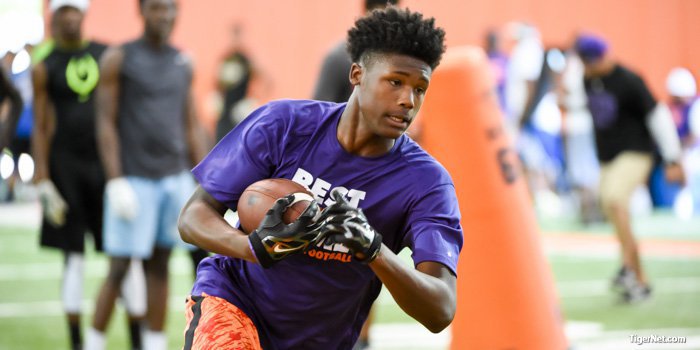 Elite quarterback and Clemson 2017 commit Hunter Johnson continued to impress on-lookers with his precise passing and agile pocket movements. I watched for several minutes as he threw beautiful and accurate 25-yard strikes into a small target on a passing dummy. He looked a little thinner that I thought he would, but he has a long time to bulk up even before he even officially arrives at Clemson. His hard-working worth ethic was also on display as he went through the drills the last two days instead of watching like some national 5-star prospects sometimes do. The Tigers appear to have hit a homer in nabbing Johnson's commitment. As a junior, he passed for 2,545 yards with 31 touchdowns and 12 interceptions.
The #1 quarterback in the 2018 class and Clemson target Trevor Lawrence will be at Clemson tomorrow, and Clemson, Georgia, and Tennessee are three schools that are in the thick of it with his 5-star recruitment.
On the Clemson coaching side of things, graduate assistant Thomas Austin does a great job teaching the offensive line group at the camp. He is not the loudest coach out there but has a great personality working with the kids. Also, current Clemson offensive lineman Jay Guillermo is a natural as a future coach as I listened in for several minutes as he gave some excellent tips to the youngsters on their balance and fine-tuning their technique.
Clemson co-offensive coordinator Tony Elliott had an interesting teaching moment with a running back camper and told him to push him in the chest to motivate him and wanted him to use that force on the exercise balls that they were using. The camper pushed Elliott and then got motivated to hit the red exercise ball with more force on his next rep.