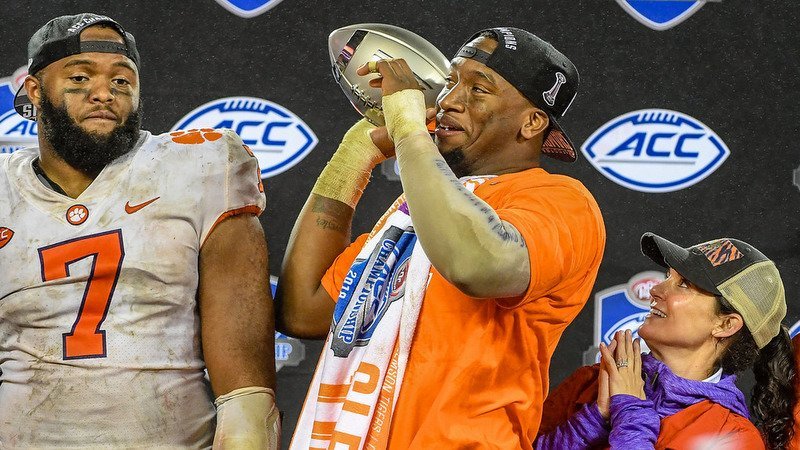 | | |
| --- | --- |
| Twitter reacts to Clelin Ferrell going No. 4 overall in NFL Draft | |
---
| | | |
| --- | --- | --- |
| Thursday, April 25, 2019, 9:16 PM | | |
Former Clemson defensive end Clelin Ferell was selected No. 4 overall in the 2019 NFL Draft on Thursday night. It was tied for the highest pick ever for a Clemson player with Banks McFadden (1939), Gaines Adams (2007), and Sammy Watkins (2014).
Ferrell totaled 166 stops, 50 for loss, with 27 sacks over 44 starts with the Tigers.
Social media went wild with the pick selection as most projections had Ferrell as a mid-first rounder.
Check out some of the instant reactions on Twitter:
?? MUST SEE ??

The definition of #ClemsonFamily ??#ALLIN pic.twitter.com/yFd6z9iALh

— Clemson Football (@ClemsonFB) April 26, 2019
Yessir they got it right they know who the best D-end is in this class @Raiders @Cle_Missile ???????? #justsmile

— Christian Wilkins (@cwilkins42) April 26, 2019
Raiders got a great one?? @Cle_Missile #ClemsonNFL

— Coach Jeff Scott (@coach_jeffscott) April 26, 2019
#Raiders taking #Clemson DE Clelin Ferrell.

This Raider fan was SICK! #NFLDraft pic.twitter.com/6zwAXHawYn

— Looselines (@LooselinesRJ) April 26, 2019
I had Clelin Ferrell as my 18th-ranked prospect in this draft. For the Raiders' sake, I hope I was wrong.

— Gil Brandt (@Gil_Brandt) April 26, 2019
Clelin Ferrell and Daniel Jones are Top 6 picks and Ed Oliver/Josh Allen are not. This is 2019.

— Joe Buscaglia (@JoeBuscaglia) April 26, 2019
Oakland tanked all season for.... Clelin Ferrell?

— Marcus Mosher (@Marcus_Mosher) April 26, 2019
New Raiders DE Clelin Ferrell is the highest-drafted Clemson player since Sammy Watkins (No. 4) pic.twitter.com/EL10K2dZMn

— Bleacher Report (@BleacherReport) April 26, 2019
Jeremiah said Clelin Ferrell had the highest "character" of any top-20 prospect. But they couldn't trade down to draft character?

— Gregg Rosenthal (@greggrosenthal) April 26, 2019
There were teams with 2nd-round grades on Clelin Ferrell. #Raiders may have just outsmarted everyone, but "bold" would be an understatement for the first pick of the Mayock/Gruden era.

— Tom Pelissero (@TomPelissero) April 26, 2019
I'm a Clelin Ferrell fan. But did he flourish because Clemson's line was so loaded with NFL talent? I saw several mocks that had him going at the bottom of the first round. Gruden just took him 4th. Must've thought he'd go much higher than projected. He better be real good.

— Skip Bayless (@RealSkipBayless) April 26, 2019
Clelin Ferrell told me that he wears No. 99 because of Aldon Smith (who played at one point for the Raiders), and Ferrell was candid about what he learned from Smith's struggles.

— ProFootballTalk (@ProFootballTalk) April 26, 2019
Clelin Ferrell to the Raiders and fans are confused ?? pic.twitter.com/W6c8T2QWhu

— Yahoo Sports (@YahooSports) April 26, 2019
Raiders select Clemson DE Clelin Ferrell at 4 ... destroying mock drafts everywhere and proving the Raiders are the Raiders no matter who is in charge. pic.twitter.com/tfoo7TVOFN

— Ralph Vacchiano (@RVacchianoSNY) April 26, 2019
How about a little history on a rainy April night in Nashville? Clelin Ferrell goes fourth overall to the Raiders, matching Banks McFadden (1939), Gaines Adams (2007) and Sammy Watkins (2014) or the highest pick in Clemson history.

— Ross Taylor (@ClemsonFBRoss) April 26, 2019
Raiders used the No. 4 pick to draft Clelin Ferrell pic.twitter.com/ZUPZaXULAD

— Bleacher Report (@BleacherReport) April 26, 2019
At No. 4, the first of their three first-rounders, the #Raiders and new GM Mike Mayock take #Clemson DE Clelin Ferrell. FOR REAL. They said it would be a surprise...

— Ian Rapoport (@RapSheet) April 26, 2019
Stay weird, Raiders. (Clelin Ferrell is awesome though.)

— Stewart Mandel (@slmandel) April 26, 2019
OMG 4th overall? @Cle_Missile man!!! YOU SHOCKED THE F?? WORLD WITH THIS ONE @Raiders YOU BOYS GOT A GOOD ONE!!! VA STAND TF UP NOW!!!

— #KMasterLock™$$ (@KVonWallace) April 26, 2019
CLE??????????????

— JDJr Davis (@JedidiahDavis33) April 26, 2019
VA????CLEMSON????NFL ????

— SHERIDAN JONES ?? (@SJones6_) April 26, 2019
#RaiderNation y'all got a good one.... Trust me??

— Tee Higgins? (@teehiggins5) April 26, 2019
Congratulations to Cle Ferrell on being drafted by @Raiders! I am excited to watch him play on Sundays! #ClemsonNFL #NFLDraft @Cle_missile @ClemsonFB pic.twitter.com/GvQfLtWBAt

— Jim Clements (@ClemsonPrez) April 26, 2019
CLEEEEEEEE MISSSLEEEEEE

— Xavier Thomas (@atxlete) April 26, 2019
A role model , big brother, and a teammate ?????? https://t.co/tGIyoJlGo1

— Jordan Williams (@_blessed_23) April 26, 2019
LETS GOOO !! Cle finna snap in that Black and silver ! Believe that!! #ClemsonFamily

— Amari Rodgers3?? (@arodgers_3) April 26, 2019
We will make history tonight????#NFLDraft19

— Todd Bates (@CoachToddBates) April 26, 2019
Amazing Pick!!! Raiders won with that pick!! I swear... This kid is Special!!!

— Coach Deandre McDaniel (@dmcdani2) April 26, 2019
Congrats cleeeee #NFLDraft

— Dj Reader (@Djread98) April 26, 2019