| | |
| --- | --- |
| Renfrow defends Deshaun Watson as ESPN analyst claims accuracy issues | |
---
| | |
| --- | --- |
| Tuesday, March 7, 2017 5:35 PM | |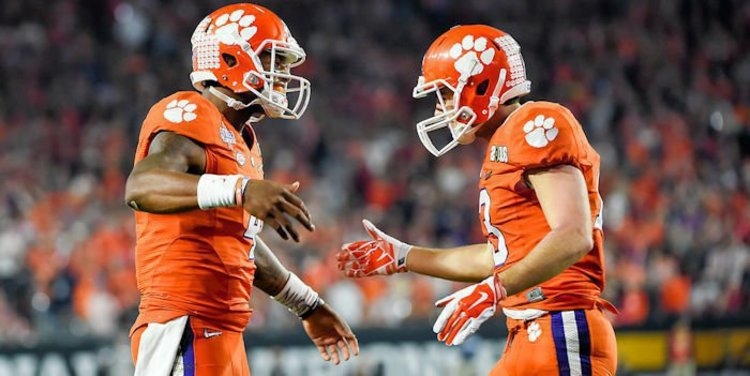 Former Clemson standout Deshaun Watson is one of the hottest topics for national media pundits to discuss as they preview the upcoming 2017 NFL Draft. ESPN analyst Merril Hoge was on SportsCenter on Tuesday and said players especially quarterbacks coming out of spread offenses are at a big disadvantage with their knowledge of the game.
"A lot of these guys [quarterbacks] weaknesses coming into this draft is the spread offense," Hoge said. "The spread offense is a third of football. What you find is with the quarterback position out of these spread offenses is it is so elementary and so simplified, they don't learn how to do a lot of things that they need to do to transition to the NFL."
Hoge went on to assert that two-time Heisman finalist Deshaun Watson has a lot of issues with his passing in the redzone, accuracy issues in general, and has no sense of anticipation on some of his football tape.
"To transition to the NFL, accuracy would be number one and studying that part of his game, he struggles in mightily and part of that is the system that I just mentioned - the spread system." Hoge said. He gets locked on one guy and stays with one guy and a lot of his interceptions come in scoring territory which is a big concern that a guy that hasn't learned in those simplified offenses to get off that and when he throws the football and when you need it in scoring territories, what bothers me the most, he is very erratic. I have never seen, i will argue this till the day I die, you can not make a quarterback that is not accurate, accurate. You can't do that. You can bring it in a little bit but if he ain't accurate, that's the way he is going to be and you have to live with it. There's also no sense of anticipation with some of his throws. You don't see him come off things and go to other things so there is a big learning curve for him. If he is drafted number nine overall, they have no quarterback and he is the starter, it's going to be really tough."
In 2016, Watson completed 388 passes out of 579 attempts for 4593 yards and 41 passing touchdowns with 17 interceptions (and his degree) for an adjusted QBR of 84.9.
I've been doubted & criticized my whole life. None of you people's opinions matter to me. I just hustle & stay in my own lane.

— Deshaun Watson (@DeshaunWatson4) March 8, 2017
Clemson wide receiver Hunter Renfrow didn't agree with Hoge's negative assessment of his National Championship quarterback.
"If you can get more accurate then I want to see it," Renfrow tweeted on Tuesday. "I would say accuracy is one of his [Deshaun Watson] top assets?"
If you can get more accurate then I want to see it. I would say accuracy is one of his top assets? https://t.co/A9PlYsT1NR

— Hunter Renfrow (@renfrowhunter) March 7, 2017
Click here if video does not load