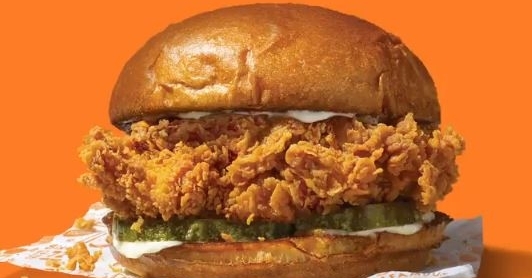 | | |
| --- | --- |
| Deshaun Watson believes Popeyes' chicken sandwiches helped his eye | |
---
| | | |
| --- | --- | --- |
| Sunday, November 3, 2019, 3:20 PM | | |
First off, I love chicken sandwiches. It doesn't matter if they are fried, grilled, spicy, or chargrilled. It's all tasty to me.
Deshaun Watson appears to feel the same way as he believed a few chicken sandwiches helped his eye recover when he was kicked in the face last week.
"The eye is great," Watson said in an interview Sunday. "I'll tell you the key was -- the Popeyes spicy chicken sandwiches that I ate this week, that helped the eye."
Watson's fun claim that this sandwich is a magical cure-all coincides with Popeyes restaurant getting their tasty sandwiches back in stock as of Nov. 1 as they were sold-out for a while.
Back on the gridiron, Watson led the Texans to a 26-3 victory over the Jaguars in which he completed 22 of 28 passes for 201 yards and two touchdowns.
Deshaun Watson said the key to healing his injured eye was eating Popeye's spicy chicken sandwiches ?????? pic.twitter.com/57zJvBRquU

— Abe Schwadron (@abe_squad) November 3, 2019
Y'all...It's Sunday. ??????? pic.twitter.com/al3Qb05lAM

— Popeyes Chicken (@PopeyesChicken) November 3, 2019
This is not a drill... We're fully stocked. pic.twitter.com/kMVXd9pyaV

— Popeyes Chicken (@PopeyesChicken) November 1, 2019
HE. WON. HALLOWEEN. ?? pic.twitter.com/jVEyn0tnoc

— Humankind (@Humankindvideos) October 31, 2019