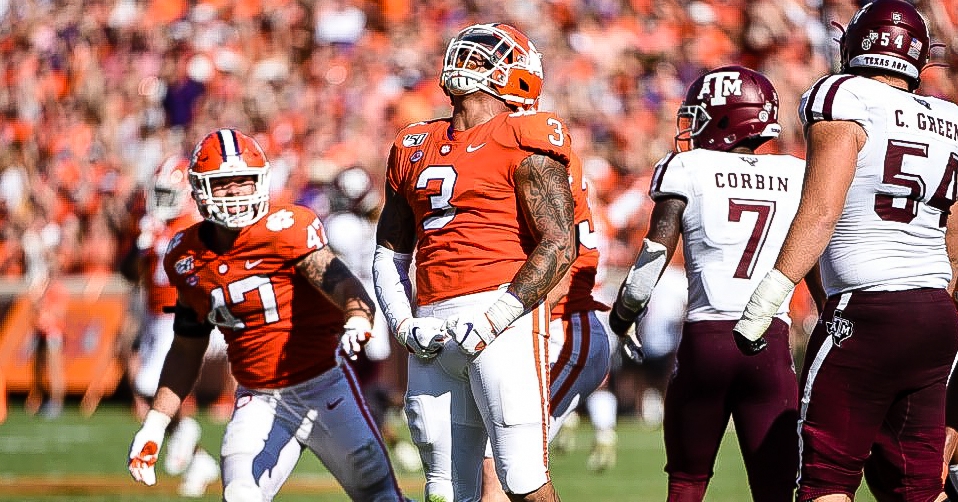 | | |
| --- | --- |
| Clemson DE out against Wofford | |
---
| | | |
| --- | --- | --- |
| Saturday, November 2, 2019, 2:35 PM | | |
Clemson sophomore defensive end Xavier Thomas missed Saturday's game against Wofford.
He went through pre-game warmups but did not play.
"Xavier was ready to go too," Swinney said postgame. "We really didn't feel like we needed to play him so he is chopping at the bit. He wanted to play, but I'm glad we got him back and he is ready to go and can have a good full week of practice and get back on track."
This will be the third straight game Thomas has been out with the concussion he suffered in practice last month.
"He just couldn't pass the protocol last week in time to play," Swinney said after Wednesday's practice. "Last night he was wearing shorts and the first time we've been with him because they are off Sunday, so he ran and did what he needed to do. So today we'll see where he is. I don't know if he's going to be out there in green. How's he going to do. How's he going to respond? I have no idea."
It appears that Clemson is making sure that Thomas is 100 percent back before putting him back on the field. Excellent job of them eyeing on the side of caution.
For the season, Thomas has 15 stops, including 4.5 tackles for loss and two sacks.
Update: In other Clemson news, defensive backs Mario Goodrich and Denzel Johnson are not dressed during pre-game warm-ups.
"(Goodrich) didn't quite get the right memo about dressing so he was out there in pregame without his uniform," Swinney said postgame, "but he got it on before we came back out. He was late to our dinner last night. He was kind of in my doghouse a little bit so just didn't play him. This isn't the time of year to not have the right urgency in everything we do. Everything matters. Everything matters. He's a great kid. He's a great player, but he just has to get a little more serious about the little things."