| | |
| --- | --- |
| Bourret to be inducted into CoSIDA Hall of Fame | |
---
| | |
| --- | --- |
| Wednesday, March 1, 2017 5:34 PM | |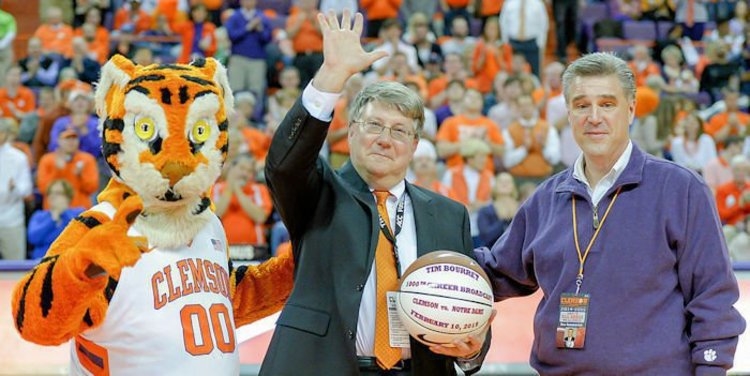 Clemson, S.C. – Longtime Clemson Sports Information Director Tim Bourret has been selected for the College Sports Information Directors of American (CoSIDA) Hall of Fame, the organization announced Wednesday.
He becomes the third person from Clemson honored by the organization. Joe Sherman who served as the first sports publicist and alumni relations director (1934-1947 and 1956-1977) and Bob Bradley who served as the Clemson Sports Information Director (1955-1989) were the others honored in past years.
Bourret is in his 39th season with Clemson Athletics, the longest serving employee in the department. For 24 years he served as director of the sports information office, and he currently serves as the communications director for Clemson's football and men's golf programs.
Bourret first came to Clemson as assistant SID under Bob Bradley in September 1978 and was elevated to an associate SID position in July of 1980. He became the director when Bradley retired in 1989.
In 2009, the Clemson Sports Information Office was named to the Football Writers Association "Super 11" Team. The award recognized the top 11 SID offices in the nation for their service in working with media covering college football. The SID Office won the award again in 2010 and in 2015. Clemson and Pittsburgh are the only ACC schools to receive the award three times.
The 61-year old Bourret has edited over 100 award-winning brochures in his career at Clemson, including 37 that have dealt with Tiger football.
Bourret was a member of the Atlantic Coast Conference 50-Year Anniversary Committee and is also the regional chairman of the College Football Hall of Fame voting process.
The native of West Hartford, Conn., also has considerable radio experience and has been the color voice of Clemson basketball since the 1979-80 season. He served in the same capacity for Clemson football between 1982 and 1988. He broadcast his 1,000th Clemson basketball game on Feb. 10, 2015 when the Tigers played hosted Notre Dame, Bourret's alma mater.
In November of 2007, he was made an honorary alumnus of Clemson University by the Clemson Alumni Association.
A 1973 graduate of Northwest Catholic High School, Bourret followed in his late father's footsteps earning his undergraduate degree from the University of Notre Dame in business administration in 1977. He also earned his master's degree in communication arts from Notre Dame in August 1978.
Bourret worked as an undergraduate and graduate assistant under Hall of Fame SID Roger Valdiserri in Notre Dame's office from 1975-78. He also served as commissioner of the school's famed "Bookstore Basketball Tournament" for three years, including the year it was featured in Sports Illustrated.
He joined former Notre Dame basketball Coach Digger Phelps and Sport's Illustrated's John Walters as co-authors of the book Basketball for Dummies. It was originally released by IDG Books in 1997 and has had two more versions published since.
He is also the author of Digger Phelps' Tales from the Notre Dame Hardwood, a book that was released in September 2004 and republished in 2015. In October of 2008, he authored The Vault - Clemson Football, a history of Clemson football published by Whitman Publishing of Atlanta, Ga. He also co-authored a book entitled Clemson-If These Walls Could Talk with Sam Blackman.
In addition to handling the media relations tasks for Clemson football, Bourret is also the Chairman of the Clemson Ring of Honor Committee and has covered Clemson's golf program for 39 years.