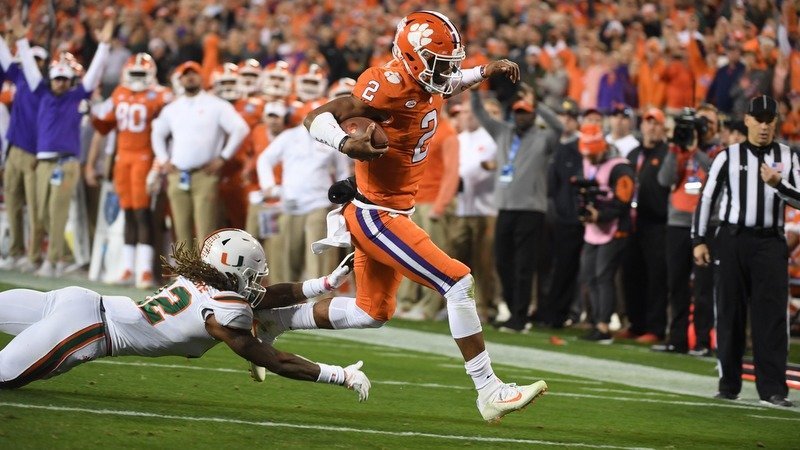 | | |
| --- | --- |
| A few Miami players not happy about Kelly Bryant visiting them | |
---
| | | |
| --- | --- | --- |
| Wednesday, November 14, 2018, 9:47 AM | | |
Former Clemson quarterback Kelly Bryant has an official visit scheduled with Miami on Nov. 24 according to multiple reports.
This is not sitting well with some of the current Hurricane players.
Miami running back Lorenzo Lingard posted on Twitter the following:
"They say it's business. I believe in my QBs … Anything possible with opportunity but loyalty is the code? … I forgot its business," he posted linking in the Bryant report then deleting his posting later.
Freshman quarterback Jarren Williams agreed with Lingard's post calling it "Real talk".
The quarterback situation has gotten so tenuous that Richt had to address the issue with recruiting grad transfers during his press conference on Tuesday.
"We've never brought in a graduate transfer and promised him he'd start," he said via the Sun-Sentinel. "We've never done that. We've only promised an opportunity to compete and then they look at the situation and decide whether that situation is one that makes sense to them," Richt said. "The bottom line is we are always trying to build our roster through any means that's legal, and that means it helps us be stronger. Competition creates better play and that's what we're looking for. I'm not talking specific to any position, as I know you guys want me to, but any time a graduate transfer has come into this program, he's always been promised an opportunity to play, an opportunity to win a job. But we've never said, 'You come in here, you're going to start for us.' We've never done that. You can't do that. It's not right, it's not fair to anybody."
Bryant will announce his college choice reportedly on December 4 (Chad Morris' birthday).