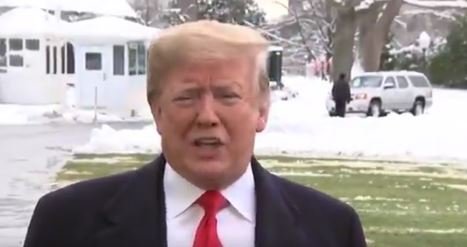 | | |
| --- | --- |
| WATCH: Trump on serving fast food to Clemson on upcoming White House visit | |
---
| | | |
| --- | --- | --- |
| Monday, January 14, 2019, 10:02 AM | | |
The Clemson Football team is headed to the White House on Monday evening to celebrate their second National Championship in the last three seasons.
The White House and POTUS will welcome them with open arms and apparently tons of fast food burgers.
"The Clemson National Championship team will be coming tonight," POTUS said to reporters. "It will be exciting. A very great and unbelievable team. They will be coming tonight, and I think we are going to serve McDonald's, Wendy's, and Burger King, with some pizza. I really mean it. It will be interesting. I would think that's their favorite food. We will see what happens."
Mickey D's is not the first thing that I imagine to honor guests at a celebratory dinner. It is probably a more suited meal for a five-year-olds birthday party. However, free food is usually a good thing.
Let's hope that they at least serve some deluxe burgers like Big Mac's, Quarter Pounders with Cheese, or Baconators. Don't be handing out those bland and little regular hamburgers from McDonald's. Big Dex and others on the defensive line could probably eat 10 or more of those in one sitting.
"I think we're going to serve McDonald's, Wendy's, & Burger King, with some pizza. I would think that's their favorite food." — Trump, on Clemson football team visit pic.twitter.com/QPQ5SFSZhQ

— Timothy Burke (@bubbaprog) January 14, 2019
"The President wanted to host a fun event to celebrate the College Football National Champion Clemson Tigers, deputy press secretary Hogan Gidley told CNN in a statement.
"Because the Democrats refuse to negotiate on border security, much of the residence staff at the White House is furloughed - so the President is personally paying for the event to be catered with some of everyone's favorite fast foods."
Clemson will be honored by POTUS around 6:30 p.m. ET and TigerNet will be there (weather permitting) to cover the White House event.
Trump tweeted recently about the Clemson Football team after the big-time win over Alabama.
"I look forward to hosting, right out of the great State of South Carolina, the 2019 NCAA Football Champion Clemson Tigers at the White House on Monday, January 14th," President Trump posted on Twitter. "What a game, what a coach, what a team!"
Clemson had its last visit to the White House after the 2016 championship in June of 2017.
#Clemson set for its visit right here at 6:30 with ?@realDonaldTrump? . pic.twitter.com/cx7aLCWC7X

— TigerNet.com (@ClemsonTigerNet) January 14, 2019
Sunset in D.C. here at the White House. #Clemson football is on site and getting ready to meet @RealDonaldTrump to celebrate the national championship at 6:30. pic.twitter.com/46WDqOptol

— TigerNet.com (@ClemsonTigerNet) January 14, 2019
Great being with the National Champion Clemson Tigers last night at the White House. Because of the Shutdown I served them massive amounts of Fast Food (I paid), over 1000 hamberders etc. Within one hour, it was all gone. Great guys and big eaters!

— Donald J. Trump (@realDonaldTrump) January 15, 2019