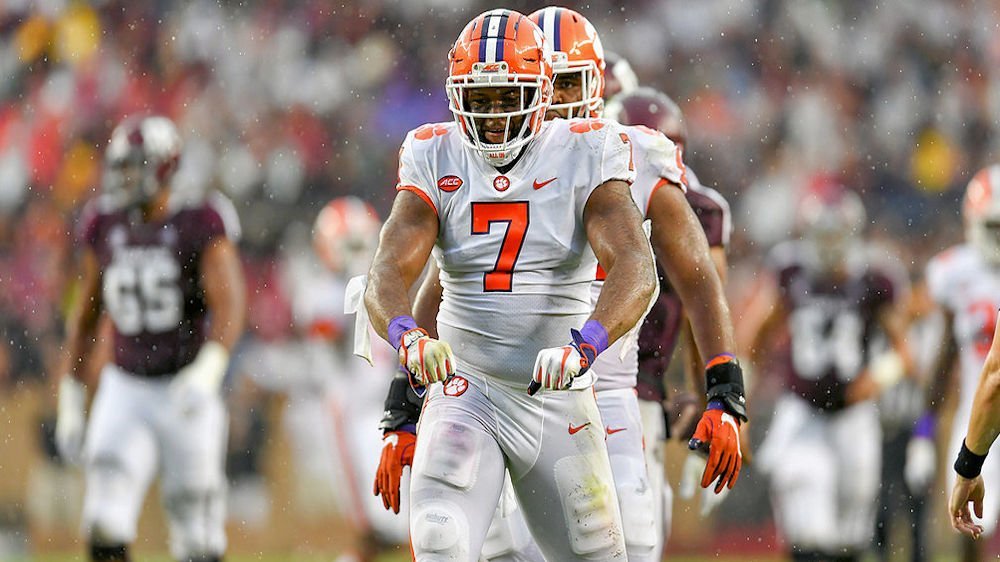 | | |
| --- | --- |
| Vegas odds on Clemson-Texas A&M | |
---
| | | |
| --- | --- | --- |
| Tuesday, March 19, 2019, 10:06 AM | | |
College Football won't start up for several months but that doesn't stop Vegas from releasing point spreads from 45 of the biggest games this upcoming season.
One of the games listed was Clemson vs. Texas A&M on Saturday, Sept. 7 at Death Valley as the Tigers are currently a 21-point home favorite according to the odds-makers.
Clemson had one of the toughest games of their undefeated 2018 season against the Aggies pulling out a 28-26 road win at Kyle Field in College Station, Texas.
Here are the rest of the Game of the Year odds (BetOnline.AG):
Saturday, August 24th
Florida -8.5 vs. Miami
Saturday, August 31st
Florida State -4.5 vs. Boise State
Auburn -3 vs. Oregon
South Carolina -7 vs. North Carolina
Saturday, September 7th
LSU -7 at Texas
Clemson -21 vs. Texas A&M
USC -4 vs. Stanford
Saturday, September 14th
Oklahoma -11.5 at UCLA
Michigan State -4.5 vs. Arizona State
Stanford -2.5 at UCF
Saturday, September 21st
Florida -14.5 vs. Tennessee
Georgia -11.5 vs. Notre Dame
Texas A&M -3.5 vs. Auburn
Michigan -6 at Wisconsin
Saturday, September 28th
Ohio State -7.5 at Nebraska
Washington -7.5 vs. USC
Saturday, October 12th
Notre Dame -11.5 vs USC
LSU -3.5 vs Florida
Alabama -13 at Texas A&M
Oklahoma -17 vs Texas
Saturday, October 19th
Washington -6.5 vs. Oregon
Michigan -6.5 at Penn State
Saturday, October 26th
Oregon -4.5 vs. Washington State
LSU -7.5 vs. Auburn
TCU -2.5 vs. Texas
Michigan -8.5 vs. Notre Dame
Ohio State -9 vs. Wisconsin
Saturday, November 2nd
Georgia -4 vs Florida
Washington -3 vs Utah
USC -1.5 vs Oregon
Florida State -1.5 vs Miami
Saturday, November 9th
Alabama -17 vs. LSU
Wisconsin -5.5 vs. Iowa
Saturday, November 16th
Georgia -9 at Auburn
Michigan -14.5 vs. Michigan State
Saturday, November 23rd
USC -6 vs. UCLA
Georgia -15.5 vs. Texas A&M
Oklahoma -21 vs. TCU
Ohio State -10.5 vs. Penn State
Friday, November 29th
Texas -3 vs. Texas Tech
Washington -7 vs. Washington State
Memphis -11.5 vs. Cincinnati
Saturday, November 30th
Michigan -6.5 vs Ohio State
Alabama -14 at Auburn
Saturday, December 7th
Army -10 vs. Navy