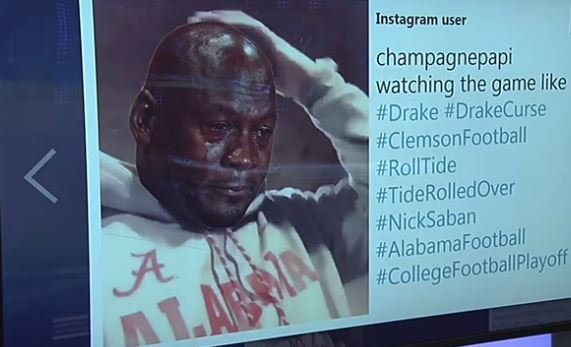 | | |
| --- | --- |
| Twitter reacts to Drake jinxing Alabama in title game | |
---
| | | |
| --- | --- | --- |
| Wednesday, January 9, 2019, 1:12 PM | | |
Fans have been joking on social media after Clemson dominated the College Football Playoff National Championship, saying rapper Drake cursed Alabama. I am not sure about that but it certainly didn't help things.
Drake has a horrible habit of being a massive bandwagon fan and supporting players and teams to future losses like Kentucky Basketball, the Toronto Raptors, UFC's Conor McGregor, Serena Williams, and now Alabama.
Basically, if he pulls for your team or favorite sports athlete, they WILL immediately lose.
Here is Drake giving the Alabama team a motivational talk before the title game against Clemson:
Get your mind right!
Motivation from - @Drake repping Bama!#OutworkYesterday#RollTide pic.twitter.com/Pv0nK6JEjt

— Alabama Football (@AlabamaFTBL) January 3, 2019
Twitter reacting to Drake jumping on the Alabama bandwagon before the title 44-16 loss:
Named ambassador of Raptors, swept vs Cleveland

Partied with Miami Heat after second title, lost the next finals

Gave Kentucky Wildcats a speech before their shock loss in finals

Walked out with McGregor, beaten by Khabib

Wore Alabama Jersey, lost in finals

The Drake Curse. pic.twitter.com/AWsmNnyV4M

— bet365 (@bet365) January 8, 2019
Someone get this man a shirt with a Tiger Paw quick pic.twitter.com/VDx2dD7Iv4

— Clemson Football (@ClemsonFB) January 8, 2019
People don't forget...

The curse of @Drake ROLLS ON. pic.twitter.com/BqXTKrp7gd

— FOX College Football (@CFBONFOX) January 8, 2019
i blame Drake for Alabama getting slaughtered?? the curse continues, someone please stop this man!! pic.twitter.com/aY0rUjHpoR

— Rem?? (@RemyBice) January 8, 2019
Hey @Drake I'll give you $20 a week to wear our opponents hoodies every week next year.

— Barstool Arkansas (@BarstoolUA) January 8, 2019
"It was all Drake's fault. I knew we were in trouble the moment he comes out there with Alabama -- Raptors got swept, Conor McGregor got knocked out, Kentucky doesn't even know what the Final Four is." — @ShannonSharpe pic.twitter.com/fkM8T3DZ78

— FOX Sports (@FOXSports) January 8, 2019
Will the Drake curse continue? ?????????? pic.twitter.com/hg0ZVj11Kr

— shannon sharpe (@ShannonSharpe) January 9, 2019
Kentucky, Raptors and now Alabama... Who should @Drake curse next? ?? pic.twitter.com/9r3HmNlLg9

— Now or Never ESPN (@noworneverespn) January 8, 2019
Y'all, I think Drake was on the play call sign tonight. I also heard he was looking to lose his Alabama hoodie. ?? pic.twitter.com/nguOWUeVw2

— Karen (@clemsonkqh) January 8, 2019
Congrats to @ClemsonFB. To all the Alabama fans who thought the "Drake Curse" wasn't real. Who's singing "In My Feelings" in Tuscaloosa now? #NationalChampionship pic.twitter.com/xU2Cb5ubz5

— Brother Black and Tan (@MuseMan82) January 8, 2019
The Drake Curse is real , GG Alabama ?? #NationalChampionship pic.twitter.com/NCqWnZgRqI

— ??????Chris (@Oghoanina) January 8, 2019
how are we gonna explain to our kids that Drake took down the most powerful dynasty in modern college football?

— Mike Golic Jr (@MGolicJR57) January 8, 2019
When Bama fans see Drake after the game pic.twitter.com/forUUs2HtM

— X (@XLNB) January 8, 2019
I have never made an actual bet against Alabama.. Until I saw drake in a bama hoodie last week..... pic.twitter.com/QAIcIOAT5d

— Jem (@JustJem24) January 8, 2019