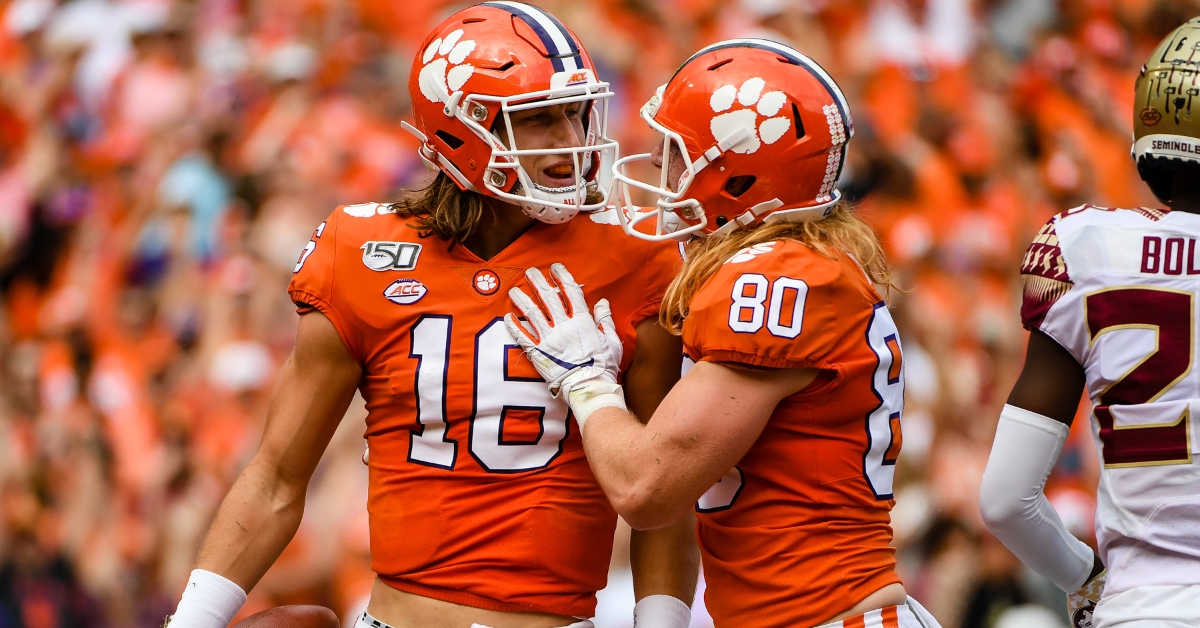 | | |
| --- | --- |
| Sizing up CFP contenders: Clemson playing on elite level | |
---
| | | |
| --- | --- | --- |
| Thursday, November 21, 2019, 1:51 PM | | |
The College Football Playoff committee didn't change course with Tuesday's rankings, keeping the top-seven intact and only dropping Minnesota two spots for the same group of top-10 teams.
ESPN's Playoff Predictor, a metric unfazed by Alabama QB Tua Tagovailoa's season-ending injury, increased the Crimson Tide's Playoff chances to a fourth-best 44 percent over the weekend, behind Ohio State (86), LSU (85) and Clemson (84).
Elsewhere under the four-letter network's umbrella, the FiveThirtyEight metric has virtually eliminated Alabama, which hold a 12 percent shot if Clemson wins out. With LSU a lock for the SEC title game, Alabama can at best finish 11-1 and misses out on a championship game to reach the 12 wins possible for CFP and championship contenders like Georgia, Oregon, Oklahoma, Utah, Minnesota and Penn State (current undefeateds excluded).
Still needing a strong finish, they are in some rarified air with the best in college football in a number of metrics.
Four teams hold top-10 ratings in both offensive and defensive efficiencies (SP+, FEI and ESPN FPI metrics all included), strength of record and game control: Ohio State, Clemson, Alabama and Utah.
The previously-Tagovailoa-led Alabama offense averages out as the top offense (2.3), followed by Oklahoma and LSU tied (2.3), Ohio State (3), Clemson (5.7), Minnesota (8.3) and Utah (9.3). Clemson and Ohio State are tied atop the defensive metric averages (1.7), with Georgia next (4), Utah (5.7) and Alabama (7.3). LSU (29) and Oklahoma (43) hold the low marks in SP+ defensive efficiency among contenders, while Oregon (19) and Georgia (22) are on the low end offensively.
Strong resumes
Team | SOR | GC | Off. | Def.
Ohio State: 2 | 1 | 3 | 1.7
Clemson: 4 | 3 | 5.7 | 1.7
Alabama: 6 | 4 | 2.3 | 7.3
Utah: 10 | 10 | 9.3 | 5.7
(SOR - ESPN strength of record; GC - ESPN game control metric; average offensive and defensive efficiencies from SP+, ESPN FPI and FEI)
--
A clear top-three has emerged going into the final three weeks of the regular season-plus-championships, and outside of those offensive and defensive efficiencies, their resumes can be hard to judge.
ESPN listed its Resume SP+ this week to gauge expected versus actual performance and Clemson rated second (+3.1), trailing Ohio State (+10.4) and ahead of Alabama (+1.2), LSU (-2.1) and Georgia (-4.3). The Tigers' strong mark overcomes a No. 93 strength of schedule per the SP+, which falls behind LSU (15) and Ohio State (59).
A symptom of the lower SOS, defenses Clemson has faced are ranked 72nd on average per SP+ currently, while the top Tigers defense has met a solid group of offenses (43rd-ranked average). For comparison, Ohio State has played a 58th-ranked offense and 41st-ranked defense on average and LSU has matched up with a 49th-best offense and 43rd-best defense.
On special teams, LSU (7) and Ohio State (17) both reside in the SP+ top-20, while Clemson lags near the triple-digits (97).
Looking ahead, Virginia Tech is the best team Clemson could play left currently by the polls (No. 25 in AP/No. 26 in Coaches/NR by CFP), while Ohio State can rack up a pair of top-10 CFP wins (No. 8 Penn State and No. 10 Minnesota) and another top-15 (No. 13 Michigan) -- LSU can stack on their top-ranked strength of record versus a likely 11-1 Georgia (No. 4 in CFP) in the SEC title game.
In the big picture, Ohio State stands a good chance at taking over the CFP No. 1 spot going into the championship weekend and the committee could have quite the discussion on its hands if LSU falls to Georgia, especially if one-loss champs emerge out of the Big 12 (Oklahoma or Baylor) and PAC-12 (Oregon or Utah). That seeding can affect Clemson's potential Playoff semifinal destination, as the proximity of the lower-seeded team to the bowl site has emerged as a prominent factor in the 1 vs. 4 matchup (see Alabama versus Oklahoma to Miami in 2018). A team West of the Mississippi could very well land in Atlanta as a fourth seed, while sending the 2 vs. 3 game to the Fiesta Bowl in Arizona.