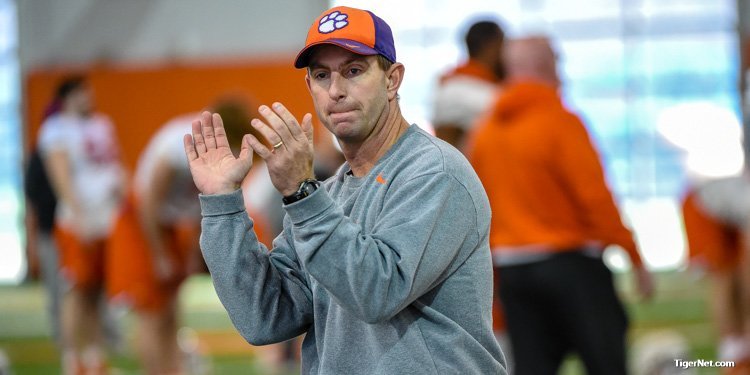 | | |
| --- | --- |
| Report: Clemson tops $31 million from 2018 ACC revenue | |
---
| | | |
| --- | --- | --- |
| Friday, May 24, 2019, 4:16 PM | | |
Clemson's success on the gridiron has it again leading the Atlantic Coast Conference in revenue distribution.
Per a report from longtime ACC insider David Teel, the ACC's tax filing for the 2018 fiscal year (July 1, 2017 to June 30, 2018) revealed an 11.1 percent increase year-to-year for the conference overall and an increase from $30.7 million to $31.4 million distributed to Clemson. Per Teel's report, the ACC has had its revenue go up more than 10 percent year-to-year four times in the last five filings.
Revenue is distributed equally to all ACC teams but bowl and Playoff expenses add an extra bump to teams participating in those events.
In average revenue per school, the ACC ranked behind the Big Ten ($54M) and SEC (43.7M) and was even with the Pac-12 at $29.5 million. Non-football member Notre Dame received $7.9 million.
Per the filing reports, the biggest jump in revenue by individual events percentage-wise was the NCAA basketball Tournament, which increased from $24.2 million to $56.6 million (Clemson was one of four men's teams to make the Sweet 16 from the ACC during the fiscal year). The total revenue for the league was $465 million.
#ACC's 2017-18 tax filing shows 11.1-percent revenue bump to $464.7M. Average distribution to 14 full members $29.5M. Notre Dame received $7.9M. Distributions range from Clemson's $31.4M to GT's $28.1M. #UVa 29.7M, #Hokies $29.5M.

— David Teel (@DavidTeelatDP) May 24, 2019
All Power 5's have now released FY 18 tax returns.
Per-school distributions for the year, according to the docs:
-Big Ten: $54M to 12 longest-standing schools
-SEC: $43.7M to all except Mississippi (postseason ban)
-Big 12: $34.7M
-Pac-12 and ACC: $29.5M each

— Steve Berkowitz (@ByBerkowitz) May 24, 2019