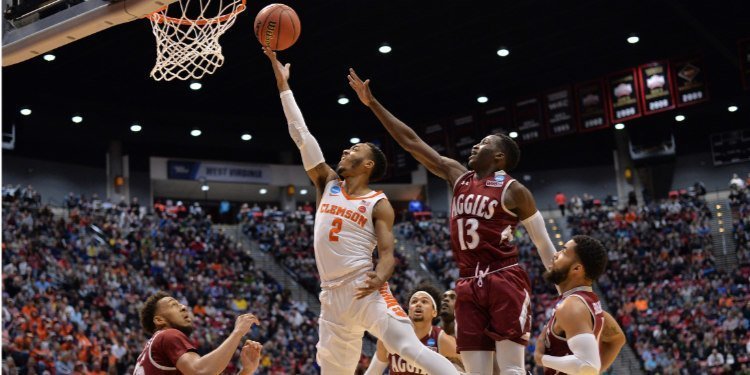 | | |
| --- | --- |
| Reed named preseason All-ACC, Clemson picked sixth in ACC | |
---
| | | |
| --- | --- | --- |
| Thursday, October 25, 2018, 2:09 PM | | |
CLEMSON, S.C. — Marcquise Reed was tabbed second-team All-ACC on Thursday by league media attending Operation Basketball, the annual preseason media day which was held in Charlotte on Wednesday, Oct. 24.
Reed is the first Clemson player to be named to the preseason All-ACC team since Jaron Blossomgame in 2016 and Trevor Booker in 2009 prior to that.
In addition, Clemson was chosen by the attending media to finish sixth in the ACC (receiving one first-place vote). That is the highest preseason prediction for the Tigers since the 2009-10 season when they were also picked to finished sixth.
Reed was named to the second team along with Zion Williamson (Duke), De'Andre Hunter (Virginia), Justin Robinson (Virginia Tech) and Ty Jerome (Virginia). He is coming off of a second-team All-ACC season in 2017-18. He averaged 15.8 points (team-best) and 4.7 rebounds per game to help lead the Tigers to a program record 11 wins in the ACC. He also posted the 14th-most points in a single season with 553 last season, pushing him well over the 1,000 point career mark (1,411).
Reed has scored 882 points in a Clemson uniform and is set to top the 1,000-point mark as a Tiger this season. He is now the all-time leader in the Tiger record book in terms of free throw percentage (87.1) and ranks sixth in ACC history.
ACC Operation Basketball 2018-19 Preseason Poll
(First-place votes in parenthesis)
1-Duke (52) - 1709
2-Virginia (47) - 1699
3-North Carolina (20) - 1641
4-Syracuse (1) - 1268
5-Virginia Tech - 1187
6-Clemson (1) -1148
7-Florida State - 1127
8-NC State - 885
9-Notre Dame - 859
10-Miami - 816
11-Louisville - 735
12-Boston College - 568
13-Georgia Tech - 324
14-Wake Forest - 313
15-Pittsburgh - 241
Pre-Season All-ACC
First Team
Luke Maye, North Carolina (111)
Tyus Battle, Syracuse (86)
RJ Barrett, Duke (76)
Kyle Guy, Virginia (62)
Ky Bowman, Boston College (58)
Second Team
Zion Williamson, Duke (55)
De'Andre Hunter, Virginia (32)
Justin Robinson, Virginia Tech (29)
Ty Jerome, Virginia (17)
Marcquise Reed, Clemson (16)
ACC Preseason Player of the Year
Luke Maye, North Carolina (50)
RJ Barrett, Duke (22)
Zion Williamson, Duke (15)
Tyus Battle, Syracuse (11)
Ky Bowman, Boston College (7)
Kyle Guy, Virginia (5)
De'Andre Hunter, Virginia (4)
Ty Jerome, Virginia (2)
Justin Robinson, Virginia Tech (2)
Cam Reddish, Duke (1)
T.J. Gibbs, Notre Dame (1)
Jaylen Hoard, Wake Forest (1)