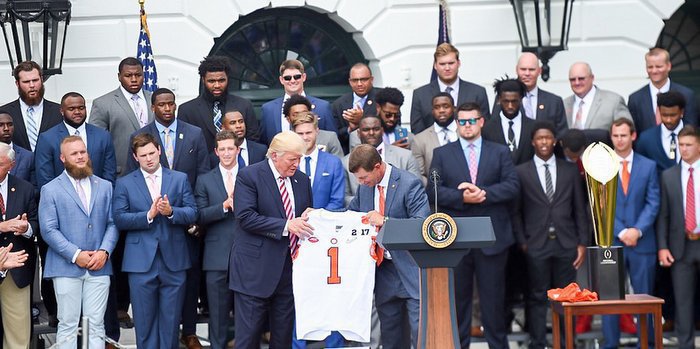 | | |
| --- | --- |
| President Trump personally paying for catered hamburgers for Clemson title celebration | |
---
| | | |
| --- | --- | --- |
| Monday, January 14, 2019, 6:00 PM | | |
The Clemson Football team has been spending time at the White House on Monday to celebrate their second National Championship in the last three seasons.
President Trump told reporters earlier in the day that the team would be served fast food during their visit.
"The Clemson National Championship team will be coming tonight," POTUS said to reporters. "It will be exciting. A very great and unbelievable team. They will be coming tonight, and I think we are going to serve McDonald's, Wendy's, and Burger King, with some pizza. I really mean it. It will be interesting. I would think that's their favorite food. We will see what happens."
There was some media backlash about fast food being served tonight for the celebration, so the White House released a statement about the food situation.
"The President wanted to host a fun event to celebrate the College Football National Champion Clemson Tigers, deputy press secretary Hogan Gidley told CNN in a statement.
"Because the Democrats refuse to negotiate on border security, much of the residence staff at the White House is furloughed - so the President is personally paying for the event to be catered with some of everyone's favorite fast foods."
The White House is working with a very limited executive residence staff that handles food because of the government work stoppage.
POTUS was asked if he likes the food that is being served to the football team.
"I like it all. I like it all," he said. "It's all good stuff, great American food. And it's going to be very interesting to see at the end of this evening how many are left."
Here's a video I shot of President Trump showing off his 300 hamburgers. pic.twitter.com/P06S6I5w07

— Hunter Walker (@hunterw) January 14, 2019
POTUS with "great American food" for Clemson Tigers visiting WH. pic.twitter.com/VgmQeXNhk6

— Roberta Rampton (@robertarampton) January 14, 2019
White House says President Trump "is personally paying for" event with National Champions Clemson tonight "to be catered with some of everyone's favorite fast foods," because "much of the residence staff at the White House is furloughed" due to the ongoing government shutdown. pic.twitter.com/abr5wFrc1I

— MSNBC (@MSNBC) January 14, 2019
Presidential dinner ??#silverplatter pic.twitter.com/v06KT5Svok

— Coach Jeff Scott (@coach_jeffscott) January 14, 2019
January 14, 2019
Asked which of the fast food eats he likes best, "I like it all," said @POTUS. "It's all great stuff." Said it'll be interesting to see how much is left, after the Clemson team fills up. Thinks they'll like it better than anything else the WH could serve. pic.twitter.com/8mlPIREZmu

— Mark Knoller (@markknoller) January 14, 2019
Got a big kick out of the graphics in this @washingtonpost analysis detailing the cost (and exact location) of all those burgers, fries and chicken nuggets for the @ClemsonFB celebration at the White House. Hilarious. https://t.co/l8KzvoQONI pic.twitter.com/rCxlGXg2Oi

— Bob Segall (@BobSegallWTHR) January 15, 2019