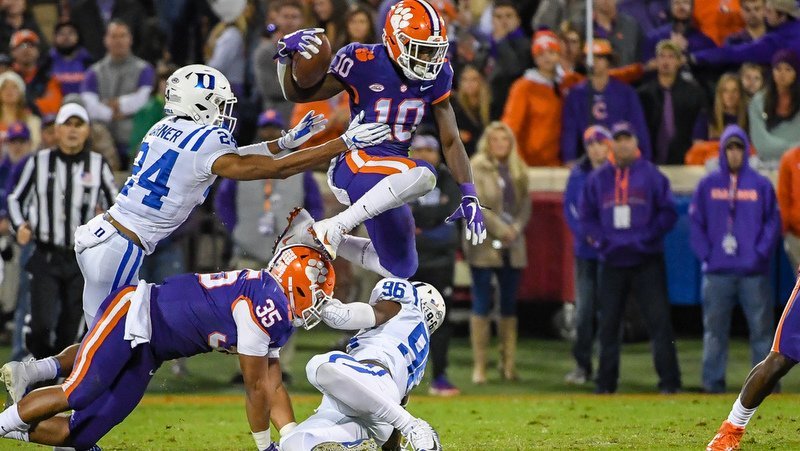 | | |
| --- | --- |
| Playoff metrics project Clemson to win it all | |
---
| | | |
| --- | --- | --- |
| Sunday, November 18, 2018, 9:22 AM | | |
A wild finish or a chalky conclusion?
With two weeks to Playoff Selection Sunday, the top-10 features varying levels of contenders.
For the first time in the CFP era, four undefeated teams will be in the projected top-10 at this point with Alabama (11-0; CFP No. 1 last week), Clemson (11-0; 2), Notre Dame (11-0; 3) and UCF (11-0; 11). Vying for a spot also are five one-loss Power 5 conference teams that have a shot at a conference championship in Michigan (10-1; 4), Georgia (10-1; 5), Oklahoma (10-1; 6), Washington State (10-1; 8) and Ohio State (10-1; 10).
Through 11 games, ESPN's Playoff Predictor is highly confident in three CFP participants: Clemson (96), Notre Dame (91) and Alabama (80). It's also more confident that the Tigers can win it all, with the highest odds to make the championship (66) and take the crown (39; 31 for Alabama).
The next tier of CFP contenders are Michigan (42), Georgia (39), Ohio State (26) and Oklahoma (21). Michigan and Ohio State will have a mini-playoff to eliminate one this Saturday in Ohio Stadium, while pundits aren't so sure Georgia winning out will do the same if both it and Alabama win this week going into the SEC Championship meeting.
ESPN's FiveThirtyEight provides a way to project out such things and the cold data doesn't back that up. If all but Alabama win out in the top-6, 538 gives Alabama only a 16 percent chance at making the Playoff, with Michigan and Oklahoma in a dead-heat for the final spot (54 percent each). Those chances even lessen if Michigan loses Saturday with Oklahoma's going up five percent (59).
The model also favors Clemson to win it all at this point (35; Alabama 29).
My up to date top 4 after week 12
1-@AlabamaFTBL
2-@ClemsonFB
3-@NDFootball
4-@UMichFootball
Next 2@FootballUGA @WSUCougFB

— Kirk Herbstreit (@KirkHerbstreit) November 18, 2018
Wins over teams with 7+ victories:
Clemson, 7
Bama, 5
UGA, 5
ND, 4
UCF, 4
Mich, 3
Ohio St, 1
Okla, 1

Wins vs. 7-win P5 teams:
Clemson, 6
Bama, 4
UGA, 4
ND, 4
Mich, 3
UCF, 1
Ohio St, 1
Okla, 0

— Ok, cool. Hale 'em???? (@ADavidHaleJoint) November 18, 2018
I'd be pretty surprised. The committee will look at common opponents a bit but that game was a long time ago for Clemson and their QB was knocked early https://t.co/SinRHOQhfY

— Dan Wolken (@DanWolken) November 18, 2018
The top 4 are starting to look like locks but still lot of football left!! #DKtop8

1. Bama ?????
2. Clemson ??

3. Notre Dame??
4. Michigan ??

5. Washington St ??
6. UCF ??
7. Georgia ??
8. Oklahoma ??

— Danny Kanell (@dannykanell) November 18, 2018
Few Saturday observations
*Clemson defense playing DOMINANT football
*ND is 60 minutes away from a playoff berth
*UM needs better Red Zone eff vs Ohio St
*UCF is FAST & REAL
*OU & Ohio St have SERIOUS defensive issues
*Okla St plays up or down to their opponent
*****continue

— Kirk Herbstreit (@KirkHerbstreit) November 18, 2018
*Texas now a win away from Big 12 Title berth. Beat KU they're in. If OU beats WVU it's Tex/OU..IF WVU beats OU Big 12 would end up a 3 way tie and OU would be left out (lost to both). So WVU playing for Big 12 Title berth as well Friday.

— Kirk Herbstreit (@KirkHerbstreit) November 18, 2018