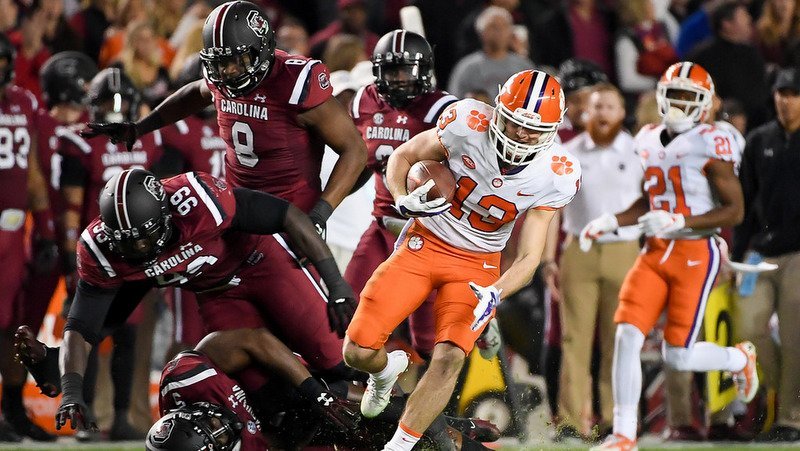 | | |
| --- | --- |
| NFL draft: Hunter Renfrow selected in fifth round | |
---
| | | |
| --- | --- | --- |
| Saturday, April 27, 2019, 2:22 PM | | |
Hunter Renfrow's walk-on to Clemson-legend story will continue with the Oakland Raiders.
Renfrow was selected with the 11th pick in the fifth round by the Raiders, joining Tiger teammates in Clelin Ferrell and Trayvon Mullen. He is the first member of the Clemson offense to come off the board this draft and a sixth Tigers selection overall.
Oakland traded up nine spots to make the selection, No. 149 overall. Spotrac estimates a $2.8 million contract with over $300K guaranteed (314,744).
"He's got the smallest hands of the (NFL) combine and also had the best hands of anyone in this draft," NFL Network analyst Daniel Jeremiah said. "He just continues to make these acrobatic catches. Doesn't matter where he is. Even after the catch he shows you he has some shiftiness to him to get away from you."
"Nothing about this guy makes sense. He looks like he's eight years old with pads on and takes his helmet off and looks like he's 45," ESPN's Todd McShay said. "He works from the slot and if you need a third down conversion and need a touchdown with six seconds left in the national championship - guess who you're going to. Every single time you're going to this guy. This guy just makes plays. A lot of it is about route-running and also the ability to adjust to the football and catch the ball away from his frame.
"...while none of it makes sense, somehow and some way it would not shock me to see him play in the league for seven-eight-nine years."
The Myrtle Beach native set College Football Playoff marks with 37 receptions and four touchdowns over four games, including the game-winning TD to capture Clemson's second-ever national title in January of 2017.
Honored for his walk-on road with the Burlsworth Trophy, he finished his Tigers career fifth in career receptions (186) and 11th in receiving yards (2,133).
He is an eighth Clemson receiver drafted since 2013, which is a category the Tigers led the NCAA in going into the 2019 draft.
CBS Sports rated Renfrow the No. 25 receiver prospect going into the draft.
Extremely humbled to have been selected by the @Raiders ! I cannot wait to get out there with my new teammates and send the city of Oakland out the right way! #justwin

— Hunter Renfrow (@renfrowhunter) April 28, 2019
"You fit so much the culture we're trying to develop."

GM Mike Mayock tells @renfrowhunter why we traded up to get him. pic.twitter.com/SDLN4KC32n

— Oakland Raiders (@Raiders) April 27, 2019
Thanks Brother, Let's Win! https://t.co/8ydb3GUOj0

— Hunter Renfrow (@renfrowhunter) April 27, 2019
The #Raiders add Clemson WR Hunter Renfrow. He is a four-year player who finished his college career with 186 catches. More of a possession receiver, he averaged 11.5 yards per catch. pic.twitter.com/cxyvEuBPkG

— PFF Fantasy Football (@PFF_Fantasy) April 27, 2019
Raiders obviously saw something - many things - they liked in National Championship game.

Raiders drafted from National Championship Game:

??Clemson DE Clelin Ferrell
??Alabama RB Josh Jacobs
??Clemson CB Trayvon Mullen
??Clemson WR Hunter Renfrow

— Adam Schefter (@AdamSchefter) April 27, 2019
Raiders trade up nine spots, draft former Clemson WR Hunter Renfrow with No. 149 overall pick in fifth round. Their third ex-Clemson Tiger this draft (DE Clelin Ferrell, No. 4; CB Trayvon Mullen, No. 24).

— Michael Gehlken (@GehlkenNFL) April 27, 2019
Introducing the Oakland Raiders of Clemson.

With the 149th overall pick, we have selected WR Hunter Renfrow from @ClemsonFB.#RaiderNation | @renfrowhunter pic.twitter.com/exNmUcSM9B

— Oakland Raiders (@Raiders) April 27, 2019
CLEMSON WEST ??????

The THIRD Tiger heads to Oakland??

This time, it's Hunter Renfrow ?? @Raiders with the 149th pick!! (fifth round)#NFLDraft | #WRU | #ALLIN pic.twitter.com/oGk7Rbw5oC

— Clemson Football (@ClemsonFB) April 27, 2019
Oakland's run of Tigers this year marks the second time in history that an NFL team has taken three Clemson players in a single draft, joining the famed 1983 NFL Draft in which the Giants selected Terry Kinard, Andy Headen and Frank Magwood.

— Ross Taylor (@ClemsonFBRoss) April 27, 2019
"(Hunter Renfrow) looks like me and you walking down the street … but he might be the best route-runner in this whole group."@ryanwilsonCBS and @PriscoCBS break down the Oakland Raiders' 5th round selection of Clemson WR Hunter Renfrow. pic.twitter.com/jLeMzkwrTE

— CBS Sports HQ (@CBSSportsHQ) April 27, 2019
Congrats to Hunter Renfrow?? The @Raiders are getting some of our BEST #ClemsonNFL #WRU

— Coach Jeff Scott (@coach_jeffscott) April 27, 2019
Clemson is so proud and honored to call Hunter Renfrow one of our own! Congrats on being drafted by the @Raiders and best of luck! #ClemsonNFL #NFLDraft @renfrowhunter @ClemsonFB pic.twitter.com/UoCSfS4F7H

— Jim Clements (@ClemsonPrez) April 27, 2019
He started as a walk-on.

He leaves as a legend.

Congratulations, Hunter.
And thank you for that Natty. #ALLIN pic.twitter.com/VcwyNIjL04

— Clemson Football (@ClemsonFB) April 27, 2019
@renfrowhunter welcome to #RaiderNation bro!

— Derek Carr (@derekcarrqb) April 27, 2019
Two years ago ?? https://t.co/tlheteWTcz

— Oakland Raiders (@Raiders) April 27, 2019
Congratulations to this guy on an incredible 17-year college career. ?? pic.twitter.com/ydr2g6xWFV

— Clemson Football (@ClemsonFB) April 27, 2019
Enjoy @renfrowhunter, @Raiders. pic.twitter.com/vqHNvrcVPf

— Clemson Football (@ClemsonFB) April 27, 2019
Raiders Rock! Clemson West ! Just Win Again, Baby! Next cold one at Esso Club is on me!

— Brent Musburger (@brentmusburger) April 27, 2019
He just got selected in the NFL Draft...

But 3 1/2 years ago, Hunter Renfrow didn't even have a scholarship yet.

See the life-changing moment from August 2015: pic.twitter.com/XY0EUvvmnz

— Clemson Football (@ClemsonFB) April 27, 2019
Hunter Renfrow:
"What's it like to play for Gruden?"

Tim Brown:
"Without him, I'm not in the HOF."

Renfrow is now a #Raider ?pic.twitter.com/RqdAcZuJi7

— Adam Lefkoe (@AdamLefkoe) April 27, 2019
I am bro! ??

— Derek Carr (@derekcarrqb) April 27, 2019
Happy for Clelin & Trayvon and now Hunter Renfrow as well ... Oakland is Clemson West... guys had a pretty good game last time in that neighborhood ! https://t.co/xVUMaPSryy

— Dan Radakovich (@ClemsonDRad) April 27, 2019
Might have to jump on the Raiders wagon now. They love Clemson as much as I do.

— Trevor Booker (@35_Fitz) April 27, 2019
Wooooooowww!!' Raiders I love what y'all are building! Culture!!! Character!!! Dedication!! Leadership!!! This is crazy!

— Coach Deandre McDaniel (@dmcdani2) April 27, 2019
Congrats @renfrowhunter proud of you! #WRU #ALLin pic.twitter.com/izYAs0MMsd

— Todd Bates (@CoachToddBates) April 27, 2019
This is spooky. Clemson coach Dabo Swinney dropped a Plinko chip at draft in Nashville. It jumped sharply onto Raiders, who'd draft DE Clelin Ferrell, CB Trayvon Mullen and WR Hunter Renfrow.

First time in Raiders' 60-year history they drafted three players from same college. https://t.co/aNdXoMMHFy

— Michael Gehlken (@GehlkenNFL) April 27, 2019
Per the incomparable @TimBourret, Hunter Renfrow becomes the first Clemson player since Reggie Pleasant in 1985 to be drafted after starting his college career as a walk-on.

— Ross Taylor (@ClemsonFBRoss) April 27, 2019
New Raiders WR Hunter Renfrow said first thing he did when drafted was FaceTime DE Clelin Ferrell and CB Trayvon Mullen. "We're just ready to get to work and bring some of the same stuff we did at Clemson to Oakland."

— Michael Gehlken (@GehlkenNFL) April 27, 2019
Mike Mayock, on WR Hunter Renfrow: "He has an innate feel for the game, as far as separation." https://t.co/XoIfk5711f pic.twitter.com/g0wDnwuHiF

— Paul Gutierrez (@PGutierrezESPN) April 27, 2019