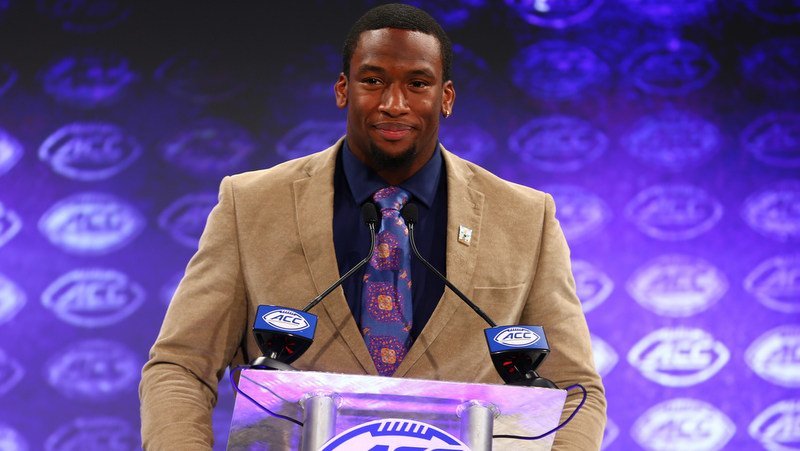 | | |
| --- | --- |
| NFL draft: Former Clemson DE selected with No. 4 overall pick | |
---
| | | |
| --- | --- | --- |
| Thursday, April 25, 2019, 8:54 PM | | |
Former Clemson defensive end Clelin Ferrell was selected with the fourth overall pick by the Oakland Raiders Thursday.
The selection matches the highest-ever for a Clemson product, joining Sammy Watkins (2014), Gaines Adams (2007) and Banks McFadden (1939). He combined with Christian Wilkins (No. 13 overall to Miami) and Dexter Lawrence (No. 17 to New York Giants)) to set a school record for first-round picks.
Ferrell was rated as high as the No. 17 player overall and the No. 5 edge defender by CBS Sports with projections in the mid-teens of the first round. Instead, Ferrell is projected a $31.3 million contract with a $21.6 million signing bonus per Spotrac.
"This might be a surprise to a lot of people seeing Clelin Ferrell go this high," NFL Network analyst Daniel Jeremiah said. "But he's a very productive football player. A power rusher with plenty of effort...He's played big on the big stage...Guys, I'll tell you this. I did my homework and talked to all these scouts. I talked to his high school coach, talked to his college coach and teammates - he had the highest character of anybody I spoke to in this draft.
"And (Raiders GM) Mike Mayock said in his first press conference that we (Raiders) need foundational players. This is a foundational-type player. People will say it's too early but I think is a safe pick right in the middle of the fairway."
The Hendricks Award winner, awarded to the nation's top defensive end, was a two-time first-team All-American.
The Richmond, Virginia native totaled 166 stops, 50 for loss, with 27 sacks over 44 starts with the Tigers.
He will be coached by former Tigers defensive lineman Brentson Buckner on the Raiders D-line.
New Raiders DE Clelin Ferrell shares Clemson alma mater with D-like coach Brentson Buckner. "To tell you the truth, I didn't know if Coach Buckner liked me throughout the process. ... I love what he's about. I can't wait to get started."

— Michael Gehlken (@GehlkenNFL) April 26, 2019
?? MUST SEE ??

The definition of #ClemsonFamily ??#ALLIN pic.twitter.com/yFd6z9iALh

— Clemson Football (@ClemsonFB) April 26, 2019
There were teams with 2nd-round grades on Clelin Ferrell. #Raiders may have just outsmarted everyone, but "bold" would be an understatement for the first pick of the Mayock/Gruden era.

— Tom Pelissero (@TomPelissero) April 26, 2019
I'm a Clelin Ferrell fan. But did he flourish because Clemson's line was so loaded with NFL talent? I saw several mocks that had him going at the bottom of the first round. Gruden just took him 4th. Must've thought he'd go much higher than projected. He better be real good.

— Skip Bayless (@RealSkipBayless) April 26, 2019
Clelin Ferrell's 89.7 pass-rush grade capped a three-year rise at Clemson last season – and he heads to Oakland to join the Raiders! #NFLDraft pic.twitter.com/wFibxoxBnh

— Pro Football Focus (@PFF) April 26, 2019
Leave it to the Raiders to upset the apple cart. But: Clelin Ferrell was the most productive of all the studs on the Clemson D-line this past season.

— Pat Forde (@YahooForde) April 26, 2019
Screw the mocks Clelin Ferrell is awesome.

— Matt Hinton (@MattRHinton) April 26, 2019
Stay weird, Raiders. (Clelin Ferrell is awesome though.)

— Stewart Mandel (@slmandel) April 26, 2019
Your newest Raider.??

With the 4th pick in the 2019 #NFLDraft, we have selected Clelin Ferrell from @ClemsonFB. pic.twitter.com/QUPkpsj8Rt

— Oakland Raiders (@Raiders) April 26, 2019
Clemson DE Clelin Ferrell is the 4th pick of first round by Raiders and Head Coach Jon Gruden. At the 2007 NFL draft as head coach of Tampa Bay Gruden took Clemson defensive end Gaines Adams with 4th pick of first round.

— Tim Bourret (@TimBourret) April 26, 2019
Who is @Raiders_PR getting in Clelin Ferrell? The inaugural recipient of the Tim Bourret Award, given to the Clemson player who best represented himself, his teammates and Clemson University in the media. As our reporters will attest, he will be an instant favorite on the beat. pic.twitter.com/YOmjgRJvG4

— Ross Taylor (@ClemsonFBRoss) April 26, 2019
Raiders got a great one?? @Cle_Missile #ClemsonNFL

— Coach Jeff Scott (@coach_jeffscott) April 26, 2019
9??9?? in Silver & Black?! WE'RE HERE FOR IT!

Cle ?? @Raiders !!#NFLDraft | #ALLIN pic.twitter.com/ACFHeHJRBe

— Clemson Football (@ClemsonFB) April 26, 2019
When the dream becomes reality... ??????

We love you, Cle! Congratulations!!!

#ALLIN pic.twitter.com/Hu82uRB8aK

— Clemson Football (@ClemsonFB) April 26, 2019
Clelin Ferrell has generated over 39,000 social media mentions since being selected 4th overall, per @ClemsonSMLC pic.twitter.com/2hltDMVBnd

— Sports Illustrated (@SInow) April 26, 2019
Here's the thing about Clelin Ferrell to the #Raiders. If Mayock had been in his old job, telling us how much he liked Ferrell for the last couple months, everyone would think the team that took him at 4 was brilliant. ???????

— Lindsay Rhodes (@lindsay_rhodes) April 26, 2019
Ferrell first Clemson player taken by Raiders since Jacoby Ford 4th round in 2010. First first round selection from Clemson by Raiders since Chester McGlockton in 1992 (16th selection).

— Tim Bourret (@TimBourret) April 26, 2019
New mock draft leader: Dabo Swinney with a Plinko board.#NFLDraft | #ALLIN pic.twitter.com/GUghCliFSg

— Clemson Football (@ClemsonFB) April 26, 2019
New Raiders DE Clelin Ferrell said not running 40 at combine "was the toughest call I had to make." Skipped workout due to turf toe. "I'm healthy. ... I'm so excited to get started." Did indicate he might be held out in early activities this spring as precaution.

— Michael Gehlken (@GehlkenNFL) April 26, 2019
Raiders DE Clelin Ferrell on draft-day call from team at No. 4: "I cried like a baby." He thinks Jon Gruden couldn't understand what he was trying to say. "Just a lot of emotion."

— Michael Gehlken (@GehlkenNFL) April 26, 2019
New Raiders DE Clelin Ferrell on being chosen No. 4 overall: "Man, I'd be lying to you if I said I wasn't surprised. This was a really, really long process. I don't pay attention to mock drafts. Those things are stupid." But always felt he'd be a Raider. Had "easy" connection.

— Michael Gehlken (@GehlkenNFL) April 26, 2019
The moment Clelin Ferrell heard his name called at No. 4 overall.

Watch the #NFLDraft
??? April 25-27
?? ABC, ESPN, NFL Network
?? https://t.co/uZNXvuqQYM pic.twitter.com/JENqElgRR2

— Oakland Raiders (@Raiders) April 26, 2019
Talked to Mike Mayock on the field before the national championship game in Santa Clara. Said he loves getting an in-person look at college prospects. Has taken two of them from that night in Clemson DE Clelin Ferrell and Alabama RB Josh Jacobs.

— Matt Schneidman (@mattschneidman) April 26, 2019
Saw Mike Mayock on the field before the National Championship game. He said there was so much talent at Clemson and 'Bama that any GM would get a strong grade if they drafted players from that game. So far, Clelin Ferrell and Josh Jacobs in Round 1.

— Chris Biderman (@ChrisBiderman) April 26, 2019
Clemson coach Dabo Swinney in Nashville on Raiders pick Clelin Ferrell: "They got an unbelievable, committed grinder, one of the most low-maintenance, humble superstar type players you would ever want to coach. Clelin will be there tomorrow, ready to work. I promise you." #RJnow

— Ed Graney (@edgraney) April 26, 2019