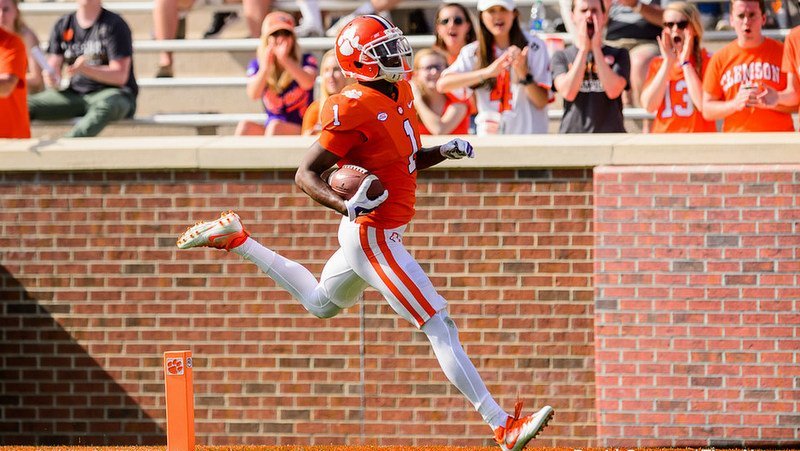 | | |
| --- | --- |
| NFL draft: Former Clemson CB selected by Raiders | |
---
| | | |
| --- | --- | --- |
| Friday, April 26, 2019, 7:53 PM | | |
Former Clemson defensive back Trayvon Mullen was selected by the Oakland Raiders with the 40th overall pick in the second round on Friday.
Mullen was a top target for the Raiders on day two of the draft.
"The goal going into the day was not to lose Trayvon," Raiders GM Mike Mayock said, "and try to pick up some picks. On the front side of it, we're ecstatic."
Mullen joins Clemson defensive teammate Clelin Ferrell in Oakland, who was picked No. 4 overall on Thursday. He is a fourth Tigers defender off the board in the first 40 picks, in addition to Christian Wilkins (Dolphins, No. 13) and Dexter Lawrence (Giants, No. 17).
"Has that incredible length," ESPN's Kirk Herbstreit said Friday. "With that size, he still has the speed to go along with it, running a 4.4 (40 time) and has great skills...A lot to like about this young man."
The south Florida prospect totaled 94 tackles, 4.5 for loss, with four interceptions and 12 pass breakups over 26 starts (41 games) in three seasons.
He picked up second-team All-American honors with 37 tackles, four pass breakups and an interception last season.
Mullen, who earned a defensive MVP honor in the national championship, went into Friday as one of the top-50 best on the board (43) per ESPN and No. 58 overall on NFL.com's top prospects.
Clemson set a school record for the most first-round selections (3) on Thursday and this is the first time the Tigers have had four picked in the top-50.
Ferrell and Mullen are one of a trio of selections from the national championship in January, which Mayock scouted in-person.
"I don't want to put too much emphasis on one game. You scout the whole season and every snap with guys like this," Mayock said, "but I came away...being on the field before the game was like, 'Wow.' I said to somebody that I would take five of these guys and go home right now, in all honesty and here we are and we've got three of them. It's exciting."
#Clemson CB Trayvon Mullen joins Clelin Ferrell in Oakland with the #Raiders pic.twitter.com/fbvPlut5yc

— Brad Fralick (@BradFralickWYFF) April 27, 2019
A former Raiders cornerback introducing the next Raiders cornerback.@CharlesWoodson announces our second-round draft pick, @MullenIsland1.

??? April 25-27
?? ABC, ESPN, NFL Network
?? https://t.co/uZNXvuqQYM pic.twitter.com/6MmLCZhdv0

— Oakland Raiders (@Raiders) April 27, 2019
Mike Mayock attended the national championship game in Santa Clara this January. Three of first four picks as Raiders GM played in it. DE Clelin Ferrell reunites with CB Trayvon Mullen. https://t.co/wXjkN1IhkJ

— Michael Gehlken (@GehlkenNFL) April 27, 2019
Clelin's old teammate is joining him.

With the 40th pick, we have selected CB Trayvon Mullen from @ClemsonFB.#RaiderNation @MullenIsland1 pic.twitter.com/ejS5DxHtl2

— Oakland Raiders (@Raiders) April 26, 2019
Congrats to Trayvon Mullen. The @Raiders are getting two of our BEST?? #ClemsonNFL

— Coach Jeff Scott (@coach_jeffscott) April 26, 2019
Dare we say the Raiders are #ALLIN? Clelin Ferrell and Trayvon Mullen become the 17th pair of Clemson teammates selected by the same NFL team in a single draft.

— Ross Taylor (@ClemsonFBRoss) April 26, 2019
S/O to my brother @MullenIsland1 !!!@Raiders got them a difference maker! pic.twitter.com/jjdKBOH1Qd

— Tyler Clements (@Clements_TJC) April 26, 2019
Trayvon Mullen heads to Oakland with the 40th pick!

Mullen's height and length are special, but he earned just a 73.5 coverage grade a year ago and failed to earn coverage grades above 80.0 in the two years prior at @ClemsonFB #NFLDraft https://t.co/tyHIV1LmMu

— PFF Draft (@PFF_College) April 26, 2019
New Raiders CB Trayvon Mullen allowed a career passer rating when targeted of just 51.1. #NFLDraft pic.twitter.com/QTSlV2BOeW

— Pro Football Focus (@PFF) April 26, 2019
Trayvon Mullen is a bad dude. Has a chance to be a very good NFL player.

— Jake Reuse (@ReuseRecruiting) April 26, 2019
Trayvon Mullen told me Wednesday @nflnetwork he speaks to @AB84 every day since getting to know him on a visit to the Raiders.

— Andrew Siciliano (@AndrewSiciliano) April 26, 2019
Silver & Black goes defense in round two

Clemson CB Trayvon Mullen is a Raider ?? pic.twitter.com/00J7CLmcdh

— Bleacher Report NFL (@BR_NFL) April 26, 2019
This man is having a good 2??0??1??9??#ALLIN pic.twitter.com/zXKM63tuH2

— Clemson Football (@ClemsonFB) April 26, 2019
This time last night, the Raiders had gone nine years since taking a Clemson Tiger (Jacoby Ford in 2010). Now they've taken two in 24 hours.

— Ross Taylor (@ClemsonFBRoss) April 27, 2019
Another @ClemsonFB defensive standout gets drafted! Congrats to Trayvon Mullen and best of luck with the @Raiders! #ClemsonNFL #NFLDraft @MullenIsland1 https://t.co/ew8fgmLIFB

— Jim Clements (@ClemsonPrez) April 27, 2019
New Raiders CB Travon Mullen not only reunited with Clemson teammate DE Clelin Ferrell. He said first-round safety Johnathan Abram is his "best friend." Two trained together for combine.

— Michael Gehlken (@GehlkenNFL) April 27, 2019
New Raiders CB Trayvon Mullen on DE Clelin Ferrell: "He's one of the best teammates, one of the best guys I've ever been around. ... He motivated me. He motivated a lot of people throughout the whole season."

— Michael Gehlken (@GehlkenNFL) April 27, 2019
Trayvon Mullen: "I can play wherever. I'm a smart, physical guy and I know how to use my feet well."

— Matt Schneidman (@mattschneidman) April 27, 2019
Trayvon Mullen says he's an elite prospect, thinks he's the best corner in this draft. "I'm aggressive, I play big, I play strong. I'm a tackle guy. I'm physical and I like to get after guys."

— Levi Damien (@LeviDamien) April 27, 2019
@MullenIsland1 welcome to #RaiderNation bro!

— Derek Carr (@derekcarrqb) April 27, 2019
That Raider Clemson connect heavy ain't it geeshhhhh??

— Jacoby Ford (@JacobyFord12) April 27, 2019
#Raiders 2nd round pick CB Trayvon Mullen did not allow a touchdown in coverage his entire college career - 0 TDs allowed in 801 coverage snaps over three seasons at Clemson ?? #RaiderNation pic.twitter.com/ljoDsmwmZ2

— PFF OAK Raiders (@PFF_Raiders) April 27, 2019
We on to the next great dynasty lil brotha?? @MullenIsland1

— Clelin Ferrell (@Cle_Missile) April 27, 2019
Trayvon Mullen's selection now gives the ?? at least one defensive back selected in nine of the last 11 NFL Drafts.#NFLDraft | #DBU | #ALLIN pic.twitter.com/9717IMX684

— Clemson Football (@ClemsonFB) April 27, 2019