| | |
| --- | --- |
| NC State's Doeren responds to Swinney comments | |
---
| | |
| --- | --- |
| Wednesday, November 8, 2017 2:06 PM | |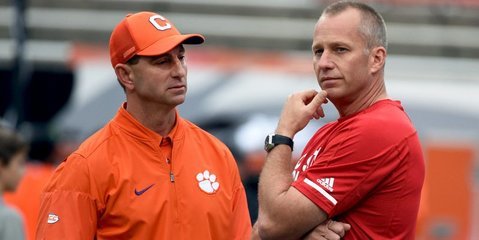 NC State coach Dave Doeren responded Wednesday to Clemson coach Dabo Swinney's comments on "laptop-gate" from over the weekend.
Doeren called Clemson out postgame of the Tigers' 38-31 win for having a laptop on the sidelines, calling for an investigation.
At it turned out, the laptop belonged to the Tigers' social media team and didn't violate any ACC or NCAA rules, but Doeren says he wouldn't take back his comments in the heat of the moment.
"No, look, I'm not a politically correct guy," Doeren said on the ACC coaches teleconference Wednesday. "I coach with a lot of passion and our kids play with it. He (Swinney) does the same thing. At the end of the game when you lose a game that has conference championship implications on it, sometimes things are going to be said and I don't think it's a big deal. I really don't, so I'm going to move on and I'm sure he will, too. He has a big game this week."
Swinney joked Tuesday that the laptop was used to order more towels, in reference to NC State's Bradley Chubb stealing Kelly Bryant's in between plays, but Swinney also turned more serious on Doeren's implication and said NC State's sideline should be investigated for their conduct during games.
"Disappointing," Swinney said about the laptop accusation. "That was kind of a challenge to our integrity. Then you watch the tape. You know two years ago we go up there and one of the coaches pushes Deshaun Watson and this year we got some guy take a swipe at K'Von (Wallace). What if he breaks a finger?
"I think the investigation needs to be managing his side and not worrying about ours. I didn't get a call (from Doeren)."
Doeren seemed to take the comments in stride, saying the matter is "in the past."
"Yeah I did (hear them). I think college football is a lot of fun," Doeren said. "I really do. We don't have a drone, but I will send some towels over to Dabo. We're good.
"It's in the past and we're looking forward to playing Boston College."