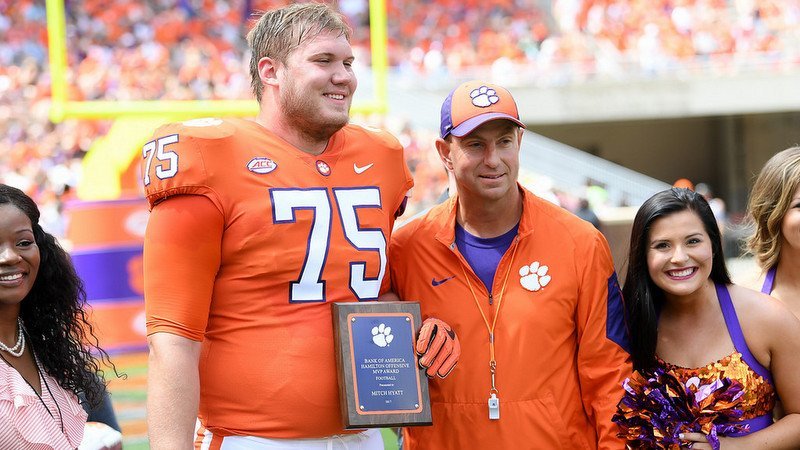 | | |
| --- | --- |
| FSU game showcases rising draft stock for Clemson lineman | |
---
| | | |
| --- | --- | --- |
| Thursday, November 1, 2018, 1:17 PM | | |
Opinions varied on Clemson left tackle Mitch Hyatt's pro prospects going into his senior campaign, but through eight games, that draft stock is moving up.
Hyatt, who was voted as the ACC's Jacobs Blocking Trophy recipient last season, had projections ranging from the first couple rounds to deep into the 2018 NFL Draft before making the call to return. Past the midway point of another potential Playoff run, Hyatt is rated as high as the No. 6 offensive tackle in the 2019 class and a top-50 prospect overall - and as low as a mid-round pick, but last weekend in Tallahassee could serve as a turning point moving forward.
"Hyatt not only won the battle but he won the war," DraftAnalyst's Tony Pauline said in his latest podcast. "It was a complete domination - especially by the Clemson offense and especially by the Clemson offensive line. Florida State historically has one of the best pass rushing defenses in the ACC and they do this year. Clemson with Mitch Hyatt shut them out.
"I was really keyed up to see the head-to-head matchup between (Florida State's) Brian Burns, who was leading the nation in sacks and Mitch Hyatt - and Mitch Hyatt shut him down. Burns' final tally was one tackle and one quarterback hurry and he really didn't get a sniff of the Clemson quarterback. I think Clemson had four quarterback hurries (allowed) and those were basically up the middle."
Both Pauline and fellow podcast analyst Chris Tripodi say Hyatt maximizes his strengths.
"Hyatt isn't the prettiest athlete," said Pauline. "Doesn't have the greatest footwork, but he's fundamentally sound. He's a smart offensive tackle. He uses all his assets to the maximum."
"The thing that probably impressed me most about Hyatt is his ability to adjust," Tripodi said. "He doesn't over-extend into his blocks before engaging a defenders so that gives him a nice window to recover versus quick moves at the line of scrimmage, whether it's a stutter or a swim. He keeps his balance well and is able to stay in front of the defender and keep him away from the quarterback."
Analysts agree that Hyatt returning has been to his benefit.
"Coming into the season scouts graded him as a late-rounder," Pauline said. "There was some talk of entering the draft early last year and it was a good idea that he didn't. I think he's going to be a solid mid-round choice and be an inexpensive utility lineman for an NFL team on Sunday who can play right or left tackle. The bottom-line is this, the Florida State game really helped Hyatt's draft stock."
Hyatt has earned ACC lineman of the week honors three times already this season. He earned Outland Trophy Offensive Player of the Month honors for October.
Week 8 @ACCFootball Players of the Week:

??????x ACC OL of the Week

This is becoming a regular thing for @ClemsonFB LT Mitch Hyatt!#ALLIN ?? (@themitchhyatt) pic.twitter.com/xKYGfU7AHG

— ACC Digital Network (@theACCDN) October 22, 2018
Week 5 @ACCFootball Players of the Week:@ClemsonFB All-American Mitch Hyatt helped paved the way for 2?9?3? rush yards vs. #Syracuse

He's the ACC Offensive Lineman of the Week!

(@themitchhyatt) #ALLIN ?? pic.twitter.com/Uo2XjuoImh

— ACC Digital Network (@theACCDN) October 1, 2018
Mitch Hyatt's @ACCFootball Offensive Lineman of the Week award marks his fifth-career weekly honor and gives the Tigers back-to-back Offensive Lineman of the Week honors since last Oct-Nov #ALLIN ?? pic.twitter.com/s0PyVGdsUc

— Clemson Football (@ClemsonFB) September 10, 2018