| | |
| --- | --- |
| Ellington calls playing with cousin, former Tigers in Houston 'a dream' | |
---
| | |
| --- | --- |
| Wednesday, November 22, 2017 9:51 PM | |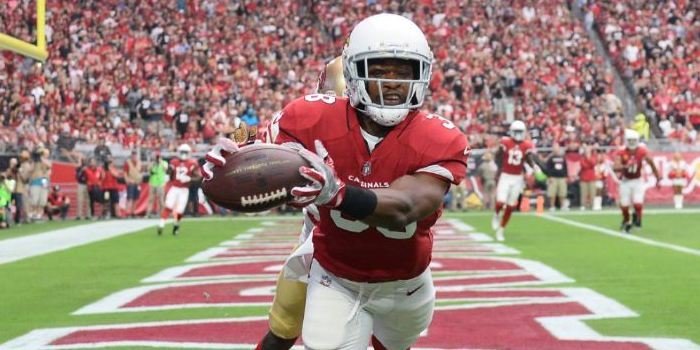 Andre Ellington calls his new home in Houston "a dream come true."
With the Texans claiming him on waivers this week, Ellington is playing on the same team as his cousin, Bruce Ellington, for the first time since he was a senior and Bruce was a sophomore at Berkeley High School (SC).
"We kinda grew up always going against each other and now we're finally teammates (again)," Ellington told reporters. It will be a pleasure…It's great for our family and our community and that we team up and go to battle and go win some football games.
"They (the family) love it. They're on Cloud 9. They're all excited about it. Now we don't have to buy separate tickets. We can get it all for one now. It's going to be good."
Bruce is a fourth-year pro with 25 catches for 294 yards and two touchdowns this season. Andre's biggest impact this season has been in the receiving game as well, with 33 catches for 297 yards and also one rushing touchdown.
The former Cardinals running back is stepping in for Houston second-leading rusher D'Onta Foreman, who went on the injured reserve this week with a torn Achilles.
"It was good to get him," Texans coach Bill O'Brien said of Ellington Wednesday. "(Ellington has) good quickness, good speed. A guy that can do a lot of different things, can maybe help us on special teams. Today, seemed like a quick learner.
"Looking forward to coaching him."
The fifth-year pro is the sixth former Tiger on the Texans roster, joining Deshaun Watson, Carlos Watkins, D.J. Reader, Marcus Gilchrist and DeAndre Hopkins.
"The guys that are on the team, they know a lot about me and they all think highly of me. So, I knew they would put a word in for me," Ellington told reporters of the Clemson connection.
Ellington was close with Hopkins while the two played with the Tigers. He told Houston media Wednesday that he isn't surprised Hopkins is among the league's best.
"I always said before he got there that he would be where he is today," Ellington said of the NFL leader in receiving touchdowns (9). "A lot of people doubted it, but he believed and that's why he's doing what he's doing."
Ellington's signing is just in time for some extra locker room rivalry banter, on a team, including his cousin Bruce, with three former Gamecocks on it.
"There will be a lot of smack talk around here," Ellington said with a smile.
#TexansTidbits on new #Texans RB Andre Ellington (@AEllington38), who played with @mgilchr, @DeAndreHopkins, @Djread98 and @carloswatkins94 at @ClemsonFB and is a cousin of @BruceElling10.

He will wear No. 38. pic.twitter.com/g6kn0pYIfx

— Texans PR (@TexansPR) November 22, 2017
Did we just become teammates?! pic.twitter.com/3KspVVJx1T

— Houston Texans (@HoustonTexans) November 22, 2017
Different team same dream! Keep grinding fam, our time coming! @AEllington38 #843 #Blessed???? #BelieveThat???? pic.twitter.com/WVjvBnfTLy

— _Elling10 (@BruceElling10) November 18, 2017
.@AEllington38 and @BruceElling10 today at #Texans practice. #Clemson pic.twitter.com/kSDCC4nmqC

— patrick (@PatDStat) November 23, 2017
The Clemson alumni in the #Texans locker room excited with the addition of Andre Ellington. Staking their claim in the locker room.

— patrick (@PatDStat) November 22, 2017