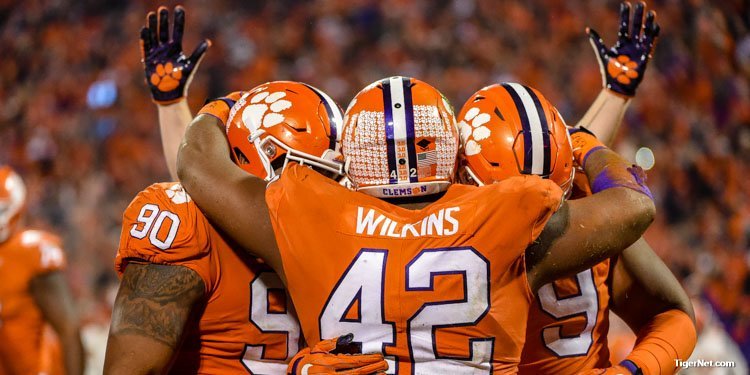 | | |
| --- | --- |
| ESPN personalities react to CFB Playoff teams | |
---
| | | |
| --- | --- | --- |
| Sunday, December 2, 2018, 7:24 PM | | |
ESPN exclusively revealed the College Football Playoff Selection Committee's playoff teams and the Committee's final top 6 rankings at 12:30 p.m. ET.
The following are instant reaction from ESPN analysts.
On Oklahoma being ranked No. 4, ahead of Georgia and Ohio State, which finished ranked No. 5 and No. 6, respectively.
Kirk Herbstreit: "The committee has said that two losses is too much to overcome. Not being a conference champion is too much to overcome. This is a historical moment as far as evaluating the committee because the eyeball test, to me, clearly Georgia is a top 4 team."
Jesse Palmer: "Georgia looked like one of the four best teams… a more complete team than Oklahoma."
Chris Fowler: "[It's] interesting that Georgia landed between two conference champions… You went with the team who won a conference championship and not a team the football people in the room thought would win head-to-head. The status quo regarding two-loss teams not getting in has been maintained."
Chris Fowler: "Different criteria is applied when it is convenient. The results [of the season] have to matter… and they have to matter a lot. If the best thing you can say about Georgia is that they played Alabama really, really tough, that is not enough for me."
Paul Finebaum: "Georgia is among the four best teams. We are going to penalize them for losing to the best team."
Joey Galloway: "You know who wanted Georgia get in? Clemson and Notre Dame. Georgia and Alabama would have been a physical game."
On No. 2 Clemson
Jesse Palmer: "The fact [Clemson] got here with a true freshman quarterback is one of the greatest stories in my 12 years covering college football at ESPN. I played as a true freshman and I can tell you, it's incredibly humbling. It's very easy to struggle."
Kirk Herbstreit: "Clemson keeps their foot on the accelerator despite all the success."
On No. 3 Notre Dame
Kirk Herbstreit: "I don't think Notre Dame plays a system or style that is conducive to blow people out and impress you in terms of saying they are better than 'this team' or 'that team'. They [just] play great football."
David Pollack: "Notre Dame lacks the elite, echelon playmakers. But when you start to poke holes, there aren't many. They're solid across the board. There aren't glaring weaknesses."
David Pollack: "This is a better Notre Dame team (than 2012); this is a more skilled Notre Dame team… Their passing game vs. Clemson's secondary will decide the ball game. Nobody's going to line up and pound Clemson…but they have a chance to keep the game close."