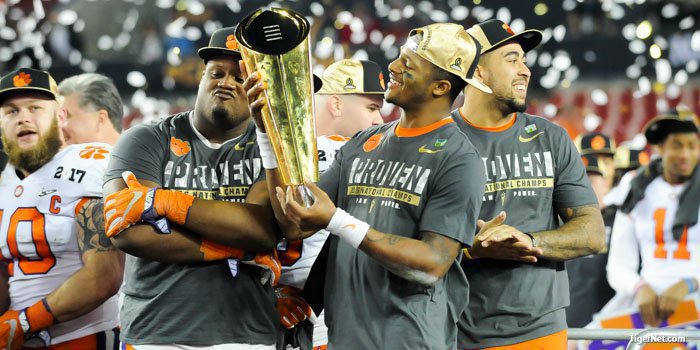 | | |
| --- | --- |
| ESPN analyst: "Clemsoning means going to the playoff every single year" | |
---
| | | |
| --- | --- | --- |
| Wednesday, October 24, 2018, 8:31 AM | | |
The lazy term "Clemsoning" is one of the most despised words by the fanbase of the Clemson football program.
However, "Clemsoning" was brought up Monday and replaced by "Ohio Stating" by SEC analyst Greg McElroy.
ESPN analyst David Pollack took it another step forward and re-defined 'Clemsoning' in a very positive light.
"First of all, let's redefine too," Pollack said on ESPN's College Football Live show. "'Clemsoning' means going to the playoff every single year and winning a national title. That is what Clemsoning means currently just so everybody knows that. There is a lot of teams that want to be Clemson."
Preach, @davidpollack47 #clemsoning pic.twitter.com/oDkyqcgtx6

— Josh (@JNFletcha) October 23, 2018
This is what McElroy said Monday how Clemsoning is now Ohio Stating.
"Dare we go one step further and say that Clemsoning is now Ohio Stating," he said. "Are we allowed to say that. I don't know. Let's go back to 2015. The most talented football team in college football, they lose to Michigan State with a backup quarterback. 2016 they lose by 31 at the hands of Clemson in the College Football Playoff when they were put in as a one-loss nonconference champion. The next year they go to Iowa and they lose by 31 yet again, absolutely blown off the field. And then finally this past Saturday they lose by 29 on the road at a team that is significantly worse than them from a depth and talent standpoint. Dare I say it that Ohio State has now taken the banner of laying gigantic eggs in the middle of the season against teams they should hang with."