| | |
| --- | --- |
| Dave Doeren says Lawrence comments taken 'out of context' | |
---
| | | |
| --- | --- | --- |
| Friday, October 19, 2018, 1:28 PM | | |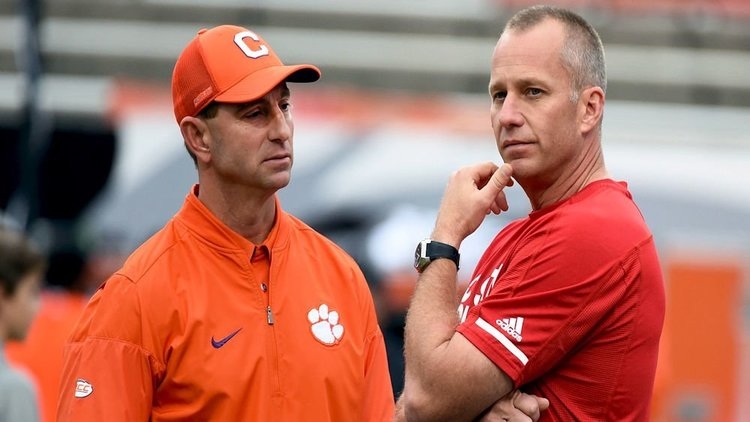 NC State coach Dave Doeren responded Friday to some reaction to his comments about the gameplan against Clemson freshman quarterback Trevor Lawrence Saturday.
Doeren said on his radio show this week that the plan was to get some hits on the Tigers QB.
"What do you do? You hit him. You try to get him out of rhythm, you try to make him see things he hasn't seen
and you have to make plays," Doeren said. "Rattle him a little bit. He hasn't been rattled...You can just get him to question what he's looking at a little bit, give the D-line a little bit more time to get there and the blitzes a little more time to get there and get him on his back more than he wants to be on his back. All of those things add up back. But that's easier said than done."
Doeren shook off any implications that he was calling for any kind of dirty hits on Lawrence in a national radio appearance.
"Yeah I would say they (media) put that out of context. But that's part of the game," Doeren said on CBS Sports Radio. "That's football. There's nothing dirty about hitting in the game of football. I never mentioned anything about a dirty hit. That's football. That's what we do. Part of the game of football is hitting. My point was you can't let him stand back there all day and have all day to throw the football.
"Any defensive coach you talk to will say the same thing. You have to take the timing away from the quarterback and give him different looks. Obviously when you get a sack, there's a hit involved in that. That's all I'm referring to."
The context around Doeren's words in a Clemson game week rest mostly on his comments after the matchup two seasons ago, where he mentioned his defense knocking Tigers running back Wayne Gallman out of the game (concussion) as one of the keys. He later clarified that "it had nothing to do with being excited about injuring another player."
Doeren was complimentary of what he's seen from Lawrence so far.
"Yeah the guy is a great player," Doeren said. "There's a reason he was a top quarterback coming out of high school and he's shown great poise. He's got great talent around him and he's got a quick release and knows where to go with the football. In the limited action that he's had, he's looked really, really good and he's taken care of the football."
NC State Head Coach Dave Doeren says his words about Clemson were taken out of context. (@DAonCBS) pic.twitter.com/UsqG6yxnnF

— CBS Sports Radio (@CBSSportsRadio) October 19, 2018