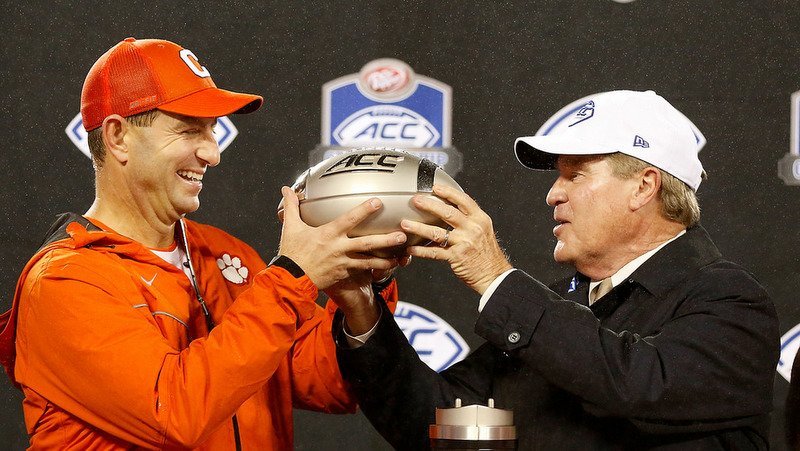 | | |
| --- | --- |
| Coaches give anonymous scouting report on Clemson, ACC | |
---
| | | |
| --- | --- | --- |
| Tuesday, August 6, 2019, 12:26 PM | | |
Athlon Sports posted its annual preseason scouting report from coaches around the ACC, giving their honest assessment of the league anonymously.
As you might expect for the defending champs, it's mostly glowing praise with the Tigers.
"What can you say? They're a step-and-a-half past everyone else in the ACC. You can't even call them an SEC-caliber program. They're an Alabama-caliber school, a Georgia-caliber school," one ACC coach said. "Literally. Coaches in our league have been talking about this for almost a decade now; we could see the money they were raising and spending and how it was translating. They're a war machine."
Another coach sees the Clemson offense giving the defense time to build up on a team that should lead the way again.
"Just keep (Trevor) Lawrence healthy. They should be able to give the defense enough space to catch up," the coach said. "The coaches aren't thinking this way because the second team defense doesn't really exist yet - last year's backups didn't drop off much from the starters, but there's questions after that. Still, this is the best team in the country."
Looking around the ACC, Georgia Tech, which is currently a 35-point underdog for the Aug. 29 opener at Clemson, could have its hands full this season.
"They have to keep doing all the social media PR stuff, because when you're undoing a triple-option roster, you're gonna get your butt handed to you for a bit."
"They're going to have to rework their entire offensive line. We've had some visiting coaches who saw Tech tell us they're a ways off of being even decent. That's what you expect, though. These guys are smaller, four-point stance guys who have never gone into proper pass protection schemes."
Another ACC coach regarded Louisville as possibly "a more difficult (rebuild) than Georgia Tech" and North Carolina as a team poised to take "the lead back in the state from NC State" eventually.