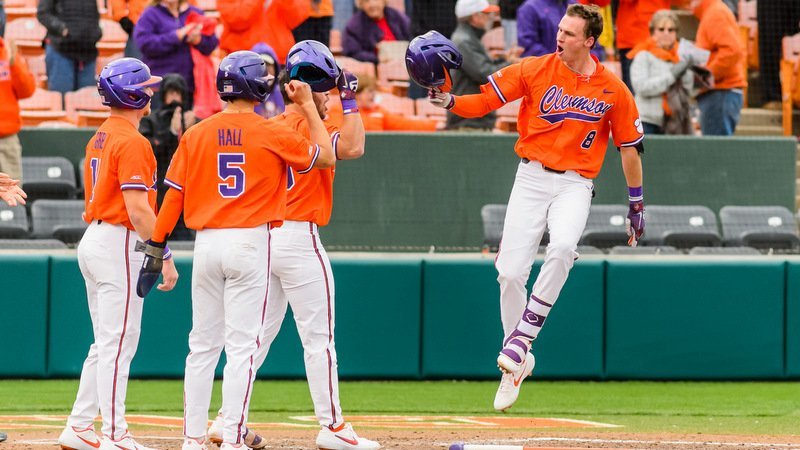 | | |
| --- | --- |
| Clemson's NCAA Regional destination announced | |
---
| | | |
| --- | --- | --- |
| Monday, May 27, 2019, 12:13 PM | | |
Clemson baseball hits the road for the NCAA Tournament for the first time in four seasons to the Oxford Regional.
They will be a 3-seed and face Illinois to start the tournament on Friday (4 p.m./ESPNU), while 12-national seed Ole Miss takes on Jacksonville State (8 p.m./ESPN3). The regional is paired with 5-national seed Arkansas' Fayetteville Regional.
Among the last teams included in the field of 64, Monte Lee's Tigers (34-24) had their struggles down the stretch but they recovered to hold a top-40 RPI (38) and capped a winning final 10-game stretch (6-4) with a victory over No. 7 Louisville in the ACC Baseball Championship. This is an 11th consecutive NCAAs bid for the program.
The Tigers played a strength of schedule ranked 28th.
Clemson finished the regular season leading the ACC in home runs (79) yet middle of the pack at seventh in ERA (4.39) and fielding percentage (.971).
Illinois (36-19) was bounced from the Big Ten tournament early but still ranked in the top-30 in the final RPI (28) versus a No. 56-ranked schedule. They ranked No. 27 nationally in team ERA (3.66) going into the weekend.
Ole Miss (37-25) comes in with the lowest RPI ranking among regional hosts (22) after facing a top-10 schedule (8) and making a run to the SEC title game. The Rebels averaged 6.7 runs per game this season and the total figure was in the top-30 nationally (28) going into the weekend.
Jacksonville State (37-21) went into the Ohio Valley tournament as the top seed and won all three games to secure an NCAAs bid. The Gamecocks own a win over No. 4 national seed Georgia (9-8 in 11 innings), as well as at Auburn (11-6).
ACC division winners Georgia Tech (3) and Louisville (7) each landed in the top-eight for a chance to host a Super Regional. Duke and Florida State were among the last four teams in the field.
Monte Lee says Hennessy, Sharp and Clark in line to start this weekend

— TigerNet.com (@ClemsonTigerNet) May 27, 2019
Oxford, MS Regional
#12 Ole Miss (37-25)
Jacksonville St (37-21)
Fri. 8 ET ESPN3
Clemson (34-24)
Illinois (36-19)
Fri 4 ET ESPNU
Let's go!!! pic.twitter.com/5BkeHlVQSM

— Clemson Baseball (@ClemsonBaseball) May 27, 2019
Coach ?@MonteLeeCU? on the Oxford Regional. pic.twitter.com/MP3MGTlGPd

— Clemson Baseball (@ClemsonBaseball) May 27, 2019