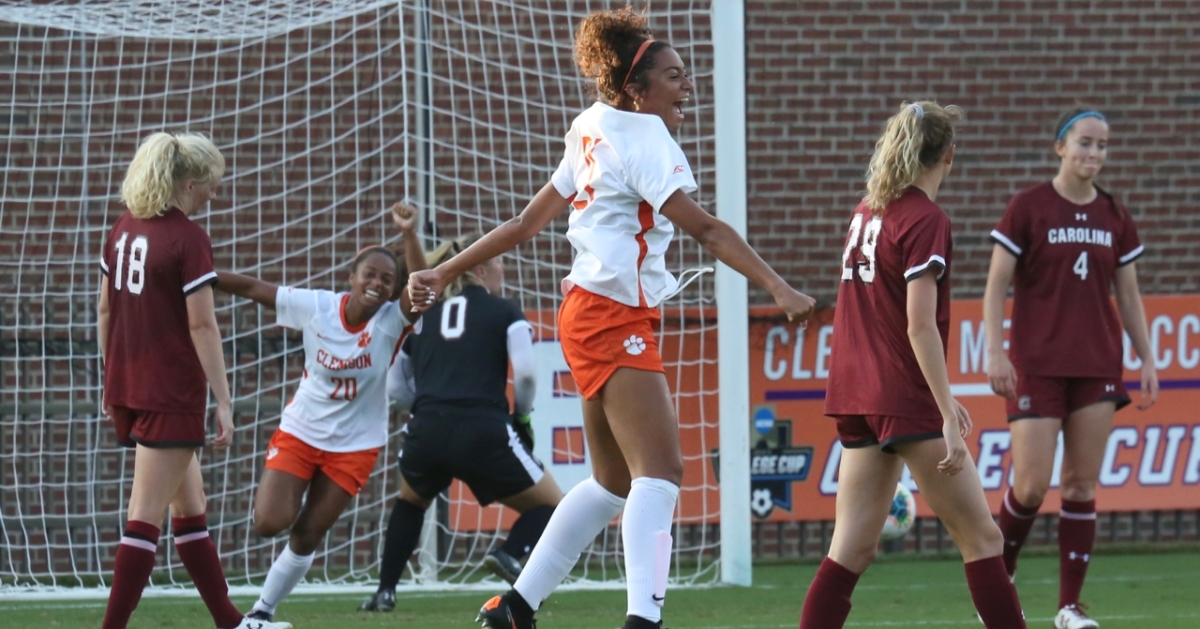 | | |
| --- | --- |
| Clemson upsets No. 7 South Carolina | |
---
| | | |
| --- | --- | --- |
| Monday, September 16, 2019, 7:57 AM | | |
Clemson, S.C.- The No. 20 Clemson women's soccer team stayed undefeated at home, taking down No. 7 South Carolina 1-0. The Tigers (6-0-1) outshot the Gamecocks (6-1-0) 11-4 on the night. It is Clemson's first win over the Gamecocks since 2015.
"Wonderful performance tonight by the girls," said Head Coach Eddie Radwanski. " We beat a really good team. To hold a team like South Carolina to only four shots, that is a signal of how great the overall team performance was."
Senior goalkeeper Sandy Maclver posted her second shutout of the season, making saves on both of South Carolina's shots on goal while helping the Clemson defense control the pace of play on their half of the pitch. The Tigers' defense recorded its fifth shutout of the season while holding the nationally-ranked Gamecocks' offense to four shots.
Clemson's lone goal came in the 44th minute from freshman Maliah Morris. Morris got a step from her defender, moving left-to-right across the field, before sending a shot into the back of the net from just outside the 18-yard box. It is Morris' second goal of the season, as Renee Guion picked up her eighth assist on the year. Guion now moves into first place in the Atlantic Coast Conference in addition to taking sole possession as the NCAA assists leader.
"It feels awesome," said Morris. "Preparing for this week we were going in with the mindset that we weren't going to leave the game unless we got a win. When I got my chance I knew I had to finish it for the team."
The Clemson women's soccer team welcomed their largest crowd of the year into Historic Riggs Field with the CU Central Spirit packing the stands. "I personally want to thank the crowd," said Radwanski. "The energy and vibrancy--they brought it today. They went from the opening whistle to the closing whistle and I can't thank our fans and students enough for their support."
Clemson will be back in action at Historic Riggs field on Sept. 20 as the Notre Dame Fighting Irish come into town for the Tigers' first ACC game of the year. Game time is set for 5 p.m. with the Clemson men's soccer game to follow against Duke at 8 p.m.
The goal that sealed the deal. ??

Courtesy of: @MaliahMorris pic.twitter.com/mT8NP4zDle

— Clemson Athletics (@ClemsonTigers) September 16, 2019
Still undefeated. ??

A hard-fought battle with the Gamecocks belongs to @clemsonwsoccer. #OurState pic.twitter.com/axWvps3usv

— Clemson Athletics (@ClemsonTigers) September 16, 2019
Our boys were right on the field congratulating @clemsonwsoccer after their 1-0 victory over the Gamecocks!
#OurState pic.twitter.com/cmjGyJo9Wh

— Clemson Men's Soccer (@ClemsonMSoccer) September 16, 2019
Another Palmetto Series win ? #OurState pic.twitter.com/BlOWsDoMx3

— Clemson Athletics (@ClemsonTigers) September 16, 2019
No matter which angle you choose, Maliah's game-winning goal is a thing of beauty ??#WinTheDay / #OurState pic.twitter.com/n65CF9y6c2

— Clemson Women's Soccer (@clemsonwsoccer) September 16, 2019