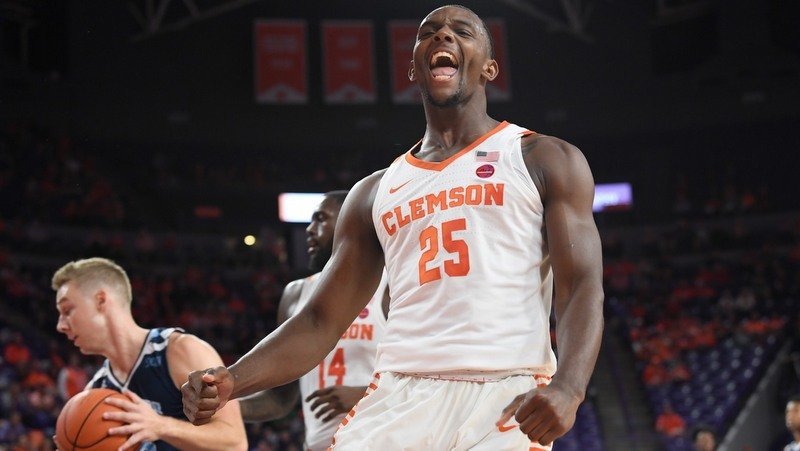 | | |
| --- | --- |
| Clemson takes on FSU in Tallahassee Tuesday | |
---
| | | |
| --- | --- | --- |
| Monday, January 21, 2019, 3:37 PM | | |
The Clemson Tigers (11-6, 1-3 ACC) look for its second consecutive win of the ACC season Tuesday when it plays at Florida State (13-5, 1-4) in the Donald L. Tucker Center in Tallahassee, Fla. Tip is scheduled for 7:01 p.m. ET. Florida State is ranked as high as No. 23 in the Coaches Poll.
The contest will be televised on ESPNU with Rich Hollenberg and Dan Dakich calling the action courtside, while
Don Munson and Tim Bourret will be on the radio waves. The radio call will be available on the Clemson Tigers
Network and Tunein.com.
Clemson basketball notes
• Clemson will look for its second consecutive victory over Florida State and just its ninth all-time in Tallahassee.
• The Tigers' last victory on the road against Florida State was a 62-56 victory on Feb. 4, 2015.
• Clemson is 32-41 all-time against Florida State.
• FSU comes in on a three-game losing streak, which started with a 2-point home loss to No. 1 Duke and then on the road at Pittsburgh (75-62) and then Boston College (87-82) on Sunday.
• Brad Brownell earned his 160th career victory at Clemson with a 72-60 win over Georgia Tech – he is currently just 17 shy of tying Cliff Ellis for the most in program history (177).
• Marcquise Reed moved into 29th on the all-time scoring list following a career-high 30-point performance on Jan. 16 against Georgia Tech. Reed now has 1,158 points in his Clemson career.
• It marked the first 30-point game by a Tiger since Gabe DeVoe scored 31 against Kansas in the Sweet 16 (March 23, 2018). It was the first 30-point game in Littlejohn Coliseum since K.J. McDaniels against Georgia State on March 19, 2014.
• Reed became the 37th player in program history to record a 30-point game and it was the 106th occurrence in program history.
• Reed is just five 20-point performances shy (21) of reaching Clemson's all-time top 10 of such games.
• Shelton Mitchell dished out a season-high eight assists while also committing zero turnovers. It tied Mitchell's high for assists with zero turnovers. He also posted eight assists with zero turnovers against Syracuse on Feb. 7, 2017.
• Mitchell is the active Clemson leader in assists and has 276 in his 79 game Tiger career. He leads the Tigers this season with 54 dimes (3.2 assists/game).
Clemson projected lineup
(Pos./No.) Player name Ht. Wt. Yr. Hometown GP/GS PPG RPG APG MPG
G 2 Marcquise Reed 6-3 188 Gr. Landover, Md. 14/13 19.7 5.4 3.5 33.9
G 4 Shelton Mitchell 6-4 200 Gr. Waxhaw, N.C. 17/17 11.9 2.6 3.2 32.2
F 14 Elijah Thomas 6-9 245 Sr. Dallas, Texas 17/15 13.1 7.7 0.8 24.4
F 24 David Skara 6-8 213 Gr. Zadar, Croatia 17/17 8.6 4.2 1.4 30.6
F 25 Aamir Simms 6-7 248 So. Palmyra, Va. 17/17 9.1 4.6 0.7 27.9
FSU projected lineup
(Pos./No.) Player name Ht. Wt. Yr. Hometown GP/GS PPG RPG APG MPG
G 3 Trent Forrest 6-4 210 Jr. Chipley, Fla. 18/18 9.9 4.9 3.6 29.7
F 5 PJ Savoy 6-4 210 Sr. Las Vegas, Nev. 18/15 7.7 2.0 0.7 19.6
G 14 Terance Mann 6-7 215 Sr. Lowell, Mass. 18/17 11.6 6.3 1.9 30.1
G 23 M.J. Walker 6-5 213 So. Jonesboro, Ga. 16/16 7.5 2.3 1.8 26.2
C 21 Christ Koumadje 7-4 268 Sr. N'Djamena, Chad 18/18 6.3 5.5 0.4 16.6