| | |
| --- | --- |
| Clemson student from India shares his new love for Clemson Football | |
---
| | |
| --- | --- |
| Thursday, December 3, 2015, 10:12 AM | |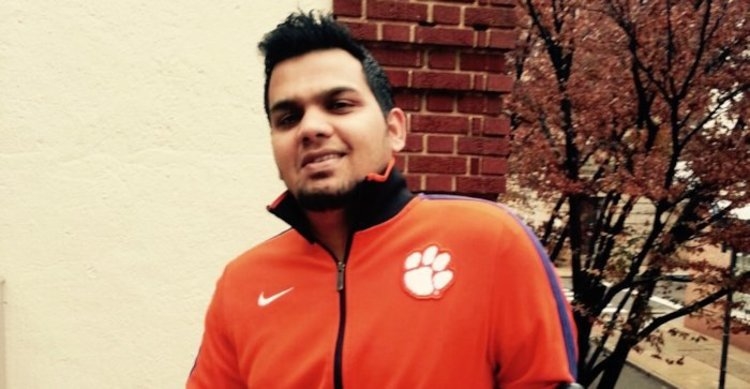 Ani Sawant was born and raised in Mumbai, India and came to Clemson in fall of 2012 for a Masters in Environmental Engineering. Just a month ago he signed a 4-year contract with the U.S. Army as an active duty soldier water treatment specialist and is currently preparing for boot camp.
Earlier this week, Sawant emailed a letter to TigerNet sharing his love for Clemson football.
Email to TigerNet from Ani Sawant
"Is that you with the Clemson flags on the car? .... Just a fan or did you really go to Clemson? "A mid-aged gentleman asked me when I was at the park, walking my dog last night. Of course, he associated me with the car because I had a Clemson beanie on. My chin went an inch high, and my chest inflated a few centimeters and I said, "Yes I am a Clemson Tiger".
A little more into the conversation and I found out his daughter was a Clemson Tiger too. Great to know, isn't it? But what's greater is, the time to be a tiger! I have my car flags up since the season started. I live up in Delaware with my girlfriend. So snow, sleet, or rain the flags are always up. I kinda like the attention I get to have the flags of the #1 team in the country. My closet has 50% Orange shirts, and I always have something orange on me. It just happened to me. I don't know how. May be the rumors are right; 'there is something in those hills'.
I came to Clemson in 2012 from India, for a master degree and instantly fell in love with the place, the people, the hospitality and specially the football. A semester down the line, my blood tested positive for – ORANGE at the Redfern center, LOL!!!!. I am just surprised with myself as to how quickly I picked up the sport of American football when back home we don't even have TV channels that telecast the sport. I remember my first ball game at Death Valley and I was walking towards the stadium, and I could literally feel my heartbeat going off the charts just by the energy the place had. Little I knew at that point, I will not be missing any of the home games, at least till the time I am a student here. I queued up before every home game to get my student ticket. I didn't even miss the spring game, can you believe it? I can't! It's been three years and I can guess with 80% accuracy looking at the formation if it's going to be a screen, run or a deep throw pass. Sometimes I call flags even before the referees do, LOL!!!! That much I love and follow football. I love it, every bit of it.
It's hard to come down to Clemson that often, but I never miss an opportunity. The last I was in Clemson was for the FSU game, and it was just priceless. I actually framed my ticket and stuck it on my wall in my apartment.
It's great to be associated with such a prestigious school. I take immense pride in being a Clemson Tiger. I pray before every game that our Tigers will win. I pray that Deshaun goes to New York as a Heisman Winner. I pray that all the guys on the team are always healthy and safe. I pray for everyone that contributes towards making Clemson the place it is. Lastly, I would like to thank Clemson University for letting me be a Tiger.
We asked why Sawant he felt the need to send the letter.
"A few words of thank you are just a beginning of what the Clemson Alumni can do for the school. Today I can take time out of my schedule to say thank you," Sawant wrote. "Tomorrow I would be able to do more. That's what my parents taught me. To not take things for granted, a thank you goes a long way. Not every kid in India is as fortunate as I am to study at Clemson.
"I thank my parents for their support, my brother for his directions to reach where I am. So why not thank Clemson for the quality of education it has given me, the virtues of life, the discipline, the comfort when I came 8 and a half thousand miles away from home to the other part of the world. It made my parents feel their son is at a blessed and safe place. That's the primary thing that every parent of every kid want when their kid go away for school. Can't be more thankful."
Well said Ani Sawant. Well said.