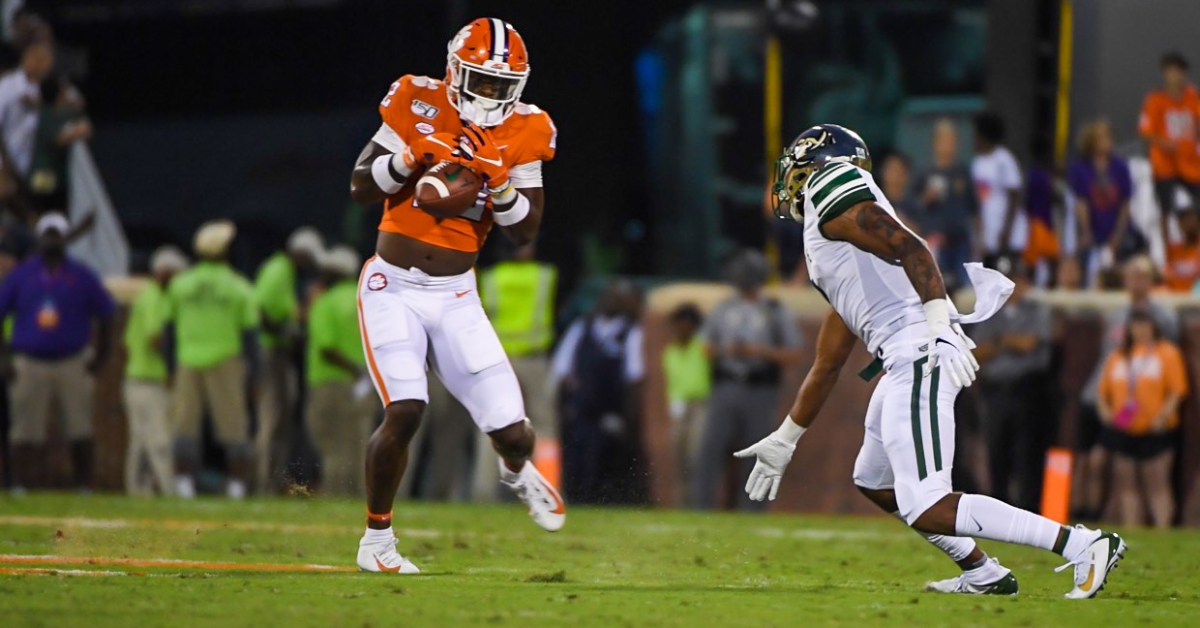 | | |
| --- | --- |
| Clemson stays a clear No. 1 in AP Top 25 | |
---
| | | |
| --- | --- | --- |
| Sunday, September 22, 2019, 2:10 PM | | |
Clemson remained a firm No. 1 in the Associated Press Top 25 on Sunday after its 52-10 win over Charlotte this weekend.
The Tigers (1,543 points) outpace Alabama (1,485), Georgia (1,400), LSU (1,344) and Ohio State (1,288).
Wisconsin jumped five spots to No. 8 after sending previous No. 11 Michigan back to No. 20.
Joining Clemson from the ACC is Virginia (18), with Wake Forest just outside the top-25.
AP Top 25 - 9/22
RANK TEAM PV RANK CONFERENCE POINTS
1 Clemson (4-0) 1 ACC 1,543
2 Alabama (4-0) 2 SEC 1,485
3 Georgia (4-0) 3 SEC 1,400
4 LSU (4-0) 4 SEC 1,344
5 Ohio State (4-0) 6 Big Ten 1,288
6 Oklahoma (3-0) 5 Big 12 1,283
7 Auburn (4-0) 8 SEC 1,169
8 Wisconsin (3-0) 13 Big Ten 1,071
9 Florida (4-0) 9 SEC 1,022
10 Notre Dame (2-1) 7 IA Independents 989
11 Texas (3-1) 12 Big 12 968
12 Penn State (3-0) 13 Big Ten 848
13 Oregon (3-1) 16 Pac-12 839
14 Iowa (3-0) 18 Big Ten 714
15 California (4-0) 23 Pac-12 547
16 Boise State (4-0) 20 Mountain West 524
17 Washington (3-1) 22 Pac-12 498
18 Virginia (4-0) 21 ACC 430
19 Utah (3-1) 10 Pac-12 426
20 Michigan (2-1) 11 Big Ten 287
21 USC (3-1) Pac-12 257
22 UCF (3-1) 15 American Athletic 252
23 Texas A&M (2-2) 17 SEC 233
24 Kansas State (3-0) Big 12 230
25 Michigan State (3-1) Big Ten 104
Others receiving votes:
Wake Forest 73, Oklahoma State 57, Southern Methodist 55, Army 46, Memphis 42, Iowa State 31, Appalachian State 24, Washington State 21, Missouri 14, Mississippi State 14, Pittsburgh 6, Arizona State 5, Minnesota 5, Colorado 5, Tulane 1