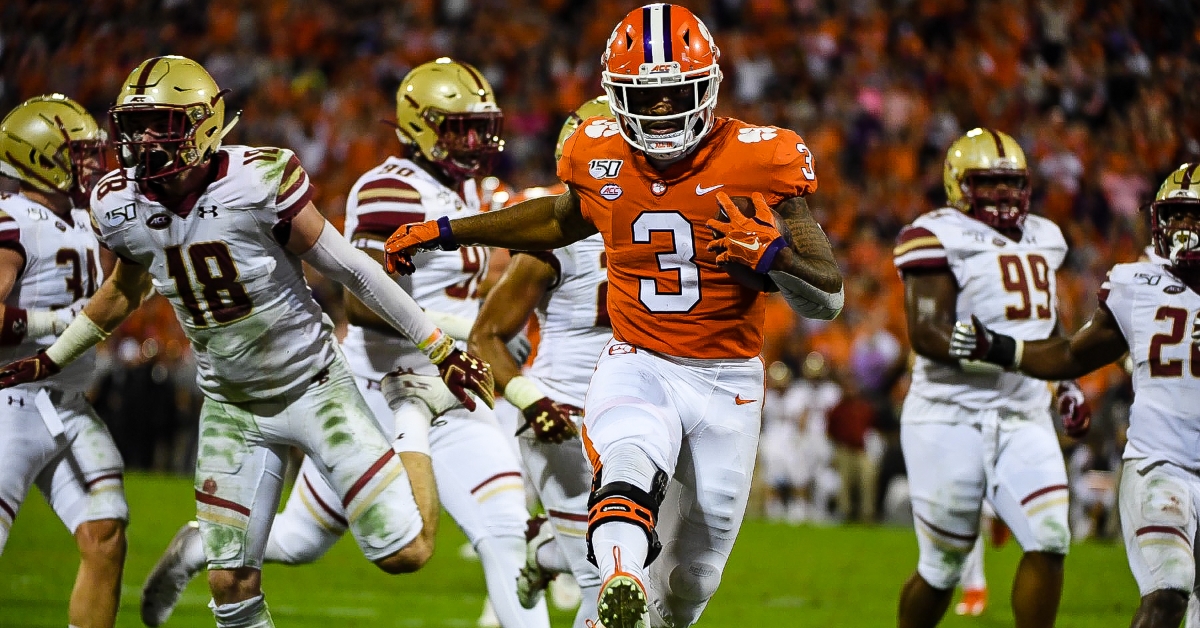 | | |
| --- | --- |
| Clemson ranked No. 3 in updated AP Poll | |
---
| | | |
| --- | --- | --- |
| Sunday, November 24, 2019, 2:05 PM | | |
Undefeated LSU stayed atop the Associated Press Top 25 for a fifth-straight week after the top-5 in the ranking either won or didn't play this week.
The Bayou Bengals had little trouble with Arkansas in a 56-20 win, while No. 2 Ohio State held off No. 8 Penn State, 28-17 -- and No. 4 Georgia did the same at home with Texas A&M, 19-13, with No. 3 Clemson on a bye week ahead of its rivalry game at South Carolina on Saturday (noon/ESPN). Alabama rounds out the new-and-old top-5 after a 66-3 win over FCS-level Western Carolina.
Clemson's potential strength of schedule saw a boost this week with Virginia Tech entering the rankings at No. 23 and Virginia sitting just outside (No. 27 in votes). Virginia hosts Virginia Tech on Friday (noon/ESPN) and the winner will play Clemson the next week in Charlotte's ACC Championship (7:30 p.m. on Dec. 7/ABC).
Looking ahead to Tuesday's new CFP ranking (7 p.m./ESPN), LSU probably holds on to the top spot with its No. 1-rated strength of record and No. 2 mark in game control. Ohio State has had the top spot in that committee poll before, however, and holds the No. 2 strength of record and the No. 1 spot for both the ESPN Football Power Index and SP+ total efficiency rankings. Clemson's strength of record is ranked fourth and its game control is right behind Ohio State and and LSU (3), having a No. 2 mark in the FPI and the No. 4 spot in SP+.
AP Poll - 11/24
RANK TEAM PV RANK POINTS
1 LSU (11-0) 1 1,537
2 Ohio State (11-0) 2 1,486
3 Clemson (11-0) 3 1,440
4 Georgia (10-1) 4 1,347
5 Alabama (10-1) 5 1,283
6 Utah (10-1) 7 1,231
7 Oklahoma (10-1) 8 1,189
8 Florida (9-2) 10 1,058
9 Minnesota (10-1) 11 996
10 Michigan (9-2) 12 913
11 Baylor (10-1) 13 910
12 Penn State (9-2) 9 903
13 Wisconsin (9-2) 14 791
14 Oregon (9-2) 6 784
15 Notre Dame (9-2) 15 701
16 Auburn (8-3) 16 635
17 Memphis (10-1) 18 535
18 Cincinnati (10-1) 17 518
19 Iowa (8-3) 19 510
20 Boise State (10-1) 20 410
21 Oklahoma State (8-3) 22 266
22 Appalachian State (10-1) 23 206
23 Virginia Tech (8-3) 25 147
24 Navy (8-2) 99
25 USC (8-4) 79
Others receiving votes:
Iowa State 74, Virginia 38, Texas A&M 27, Air Force 22, SMU 9, Arizona State 4, Louisiana-Lafayette 1