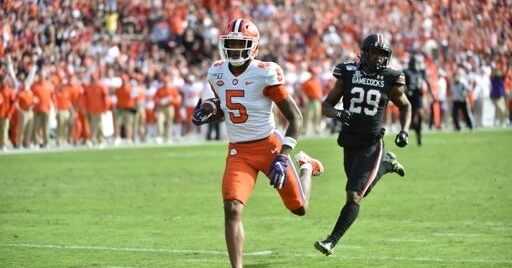 | | |
| --- | --- |
| Clemson ranked No. 3 in latest AP Poll | |
---
| | | |
| --- | --- | --- |
| Sunday, December 1, 2019, 2:10 PM | | |
Clemson kept its No. 3 spot in the latest Associated Press Top 25 in a top-four group that also stayed unchanged after a pair of upsets in the top-10.
No. 1 LSU rolled over Texas A&M at home on Saturday (50-7), No. 2 Ohio State grabbed a road win at rival Michigan (56-27), No. 3 Clemson dominated at South Carolina (38-3), No. 4 Georgia won at Georgia Tech (52-7), new No. 5 Utah cruised hosting Colorado (45-15) and new No. 6 Oklahoma topped Oklahoma State (34-16).
Alabama fell five spots to No. 10 after a 48-45 loss at Auburn. Clemson's opponent Saturday, Coastal winner Virginia, joined the poll at No. 22 after a 39-30 win over Virginia Tech on Friday.
The next major ranking comes out on Tuesday with the next edition of the College Football Playoff committee's ruling (7 p.m./ESPN). Ohio State moved ahead of LSU last week after downing Penn State the week prior -- and only added to their resume in the CFP committee's eyes with the top-15 win over Michigan. Ohio State holds No. 2 rankings in strength of record, offense and defense efficiencies with a No. 1 game control mark according to ESPN. According to the same metrics, LSU is No. 1 in strength of record and offense, No. 2 in game control and No. 14 on defense, while Clemson is No. 1 on defense, No. 3 in game control, No. 4 in strength of record and No. 5 on offense.
Clemson is No. 2 behind Ohio State in ESPN's Football Power Index, with LSU No. 4, while their SP+ formula has Ohio State No. 1, LSU No. 3 and Clemson No. 4.
AP Top 25 - 12/1
RANK TEAM PV RANK POINTS
1 LSU (12-0) 1 1,528
2 Ohio State (12-0) 2 1,498
3 Clemson (12-0) 3 1,437
4 Georgia (11-1) 4 1,356
5 Utah (11-1) 6 1,275
6 Oklahoma (11-1) 7 1,257
7 Florida (10-2) 8 1,135
8 Baylor (11-1) 11 1,074
9 Alabama (10-2) 5 995
10 Wisconsin (10-2) 13 971
11 Auburn (9-3) 16 957
12 Penn State (10-2) 12 890
13 Oregon (10-2) 14 799
14 Notre Dame (10-2) 15 734
15 Minnesota (10-2) 9 683
16 Memphis (11-1) 17 615
17 Michigan (9-3) 10 603
18 Iowa (9-3) 19 537
19 Boise State (11-1) 20 463
20 Appalachian State (11-1) 22 288
21 Cincinnati (10-2) 18 237
22 Virginia (9-3) 231
23 Navy (9-2) 24 216
24 USC (8-4) 25 157
25 Air Force (10-2) 65
Others receiving votes:
SMU 50, Oklahoma State 36, Kansas State 36, UCF 6, Virginia Tech 6, Iowa State 5, Arizona State 4, California 3, Washington 2