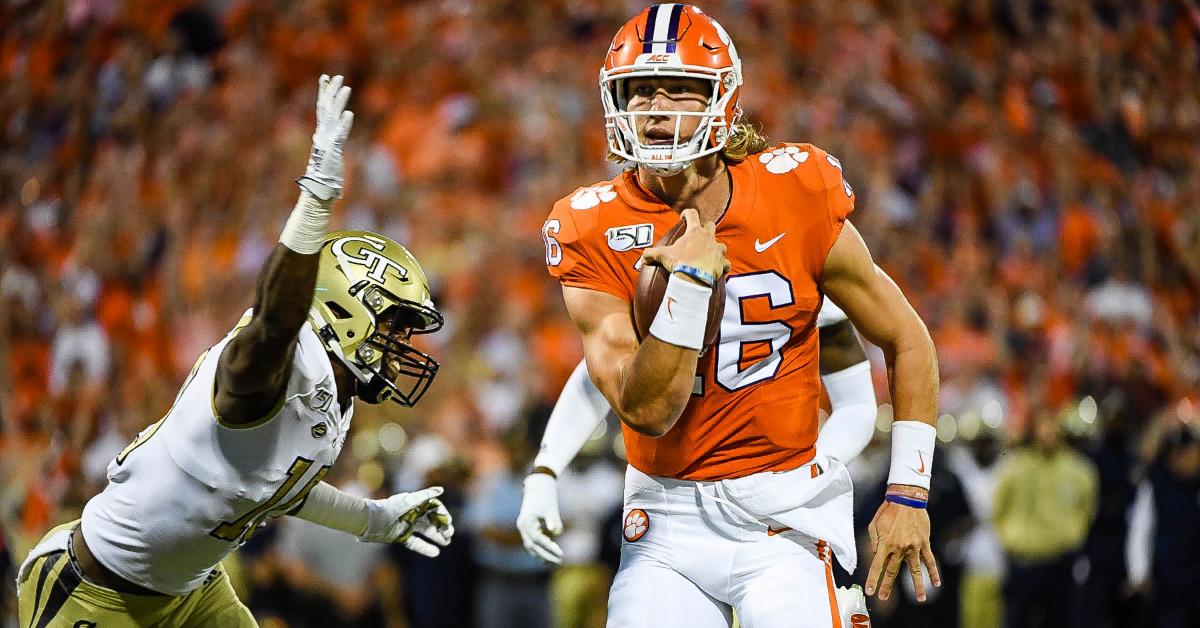 | | |
| --- | --- |
| Clemson ranked No. 1 in latest AP Poll | |
---
| | | |
| --- | --- | --- |
| Tuesday, September 3, 2019, 2:11 PM | | |
Clemson strengthened its grip on the No. 1 spot in the Associated Press Top 25 on Monday.
The Tigers are again ahead of Alabama and Georgia, as well as Oklahoma and Ohio State in the top-5. Clemson gained a couple points in the vote totals (1,542 from 1,540; 54 first-place votes) on Alabama (1,493 from 1,496; 8 first-place votes) from the preseason poll.
Clemson was ranked preseason No. 1 in the AP Poll for the first time in school history back in August, coming off of a final 2018 season poll No. 1 after the 44-16 win over Alabama in January.
Clemson was also No. 1 in the Coaches Poll on Monday with 58 of the 64 first-place votes.
AP Poll - Week One
Rnk Team (Record) Prev. rnk Conf. Pts (1st votes)
1 Clemson (1-0) 1 ACC 1,542 (54)
2 Alabama (1-0) 2 SEC 1,493 (8)
3 Georgia (1-0) 3 SEC 1,407
4 Oklahoma (1-0) 4 Big 12 1,337
5 Ohio State (1-0) 5 Big Ten 1,270
6 LSU (1-0) 6 SEC 1,233
7 Michigan (1-0) 7 Big Ten 1,126
8 Notre Dame (1-0) 9 IA Independents 1,037
9 Texas (1-0) 10 Big 12 1,032
10 Auburn (1-0) 16 SEC 958
11 Florida (1-0) 8 SEC 940
12 Texas A&M (1-0) 12 SEC 862
13 Utah (1-0) 14 Pac-12 826
14 Washington (1-0) 13 Pac-12 768
15 Penn State (1-0) 15 Big Ten 688
16 Oregon (0-1) 11 Pac-12 568
17 Wisconsin (1-0) 19 Big Ten 519
18 UCF (1-0) 17 American Athletic 445
19 Michigan State (1-0) 18 Big Ten 409
20 Iowa (1-0) 20 Big Ten 351
21 Syracuse (1-0) 22 ACC 246
22 Washington State (1-0) 23 Pac-12 244
23 Stanford (1-0) 25 Pac-12 198
24 Boise State (1-0) Mountain West 179
25 Nebraska (1-0) 24 Big Ten 86
Others receiving votes:
Iowa State 86, Virginia 73, TCU 61, Mississippi State 50, Cincinnati 48, Army 31, Miami (FL) 10, Oklahoma State 8, Memphis 6, Arizona State 4, Appalachian State 4, Minnesota 2, USC 1, Boston College 1, North Carolina 1