| | |
| --- | --- |
| Clemson players tweet after title loss, thank the fans | |
---
| | | |
| --- | --- | --- |
| Tuesday, January 14, 2020, 2:02 AM | | |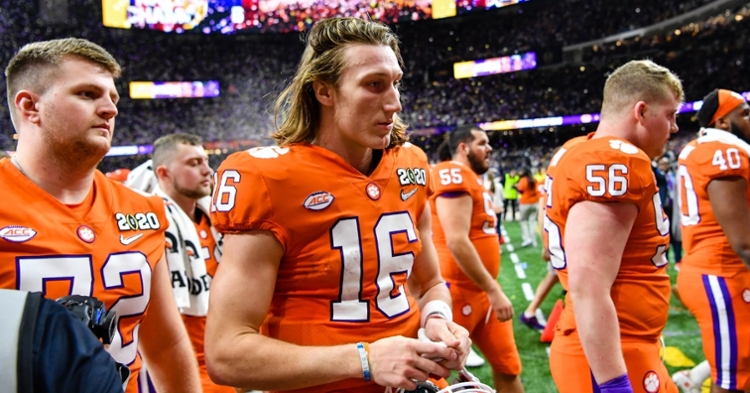 Several Clemson players had a message for their fans after the team's title loss to LSU on Monday night.
The seniors on the team finished up with a 55-4 record over the last four seasons.
The 29-game winning streak that was snapped finished up as the longest streak in Clemson history in any sport.
Check out several of the players and coaches tweets below:
Trust. ???? pic.twitter.com/jO23nZbyqn

— Xavier Thomas (@atxlete) January 14, 2020
Thank you Clemson family for all the love this season???? #ALLIN

— KJ Henry (@thekjhenry) January 14, 2020
Man what a ride. What a season. We changed the narrative all year all the way to the national championship game! Can't thank the Clemson faithful enough for its love & support! I'm so blessed and thankful to be able to represent this University!
Year 3 was incredible... #ALLIN

— Chase Brice (@chasebrice7) January 14, 2020
Back to work... Love you Tiger Nation... Next year is goin to be special ??

— Amari Rodgers3?? (@arodgers_3) January 14, 2020
??

— John Simpson (@BigJohn74_) January 14, 2020
Let's work .. ??

— Justyn Ross (@_jross8) January 14, 2020
Hats off to LSU as they were the better team tonight. Proud of the way our guys fought til the end. We won't waste a failure. F.A.I.L. Stands 4 (F)or (A)ll (I)'ve (L)earned. We will learn from it. #TigerNation Thanks 4 your support through good & bad times.#WeWillBeBack #ALLin

— Todd Bates (@CoachToddBates) January 14, 2020
I love you Clemson Nation. Thank y'all for the greatest 4 years of my life. The best is yet to come. Remember even in time of struggles, give God all the Glory!

— Sean Pollard (@spollard76) January 14, 2020
Back To Work ...

— Jordan Williams (@_blessed_23) January 14, 2020
"Safe to say that growth is an uncomfortable process and pain is a necessary investment for progress..."
~@DSmoke7

— Travis Etienne Jr??? (@swaggy_t1) January 14, 2020
Thank you Clemson family for always supporting this team and supporting me!! It was an honor and Privilege to be on the sideline these past two Seasons with this team & Staff. I wouldn't have it any other way! Once a Tiger ?? Always a Tiger??. I'll Forever Be #ALLIN pic.twitter.com/mTOM0dxxh9

— Coach Da'Quan Bowers (@DaQuanBowers91) January 14, 2020
January 14, 2020
What a career here at Clemson...It's something you dream of as a kid.. 3 national championship appearances! 13 rings! 5 ACC championships! Clemson Graduate! Most winningest senior class in Clemson history! So much to be thankful for! Remember Godfirst! Go Tigers ! ???? pic.twitter.com/FUfVZH7LQA

— Denzel Johnson (@jdenzel66) January 14, 2020
@_jakevenables really proud of you Jake. Greater things lie ahead! My best to your Dad and @ClemsonFB pic.twitter.com/cyem3CZibD

— Jim Ross (@JRsBBQ) January 14, 2020
Love my brothers. We accomplished so much together. Time to get back to work. pic.twitter.com/QzDgeGIwwM

— Jake Venables (@_jakevenables) January 14, 2020
Coming for it all.. I just want to be legendary pic.twitter.com/NOXweJzzkf

— Mike Jones Jr?? (@_mjones24) January 15, 2020
January 15, 2020