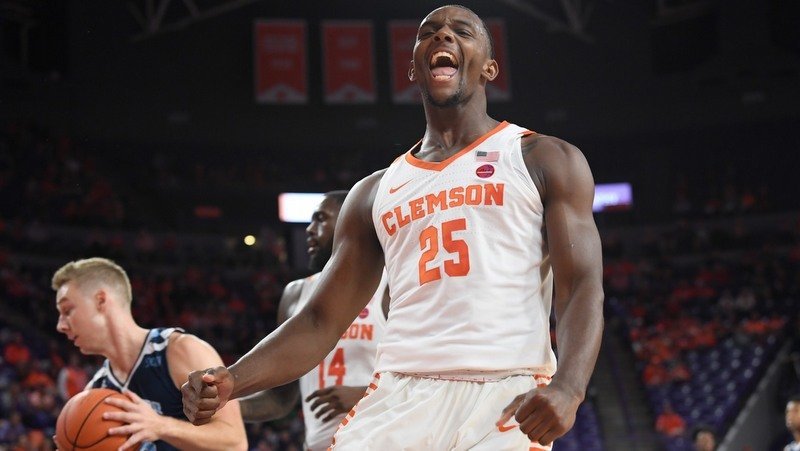 | | |
| --- | --- |
| Clemson forward named to 2019 All-ACC Academic team | |
---
| | | |
| --- | --- | --- |
| Friday, March 8, 2019, 11:07 AM | | |
GREENSBORO, N.C. (theACC.com) – North Carolina senior Luke Maye has been named the recipient of the Atlantic Coast Conference's Skip Prosser Award for the second consecutive year and headlines the 2018-19 All-ACC Academic Men's Basketball team.
The Skip Prosser Award is presented annually to the top scholar-athlete in ACC men's basketball. It is named in memory of Wake Forest head basketball coach George Edward "Skip" Prosser, who passed away on July 26, 2007. Prosser compiled a 291-146 career record in 14 seasons as a head coach, including a 126-68 mark in his six years with Wake Forest. Every Wake Forest senior he coached graduated, and the Deacons placed nine players on the annual All-ACC Academic Basketball Team during his tenure.
To be nominated for the Skip Prosser Award, a student-athlete must be an upperclassman with a grade-point average of 3.0 or better – both in his career and in the previous two semesters. Sixty percent of the award is based on academic achievement and 40 percent on athletic accomplishments.
Clemson guard Cliff Hammonds (2008), Miami guard Jack McClinton (2009), Virginia center Jerome Meyinsse (2010), North Carolina center Tyler Zeller (2011 and 2012), Duke center Mason Plumlee (2013), Pitt guard Cameron Wright (2014) and North Carolina's Marcus Paige (2015 and 2016) and Miami's Davon Reed (2017) and Maye (last season) are past Skip Prosser Award recipients.
Maye enters Saturday night's regular-season finale against Duke averaging 14.9 points and ranking second in the ACC in rebounds with 10.3 per game. He has posted 13 of his 31 career double-doubles this season, including 17 points and a career-high 20 rebounds in Tuesday night's road win at Boston College.
With 30 points and 15 rebounds in a win at then-No. 1 Duke on Feb. 20, Maye became just the second player in college basketball history to have a 30-point/15-rebound game in a win over the AP's top-ranked team. He joined Hall of Famer Elvin Hayes of Houston, who did so against Lew Alcindor's UCLA team in 1968 in a matchup billed as "The Game of the Century."
Maye is a business administration major in the nationally-renowned Kenan-Flagler School of Business. The Huntersville, North Carolina, native earned second-team Academic All-America honors as a junior and is a candidate for Academic All-America recognition again this year after his selection last month to Google Cloud's Academic All-District 8 team selected by the College Sports Information Directors of America.
"Luke has gotten as much out of his college experience as any student could hope to achieve," UNC coach Roy Williams said. "He's excelled academically in one of the most prestigious business schools in America, been an integral part of four outstanding seasons on the court for the Tar Heels, and has grown so much as a person; it has been a joy to watch him these past four years. He worked extremely hard in all areas of his life to reach his goals. Nothing came easy and he's earned everything, from All-ACC and All-America as a player to Academic All-America and a two-time winner of the Skip Prosser Award.
"Luke will be remembered as long as they play basketball here for his shot to beat Kentucky (in the 2017 NCAA South Regional finals), but he's left an even greater legacy in the classroom and as a young man with high character and values," Williams added.
ACC Scholar-Athlete of the Year awards were established in September 2007 to be awarded annually to the top junior or senior student-athlete in their respective sports. Candidates for the awards must have maintained a 3.0 grade point average for their career as well as a 3.0 for each of the last two semesters. The award is based 60 percent on academic achievement and 40 percent on athletic accomplishment.
Minimum academic requirements for selection to the All-ACC Academic Team are a 3.0 grade point average for the previous semester and a 3.0 cumulative average during one's academic career. Athletic achievements during the most recent season are also considered in selecting the All-ACC Academic Team.
The ACC Honor Roll, which recognizes all conference student-athletes with a grade point average of 3.0 for the current academic year, will be released in July.
2019 All-ACC Academic Men's Basketball Team
Aamir Simms, Clemson
Jack White, Duke
Trent Forrest, Florida State
David Nichols, Florida State
Brandon Alston, Georgia Tech
Christen Cunningham, Louisville
Steven Enoch, Louisville
V.J. King, Louisville
Ryan McMahon, Louisville
Jordan Nwora, Louisville
Darius Perry, Louisville
Chris Lykes, Miami
Nassir Little, UNC
Luke Maye, UNC
Braxton Beverly, NCSU
Torin Dorn, NCSU
Wyatt Walker, NCSU
Kene Chukwuka, Pitt
Jack Salt, Virginia
2019 Skip Prosser Award: Luke Maye, Sr., F, North Carolina